This week, we head to Western India, and the area that was at one time the Mughal Empire.  The pattern from last time of "bread – side dish – lentil  – main" seemed to work pretty well, so we decided to continue it.
First up, bread! This is one of two dishes this week from the state of Maharashtra. Like last time, this is a flatbread, but unlike our northern bread, which used strictly whole wheat flour, this one uses whole wheat, millet, AND chick pea flour.  Which we finally broke down and bought a bag of, because it keeps coming up. In addition to three kinds of flour, this bread also uses three kinds of seeds, two other dry spices, and some aromatics.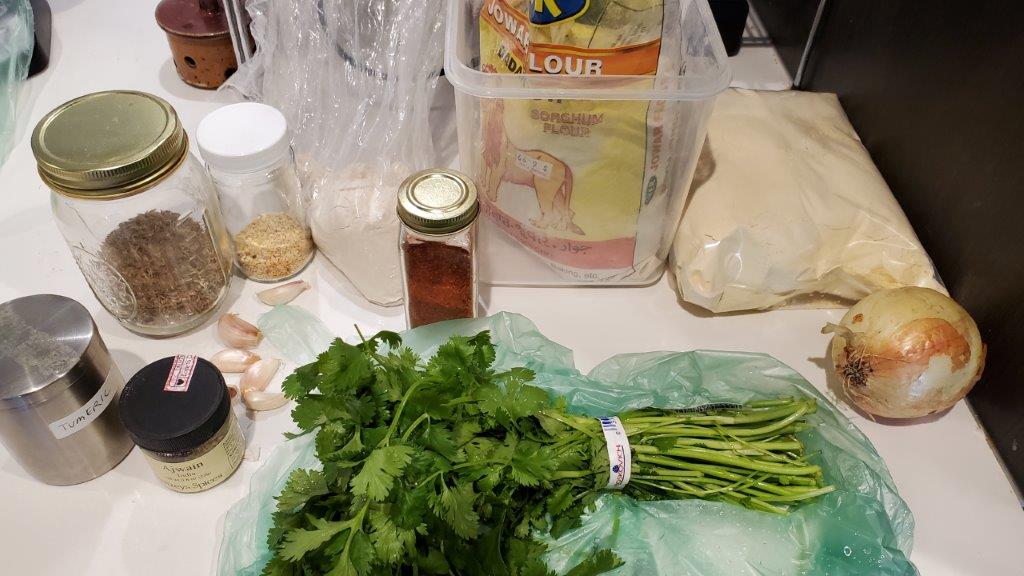 I will point out that this is also the recipe for this meal with the second shortest ingredient list.  Everything in this picture is chopped and / or measured as appropriate, and mixed together with some water to make a dough.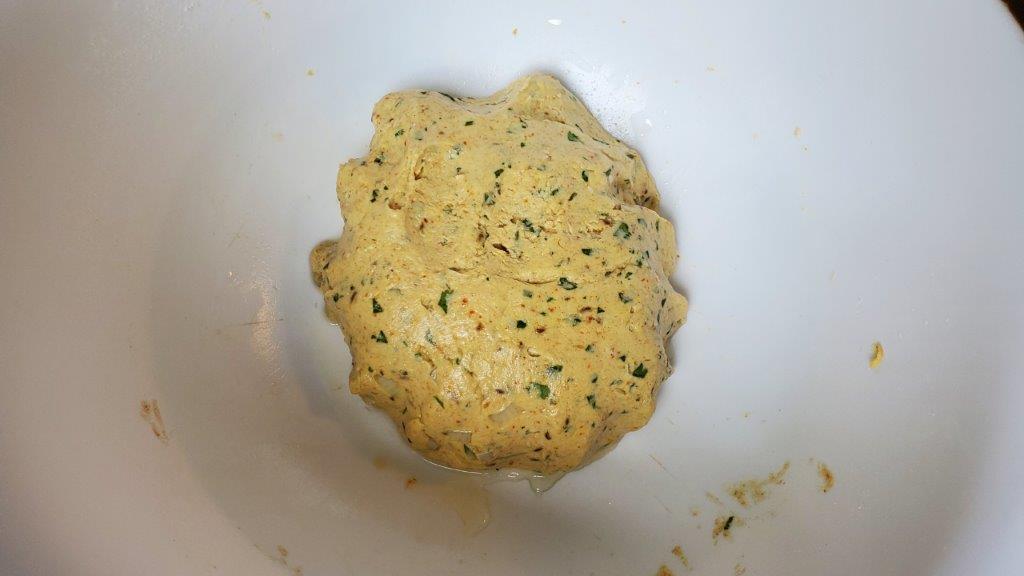 These breads are then shaped into small rounds with a hole in the middle that can be either pan- or deep-fried.  We hate deep frying, so back out with the cast iron it was!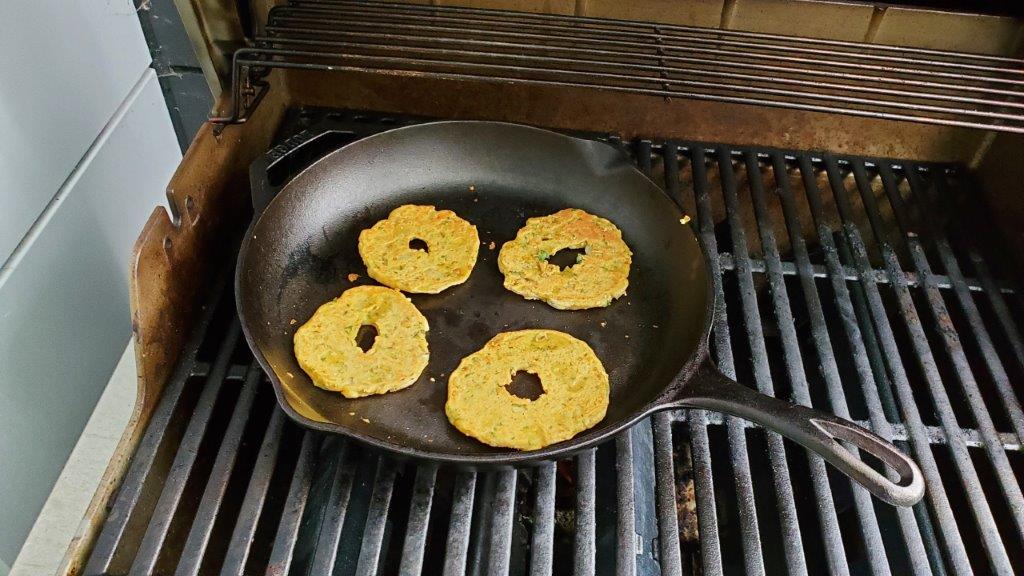 We didn't manage to produce the most symmetrical little buggers, but close enough.
Moving on, our side dish is from the region of Goa.  Goa was the site of a Portuguese colony from 1510 until 1961, over a decade after the remainder of India gained independence from the United Kingdom.  The cuisine is a fascinating mix of Indian and European influences, and is the home of one of my favorite curry types, the vindaloo. (Literally, "meat in garlic", but best known for being a very vinegar forward curry.)
But today we're making Beans Foogath, a relatively straightforward dish of green beans and coconut. The beans are cooked with some dried and fresh chiles, onion, and a comparatively small number of spices.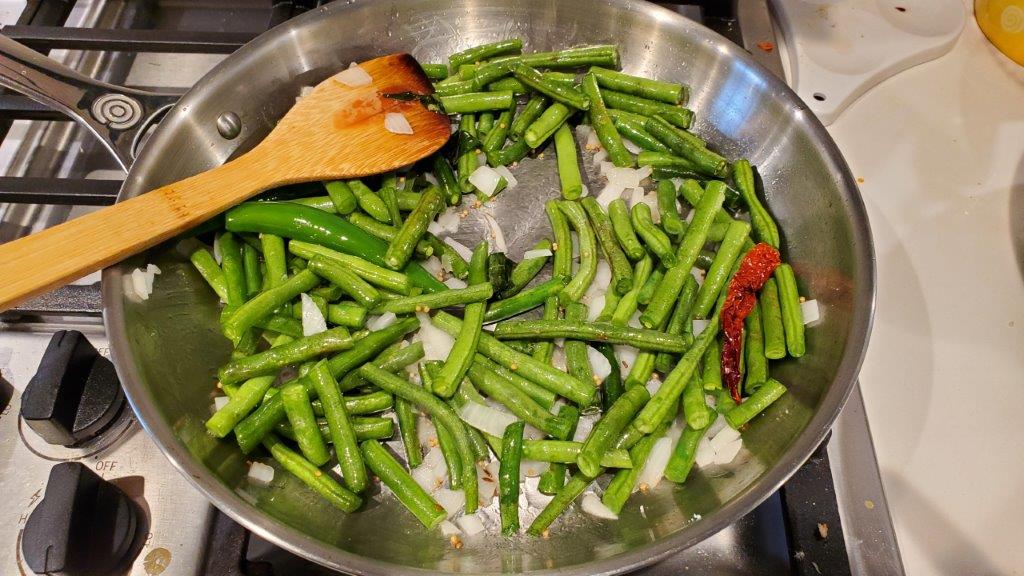 Once everything is a nice bright green, you toss in some grated coconut and water, and stew it until the beans are done but still crunchy.  And that's it!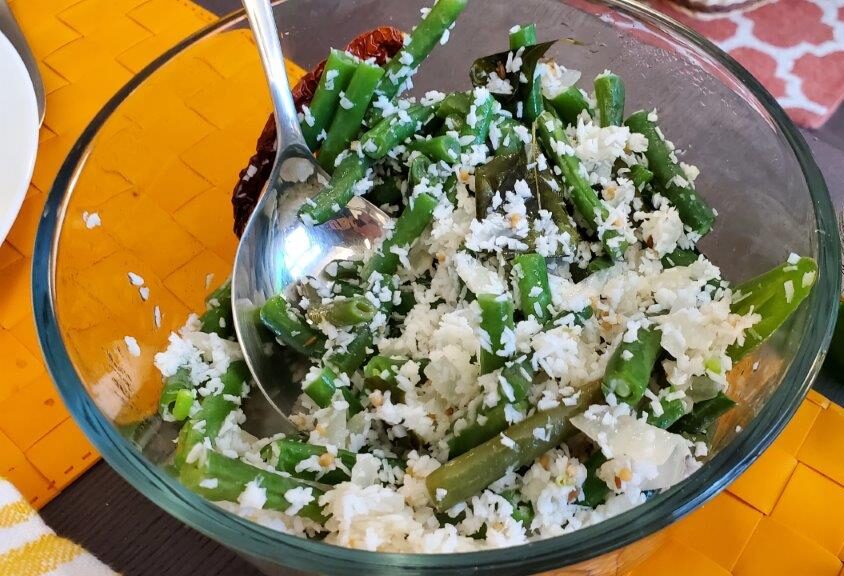 Next up, lentils!  In this case, split pigeon peas, or toor dal, cooked in a style hopefully representative of the state of Gujarat.  The ingredient list on this one is QUITE long.  First, you cook the beans separately to soften them up a bit.  Once they're close to cooked, you add in ginger, chiles, jaggery (cane sugar), peanuts, kokum, and potatoes, boiled.
Wait – what?  Potatoes, boiled?
Attention recipe authors – please do not bury a process that takes 20-30 minutes in the ingredient list.  Not wanting to delay dinner by another half hour when we already had chicken cooking and bread getting cold, we left out the potatoes.
Please enjoy this picture of kokum, instead.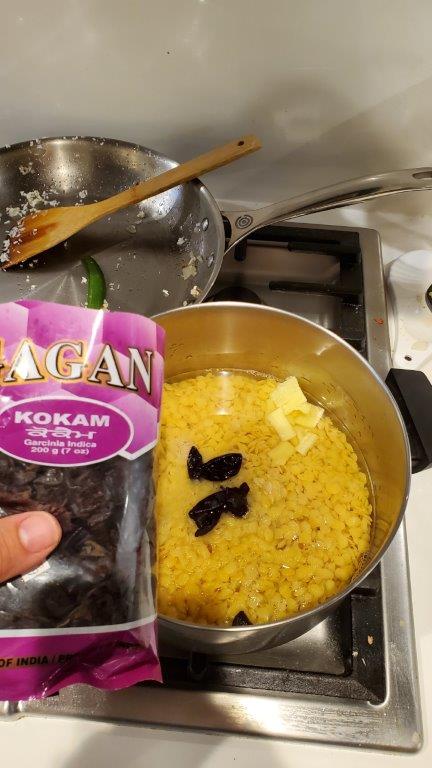 Kokum is a type of dried plum used as a souring agent in a lot of Indian food.  My understanding, which could be wrong, is that one way to determine how far north you are in India is to check the relative prevalence of kokum vs. tamarind.
At any rate, with the lentils cooking, it's time to make the tempering – the flavored oil with other spices that is used to season the dish. And here's the family photo for this step: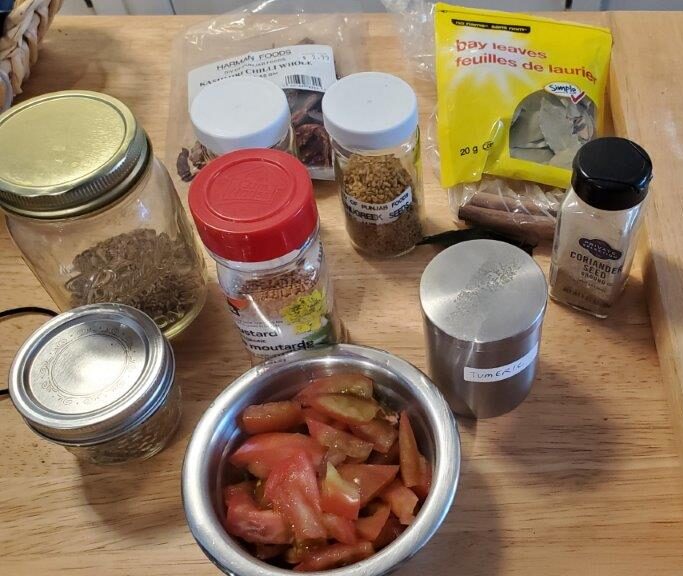 More or less clockwise from bottom, we have tomatoes, fenugreek leaf, cumin seed, mustard seed, cloves, dried chiles, fenugreek seed, bay leaves, cinnamon, coriander seed, and tumeric.  These all get fried off together with some curry leaves.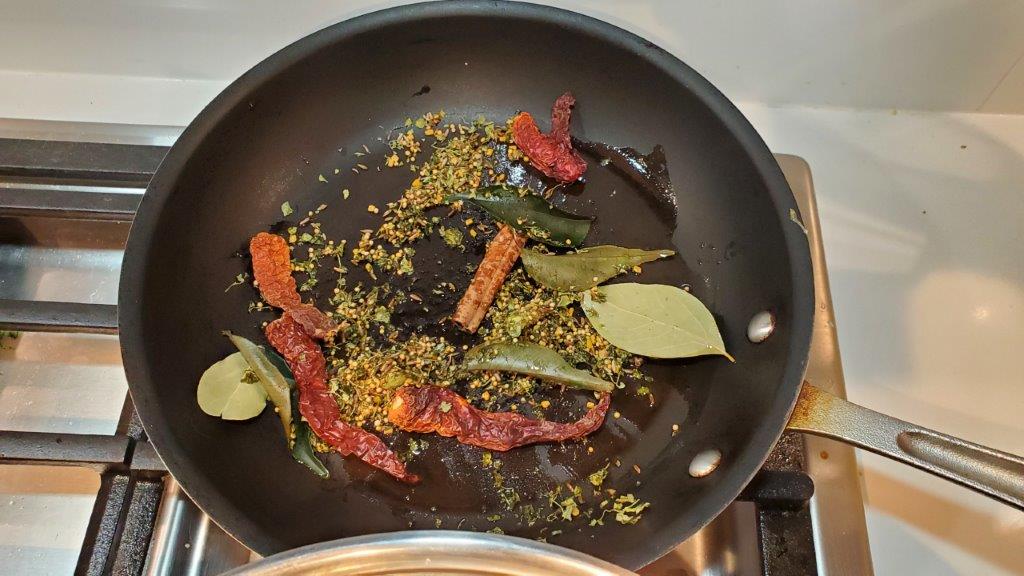 Once everything is nice and fragrant, the tempered oil and the spices go in with the beans, and that means there's only one dish left to talk about.
For our main dish, we return to Maharashtra, and specifically the city of Nagpur.  We're making a dish called Saoji Chicken. Every recipe you find for this dish specifically brings up how spicy it is.  Spicy is fine, but the repeated warnings were a little interesting.
First up, we make a spice paste, or masala, from another huge stack of ingredients: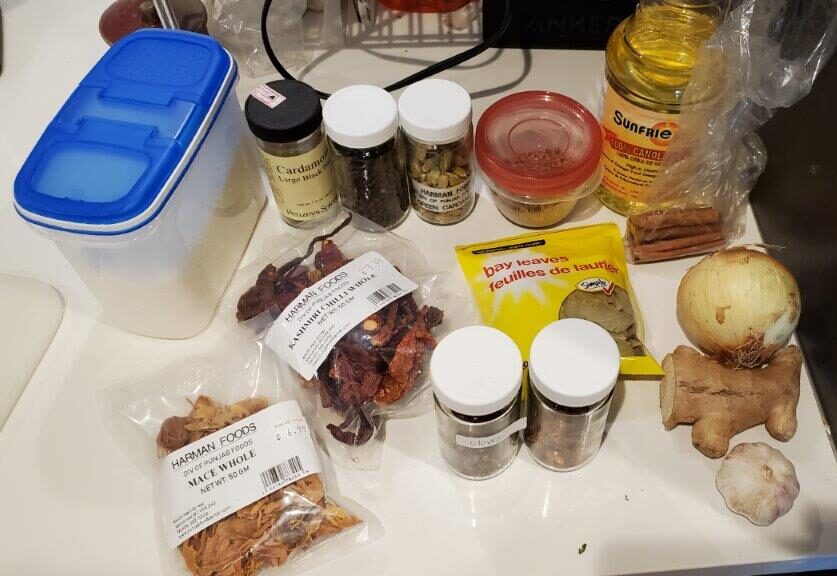 From left to right (more or less), this is sorghum flour, whole mace flowers, kashmiri chiles, black cardamom, black pepper, green cardamom, cloves, star anise, bay leaves, coriander seed, oil cinnamon, onion, ginger, and garlic. Not pictured, but still included, grated coconut and cilantro.  Not pictured and NOT included, poppy seeds and stone flower.
Poppy seeds were left out because we thought we had some, but didn't.  Stone flower is an interesting one, though.  It's apparently a lichen used to add flavor to some curries, but we managed to stump the clerk at the Indian grocery store when we asked for it, even when presented with a number of possible different translations.  Apparently it CAN be found if we wanted to drive down to the suburbs and poke about, but it's hard to imagine the dish completely changing character because we left out one ingredient out of all these.
In order to simplify cooking, we mised some en place to get ready: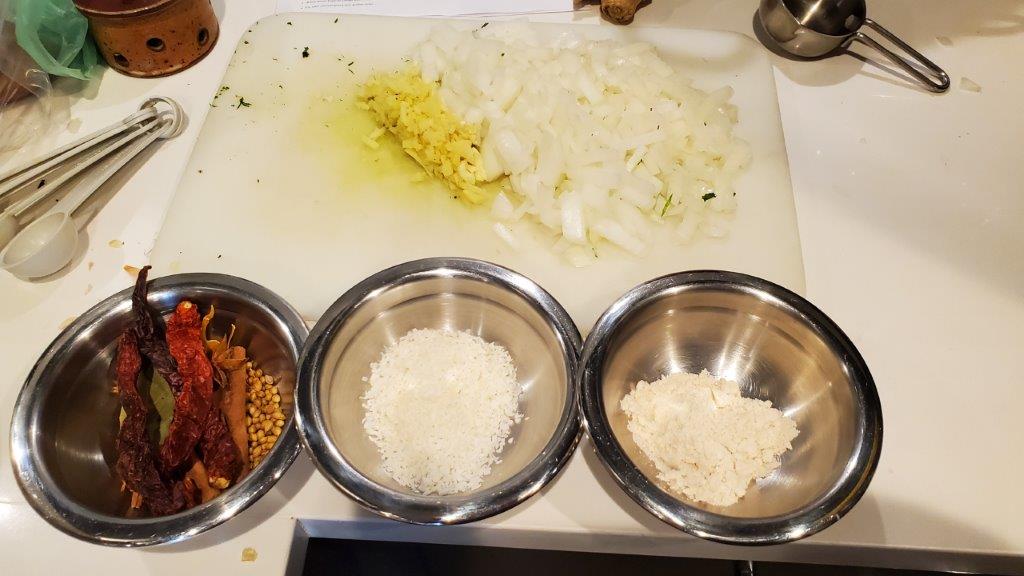 These various bits were fried off in sequence.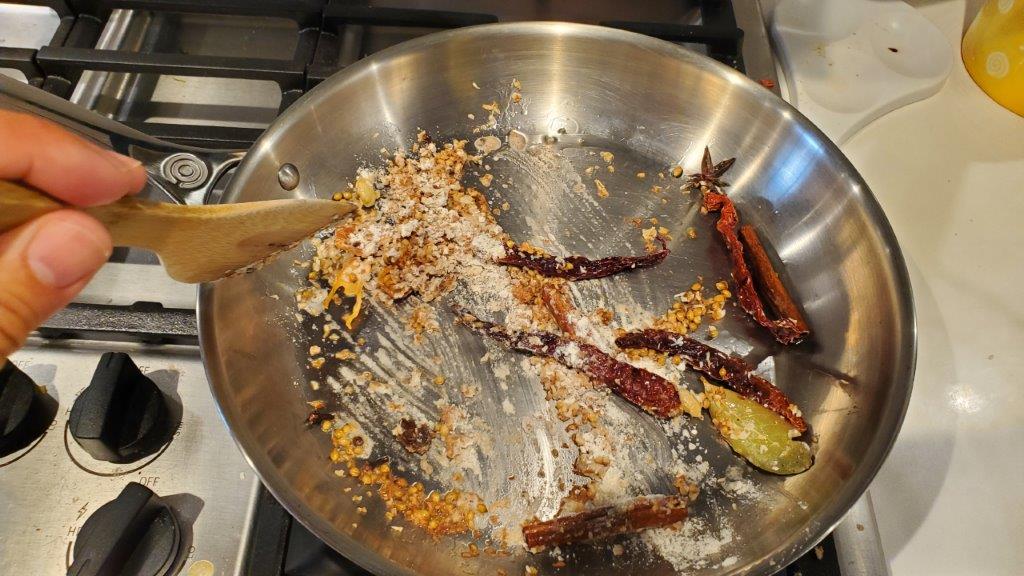 Once everything was cooked, it all went into the spice grinder to make a paste, and the aromatics were fried separately.  Finally, the spice paste and the aromatics went into the food processor to make a pastier paste.  Which then had to be fried even more.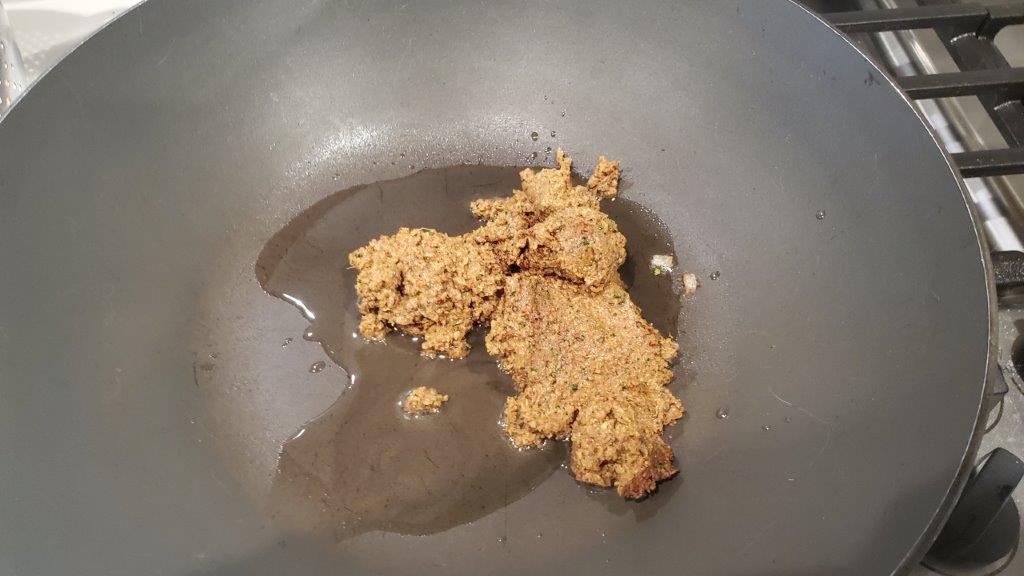 We of course tasted it at this point, and the flavor was indeed pretty intense, although I'm not sure I'd say SPICY was the dominant note.  Just really, really complex.  At this point, the chicken was added, tossed with the masala and a little water, and cooked until done.
Two confessions: I forgot to take any pictures of the chicken actually cooking.  You'll have to wait for the final meal picture.
Second confession: I bought boneless chicken thighs.  I KNOW the bones add flavor, but sometimes I just don't have the spoons to deal with them.  Or the knives, to be more accurate.  At any rate, after 25 minutes or so, the chicken was done, and it was time to bring everything to the table.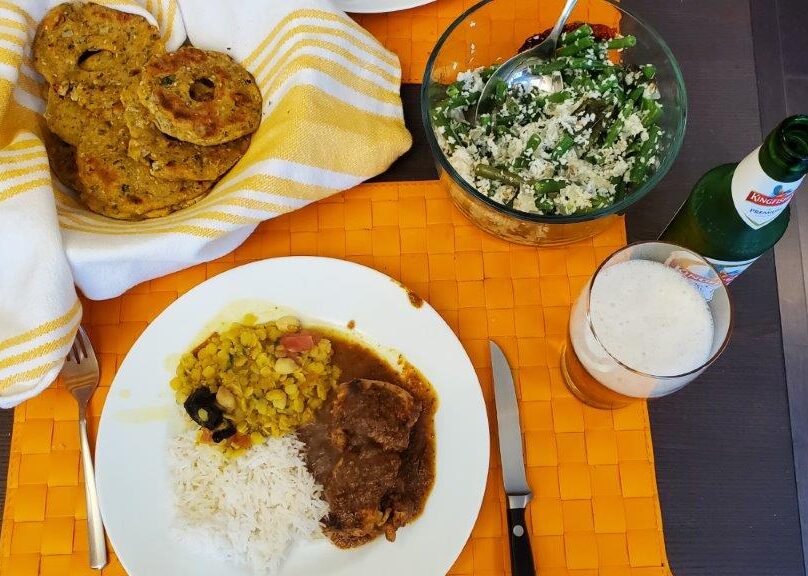 And here we are! Dhapate, Foogath Beans, Gujarati style dal, and Saoji chicken, along with some basmati rice and a Kingfisher, which according to the bottle is "India's Premium Beer".  Also according to the label, this one was brewed in the UK.  Oops.
At any rate, how was it? Excellent!  The bread was a BIT chewy from being made several hours in advance and cooling, but it had a nice spice mixture, and it was perfect for soaking up the sauces.  The green beans had plenty of personality from the simmering with the spices and the coconut.  The dal was interesting – the peanuts gave it a bit of a crunch, but based on the descriptions I have read of the flavor, I suspect it needed a bit more sugar.  And the chicken was delicious. All that complexity really shone through in the masala.  My only complaint is that the amount of masala generated by the recipe could easily have seasoned twice the volume of chicken, and then we'd have had leftovers.
So with two down and two to go, our hurtle around India is a great success so far! Next up, the south!
Recipes:
Goan Style French Beans Foogath
Dhapate
Gujarati Dal
Saoji Chicken