Israeli cuisine is a bit of a difficult subject.  The sovereign state of Israel as it exists today was only established in 1948.  But the area has been continuously inhabited for just about as long as we have evidence that humans have existed at all.
So what IS Israeli food?  Is it the food of the region in general? Israel has a simmering argument with Lebanon over who can lay claim to hummus. The argument, is of course, nonsense – hummus is substantially older than either Israel or Lebanon, and is ubiquitous throughout the middle east.
Is Israeli food the food of the diaspora, brought back to the region by returning Jews?  Should we perhaps focus on the food of modern Israeli chefs like Eyal Shani, whose whole roasted cauliflower can be found all over the internet?
In the end, we decided these questions are above our pay grade, tried to pick a few recipes that we believe would be reasonably typical in a modern Israeli household, and got on with it.
We ARE making hummus, but from a recipe which claims to be "Israeli style."  This is another somewhat dubious claim, since there's not actually a lot to vary here.  The basic ingredients of hummus everywhere are chickpeas (soaked and cooked), lemon juice, salt, and tahini. This version also includes quite a bit of garlic, which is not at all unusual.
A word about tahini, however.  Tahini has only one ingredient – sesame seeds.  In principle, we could have made it from scratch, but we decided to just get a jar of ground up sesame seeds.  At which point it occurred to me – I already HAD a jar of ground up sesame seeds.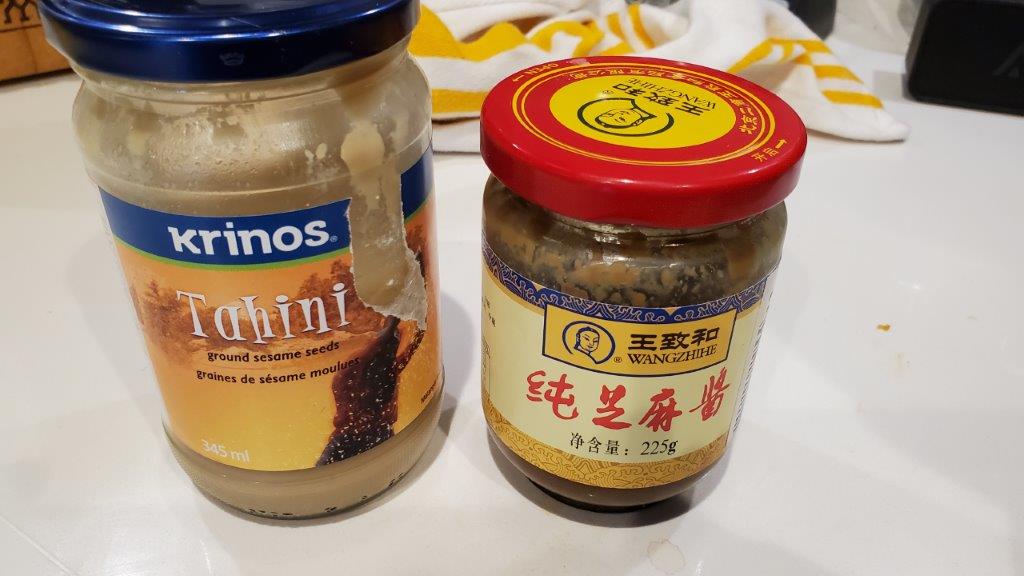 Did I really need to buy the one on the left?  As it turns out, yes.  While both jars contain nothing but ground sesame, the one on the right contains ground TOASTED sesame, which has a slightly different flavor profile. Great for Dan Dan noodles, which is why we have it, less good for hummus.
Once you've cooked the chickpeas, the process for making hummus is: "blend everything together."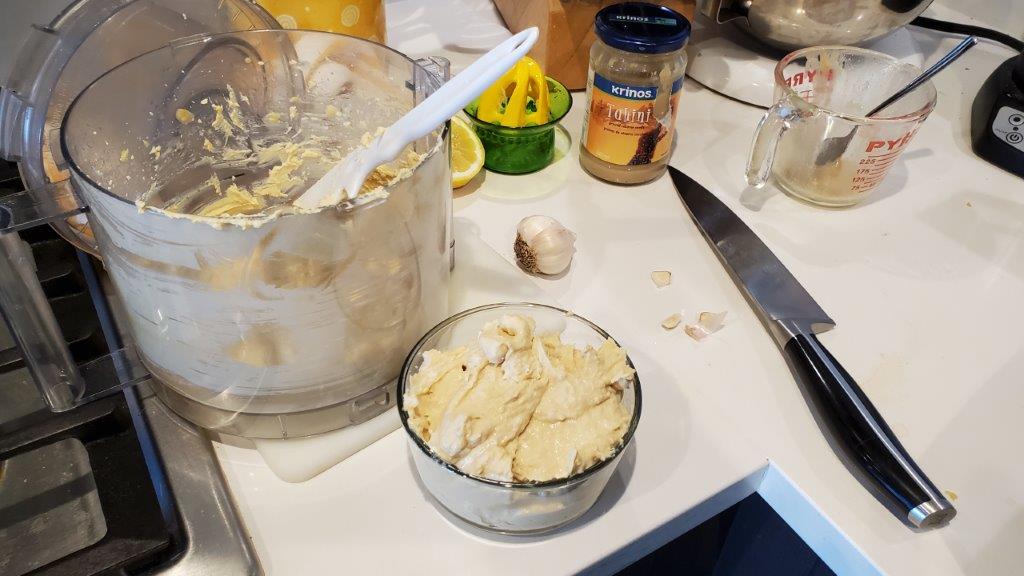 Bam. Hummus.  For our main dish, we're making a lamb kebab with a tahini sauce.  Let's see what the ingredients for this sauce are.
Lemon juice, tahini, garlic, salt….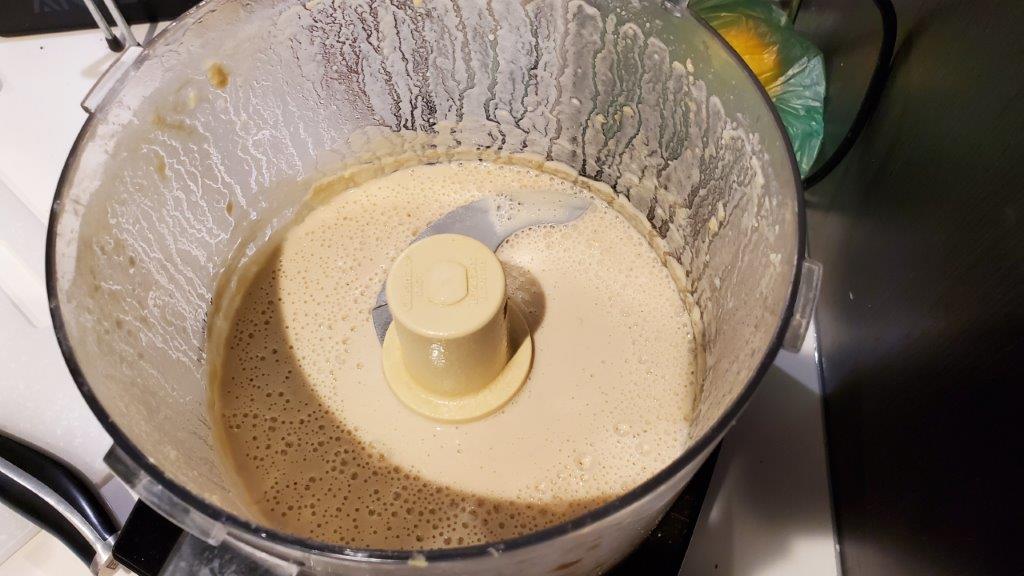 ….waaaait a minute.  This sauce is just hummus without the chickpeas.  Oh wait – it gets some mint and parsley too.  Thank goodness.
The actual kebabs are seasoned with mint and parsley as well, in addition to pine nuts which, at the time of this writing, are roughly twice as expensive (by weight) as neodymium.
I am not making this up.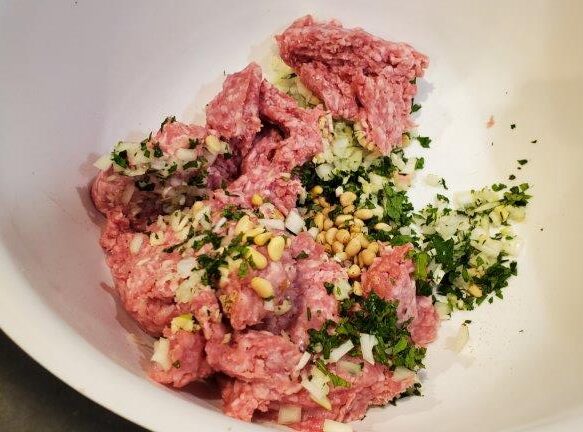 We live in Canada, and it's winter, so clearly grilling would be out of the question.
I'm kidding, of course – we live in Vancouver, so it was in the 40s F, or… some other temperature C.  Perfectly fine for grilling, anyway.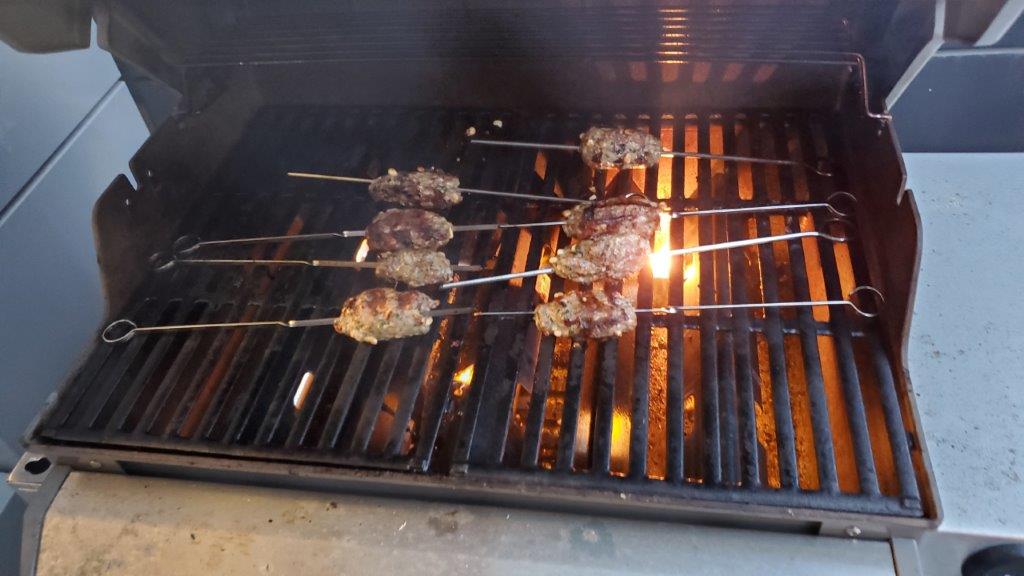 For our final dish, we DID make cauliflower, although we decided to eschew the trendy "whole cauliflower" thing for a battered and fried version.  The cauliflower got a quick blanch in boiling water, and was then put through a rigorous dunk in three separate stations.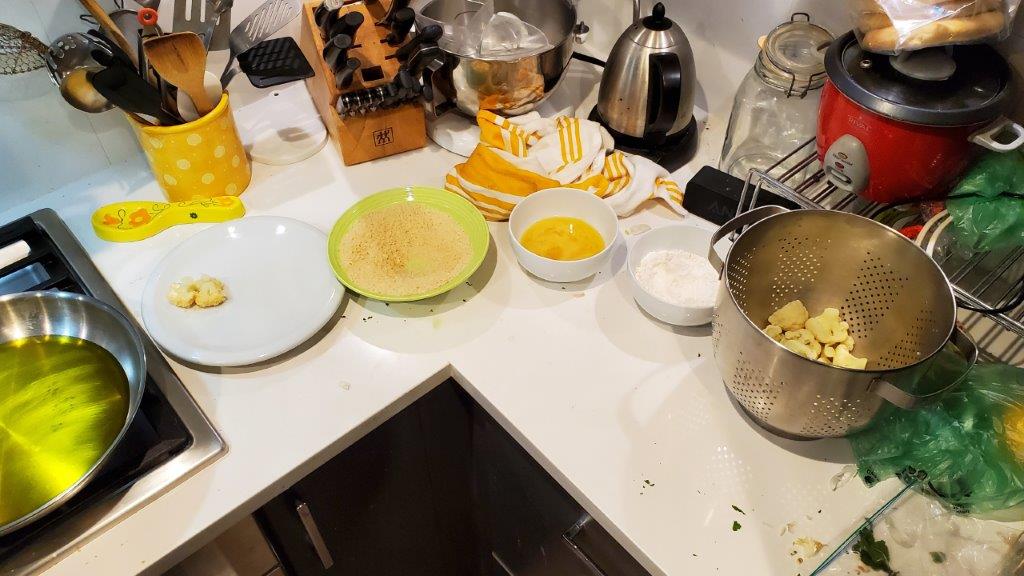 First flour, then egg, and finally breadcrumbs and spices.  ("spices" in this case means turmeric, chicken bullion powder, and pepper.) These are then fried up in olive oil until crispy and brown.  Wouldn't want the cauliflower to be HEALTHY, after all.
To accompany the meal, we bought the only Israeli wine (other than Manischewitz) available at our local liquor store.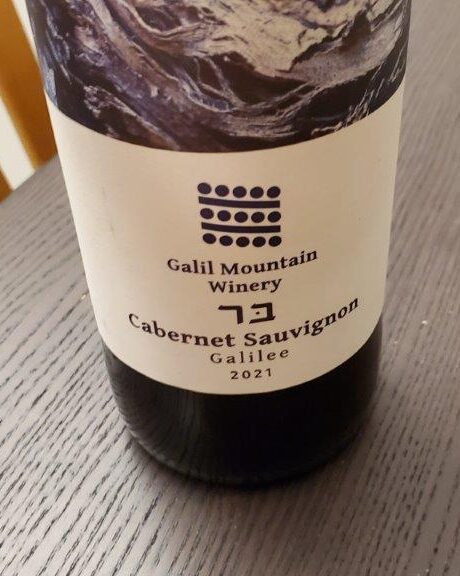 And here's the final spread.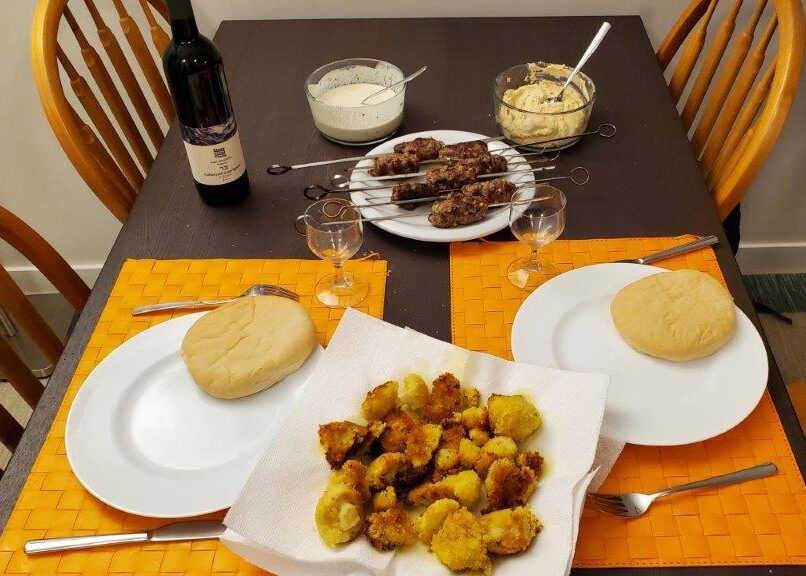 Full confession, the pita was also just purchased off the shelf.
And… it was pretty darn good!  The cauliflower, in particular, was excellent – crunchy on the outside, not too soft in the middle, with a nice bite from the pepper and the bread crumbs.  The kebabs were tasty, and hummus is always great.
Was there anything on this table that is uniquely Israeli? Probably not.  Is this a meal that would be absolutely normal to see on an Israeli table?  Probably.  Was it delicious? Yes.
And that's probably the most important thing.
Next up, our fifth country that's going to need to be split into multiple meals, and then we're out of the "I"s!
Recipes:
Extra garlicky "Israeli style" Hummus
Ground Lamb Kebabs with Pine Nuts and Tahini Sauce
Fried Cauliflower