I think I need to apologize a bit.  Last entry we referred to the "tiny" African nation of Guinea.  Guinea is the size of Michigan.  That's not really tiny.  Guinea-Bissau, on the other hand, is the size of Connecticut.  I'm prepared to call this one "tiny." The first part of the name, as previously discussed, comes from imperialism, and the second part is the name of the capital city. (Similarly to how the Republic of the Congo and the Democratic Republic of the Congo are sometimes referred to as Congo-Brazzaville and Congo-Kinshasa, respectively.)
The colonial occupier of today's country was Portugal, and so today's dishes are named in Portuguese.  We're making an appetizer and a main, so lets get started!
The appetizer is Abate Recheado com Atum, which has a bunch of flavors that you might not, at first, think would work together.  We start by slicing and mashing an avocado.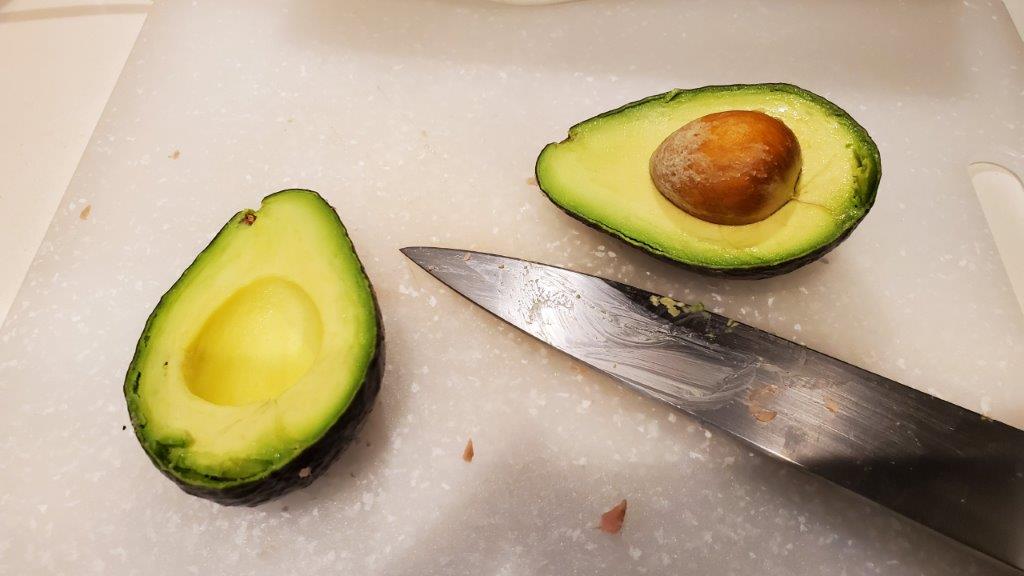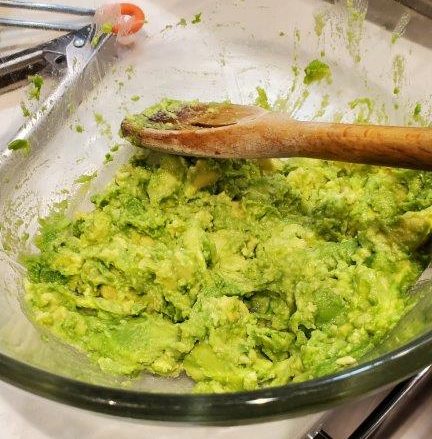 Next, we need some tuna.  The recipe calls for canned tuna, but to heck with that – it's readily available around here in nae-so-canned form.  Still, if you want to throw this together at home, you could do it that way.  But we decided we'd rather toss a nice piece of fresh tuna into the cast iron briefly.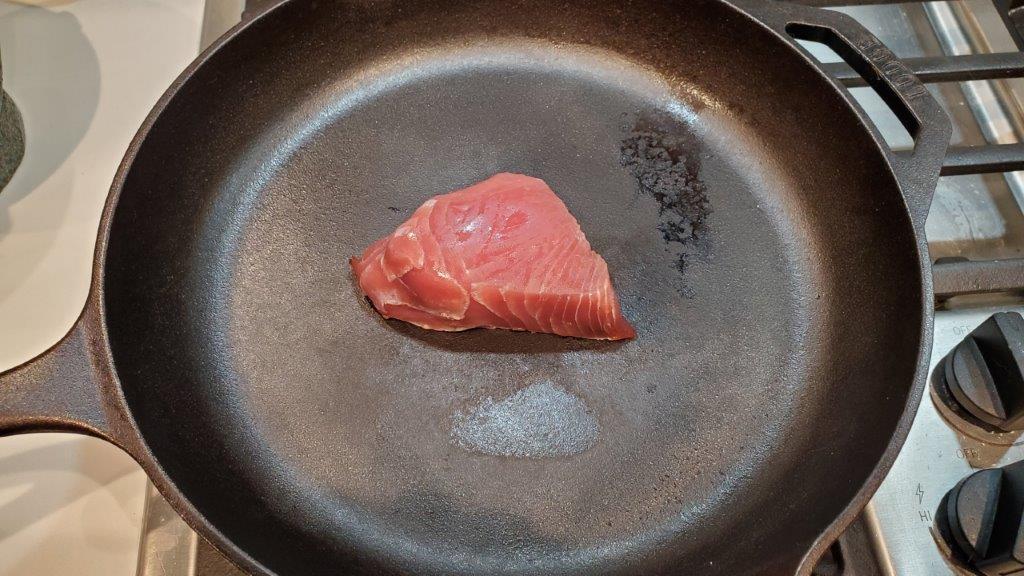 Cooking it through might be more authentic, but we couldn't bring ourselves to do that, so it was just lightly seared when we were done.
Further ingredient prep: hydrating some coconut and peppers.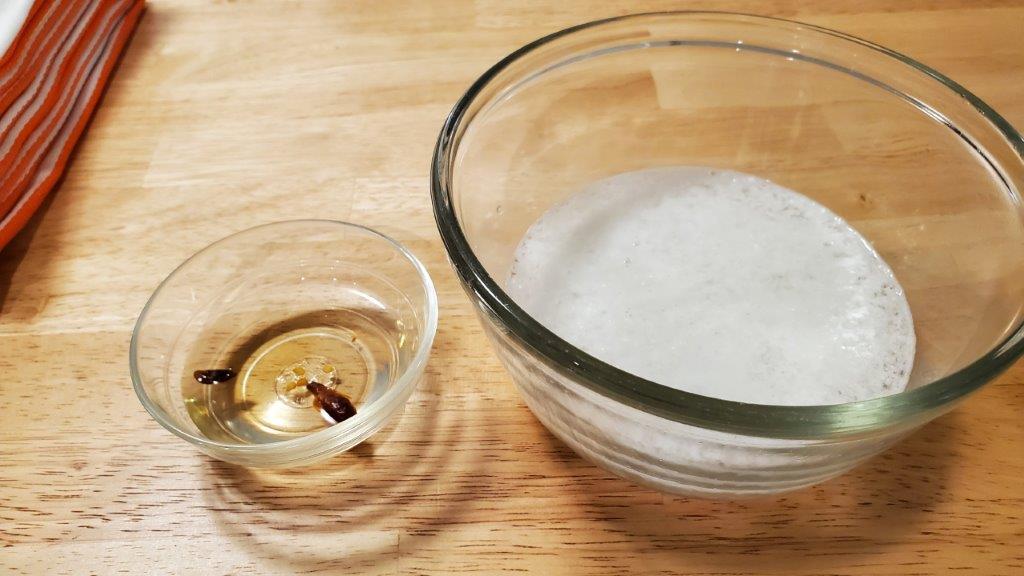 We still have some piri-piri chilies left from Benin, which is long enough ago that it's not even ON this blog.  But they're dried, and whoo doggies, they are still pretty darn potent.  The bigger concern is that I'm not actually certain they're native this far west in the continent.  Still, they're tasty, so we'll run with it.
Only one more ingredient to prep, and you're probably not going to guess it.  Let's whip some cream!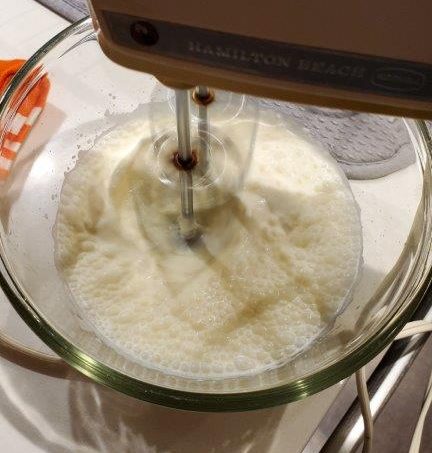 Yes, that is a billion-year-old Hamilton Beach hand mixer.  It still works fine, so don't knock it.
Now we just mix ALL this stuff together. To recap, that's tuna, avocado, heavy cream, coconut, and hot pepper, and we also add some tomato sauce, lemon juice, salt, and pepper.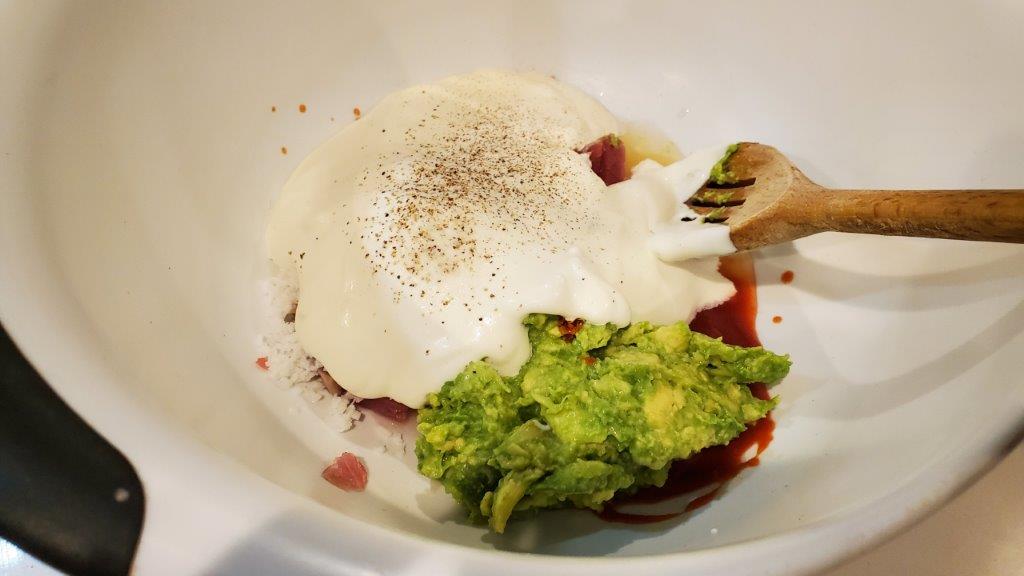 What do we DO with this unholy mixture, you ask?  Just wait until the end for the denouement picture.
But for now, lets get started on our main dish, Cafriela de Frango.  This is a not terribly complicated chicken dish that involves first steaming, then grilling the chicken.
The steaming part involves chopping peppers, onions, garlic, and grinding some black pepper.  I used grains of paradise in addition to black pepper, since we had them, and they seem to be from approximately the right part of the world.
All this just gets tossed into a pot with some stock, oil, and butter, and left to steam until the chicken is cooked.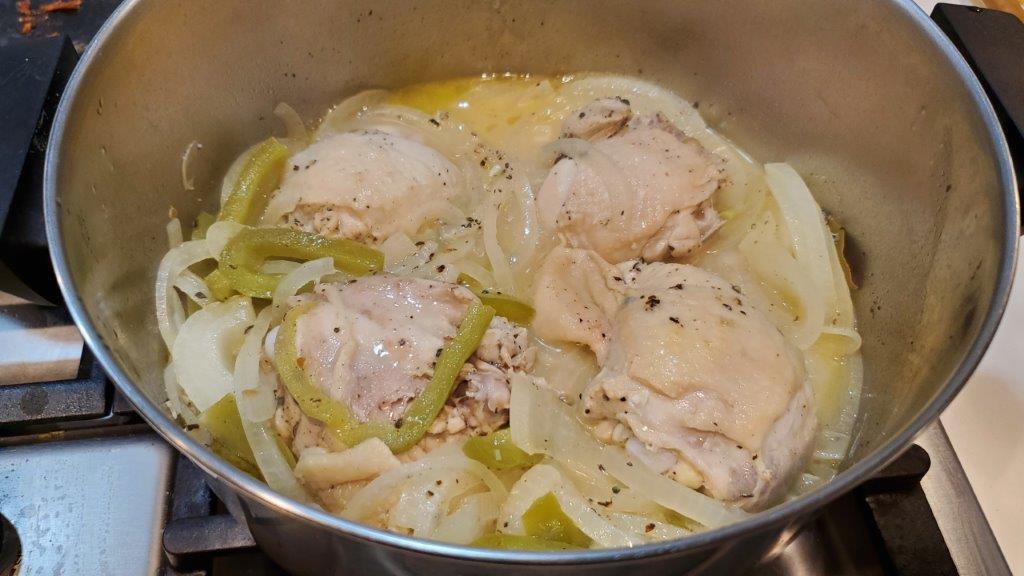 Once the chicken is done, you grill it and…
… did I say grill?  We live in Vancouver, and it's the monsoon season right now, so this got popped under the broiler instead.  It only took a few minutes to get some nice color on the outside, and it was time to serve our two dishes.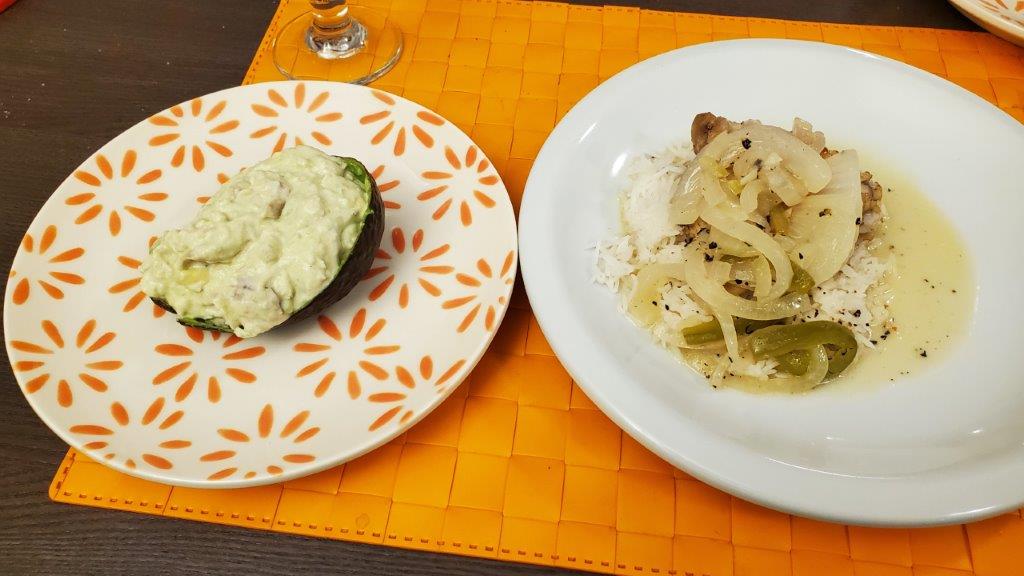 The chicken was served over rice with the vegetables and the steaming liquid as sauce.  The avocado-tuna-coconut mixture was stuffed back into the empty peels as a serving display.
How was it?  Well, the stuff avocados were amazing.  Seriously – I would never have predicted tuna + avocado + coconut + whipped cream + hot pepper + tomato sauce would be a combination any sane person would dream up, but together it totally worked. Salty, creamy, spicy, sweet, all together in one nice package.  And the just-seared tuna is definitely something I prefer to fully cooked.
The chicken dish was also pretty tasty, even if it wasn't a rock star like the appetizer.  Lots of flavor cooked into the broth, and the black pepper gave everything a nice zip.
These are both recipes we would pull out again, one to wow people, and one because it's just plain simple and tasty.
Next time, we return to South America for the first time since Ecuador to visit Guyana!
Recipes:
Abacate Recheado com Atum (Tuna stuffed avocado)
Cafriela de Frango