I really don't like eggs.
It's weird – I'm fine with French toast, crepes, custard, even tamago, but for whatever reason, I find eggs as eggs completely unpalatable.  It doesn't matter what form they are in – scrambled, poached, benedict – I just don't care for the taste.  Which seriously limits my options at brunch restaurants.  I really wish I DID like eggs – that 80% of the menu looks very interesting!  But there you are.
So anyway, this week we're making the national dish of Jamaica – saltfish and ackee.
What are ackee, you ask? They are a fruit which can be quite toxic if not prepared correctly.  For that reason, they are only available in the US and Canada canned. So off we went to the Caribbean market for a few cans of this stuff, along with a package of salted cod.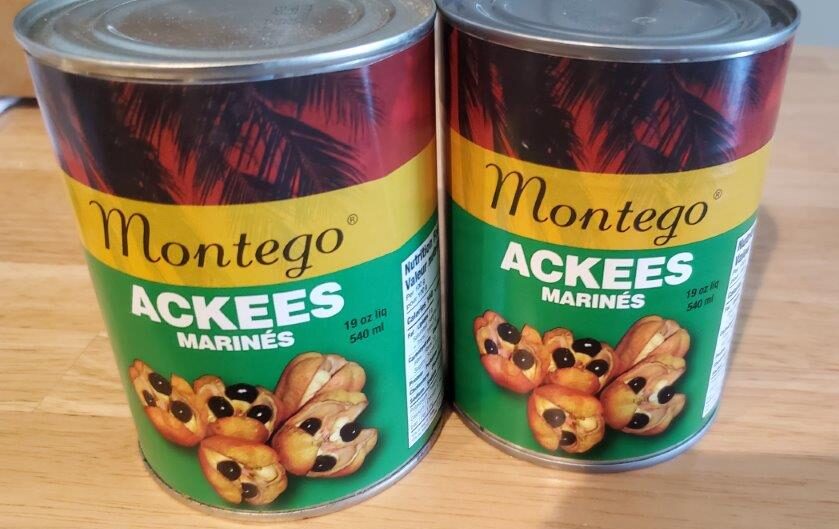 Huh.  That's kind of a funny looking fruit on the can.  I wonder what it looks like when we open it up?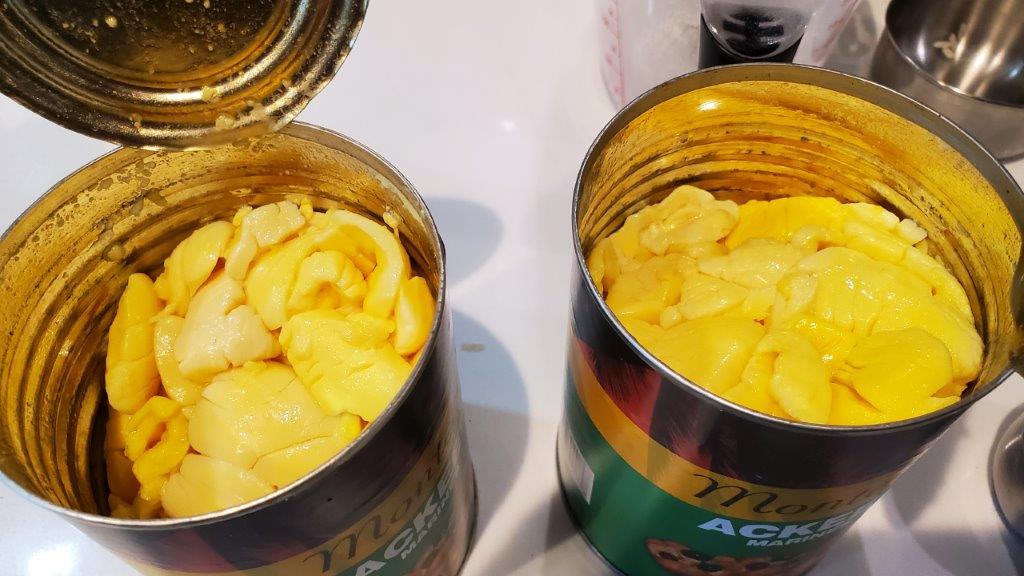 Oh.  Oh dear.  Did I mention I have an absolutely visceral dislike of scrambled eggs?
Now to be absolutely clear – ackee tastes absolutely nothing LIKE scrambled eggs. Honestly, it doesn't seem to have much of a flavor at all.  If anything, I would describe it as being like an extremely mild, buttery cheese.  Maybe it's different fresh?
But oh my goodness did this tweak something in my lizard brain. ("EGGS!" the lizard shouted.)
Let's press on.  Like any dish involving salted fish, the first step is to soak the fish for as long as possible to draw out the salt.  We had about five hours, and I suspect more would have been better.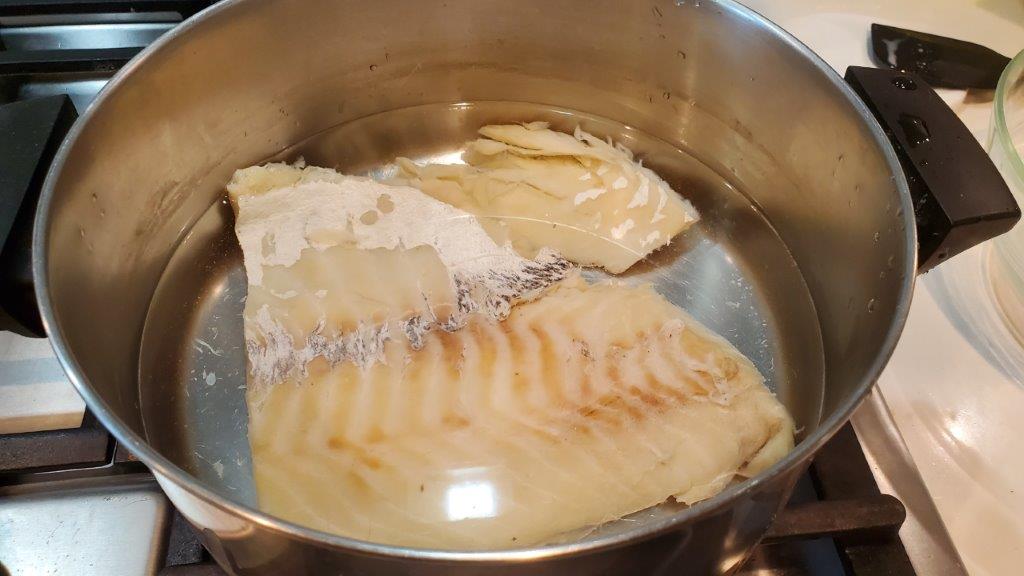 Once the fish has been soaked in a few changes of water, you boil it and then shred it up.  Meanwhile, in a pan, you cook onions, tomatoes, bell peppers, thyme (we used something labelled "Jamaican thyme," but it didn't seem any different from the regular kind), and a Scotch bonnet pepper.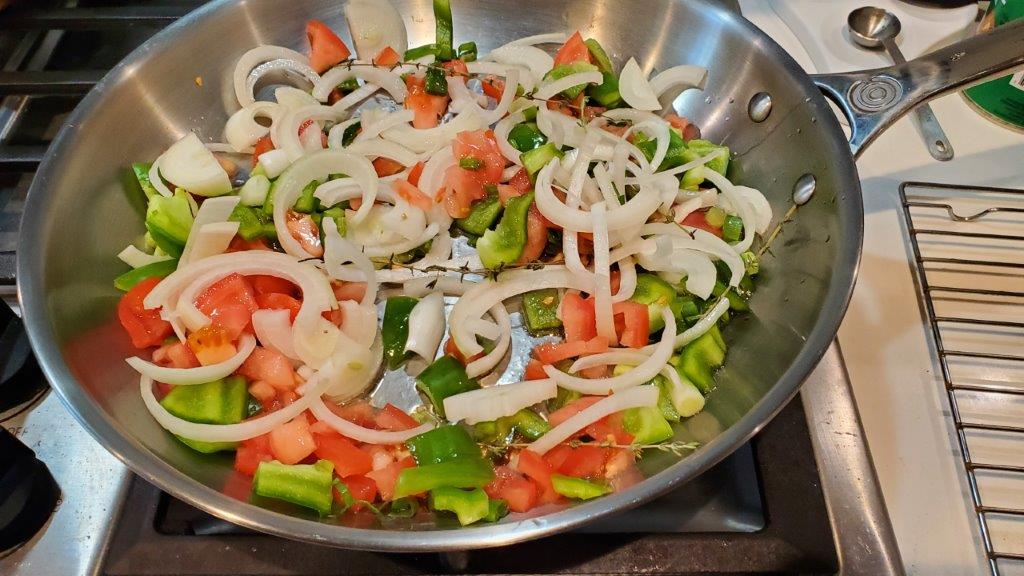 Once those have softened up a bit, you toss in the fish and the ackee and let it all heat up.  We found two recipes for this dish which were nearly identical, except one said to cook the ackee for absolutely no longer than three minutes, and the other said at least fifteen.
Fine.  This is like that time we found one set of directions that said we had to set our hot water heater absolutely no higher than 115 F to avoid burning ourselves, and another that said absolutely no lower than 130 F to avoid Legionnaire's disease.
Fine.
Anyway, to go with the saltfish and ackee, we made coconut rice, which is literally just rice cooked in coconut milk, with some green onions on top.  And here's the two of them together: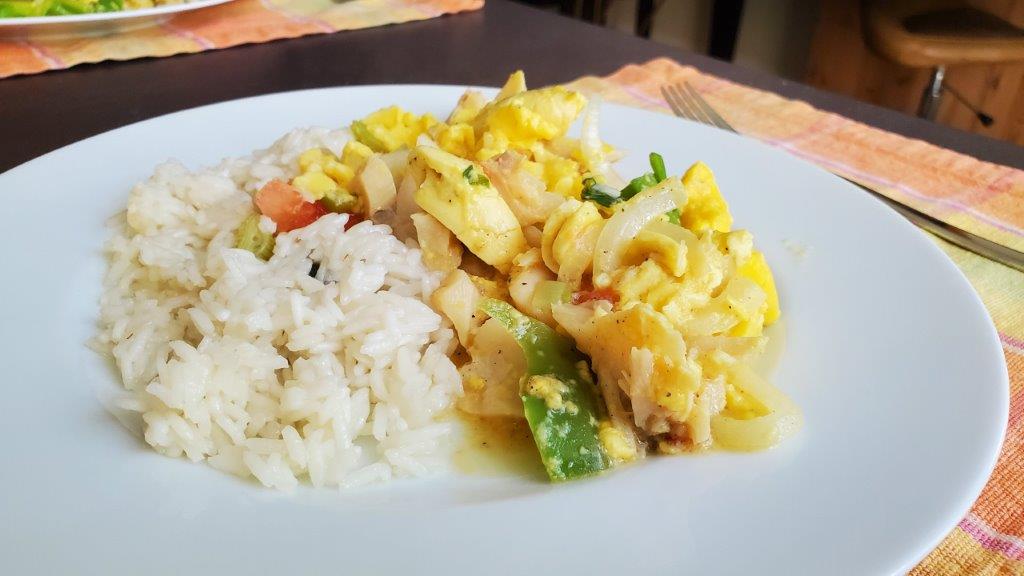 My goodness, it REALLY looks like scrambled eggs, doesn't it?
I will reiterate again, however, that it doesn't TASTE like eggs.  Mostly it tasted like salt.  I think we needed to soak the cod overnight, or change the water more, or something, because the salt flavor was really overpowering.  The buttery fruit was quite rich, as was the coconut rice – I can see why this is frequently eaten for energy in the morning.
That said – it wasn't really our favorite international dish we've made, and that was probably our fault.  If you asked me to tune it to my own parochial tastes, I would probably add quite a few more tomatoes for acidity, or perhaps some lime juice.  Just something to cut the richness. But again – that's my taste, not a comment on the quality of the dish itself.
As always, we want to stress that if one of these dishes turns out not to our taste, we are NOT making any judgements on the quality of that country's cuisine.  Rather, the fault lies either in our taste, or in our own uninformed execution of the dish.
We also made a coconut toto, which is almost certainly not named after the small dog that wrote the soundtrack for the original Dune movie.  Instead, it's a standard cake, made by creaming together butter and sugar, and then adding flour, rum, desiccated coconut, and a LOT of nutmeg.

Not super exciting to look at, but absolutely delicious for dessert.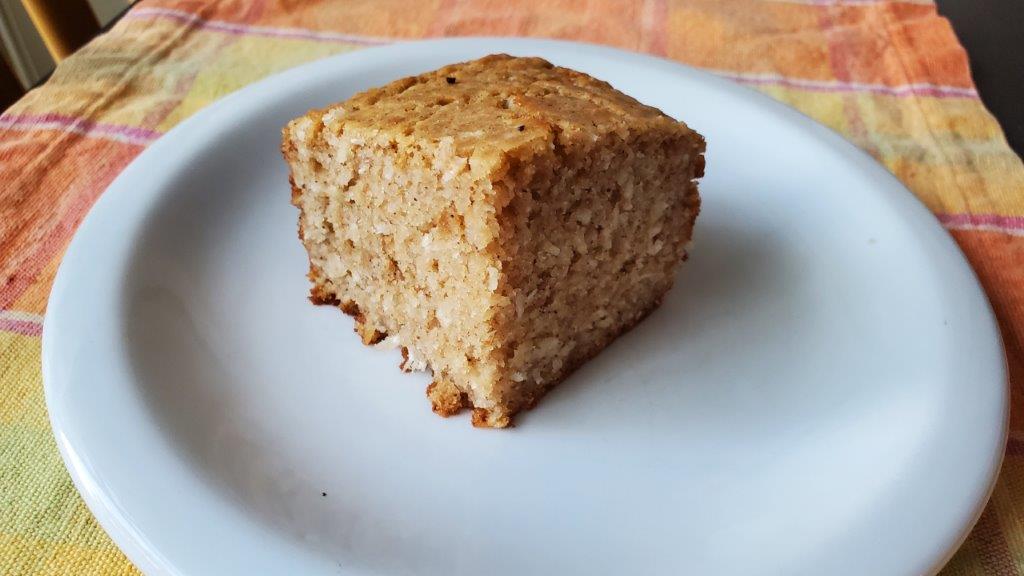 So that's the national dish of Jamaica.  Everyone thought we were going to make jerk chicken, curry goat, or oxtail for this one, and frankly, we probably still will sometime soon.  Not necessarily as an official addition to the blog, but just because we LIKE those things, and this go-round has reminded us of their existence.
Next up, Japan!
Recipes:
Saltfish and Ackee
Coconut Toto