It's been less than a week, but it's the holidays!  Lots of free time, lots of rain outside, and a pandemic still going on, so why not cook?  Today we head to Cuba, land of cigars and pig bays.  We will NOT, however, be making tobacco-infused pork.
Instead, it'll be the national dish of Cuba, ropa vieja.  This literally means "old clothes," and originated in the Spanish Canary Islands. There's a whole depressing legend around the name and a dude eating his clothes, but it's actually a delicious stew of shredded beef and tomatoes. (The shredded beef is said to resemble torn clothing.)
But let's start with some bread.  Last week's Croatian meal marked the first appearance of lard in this blog, and oddly enough, it reappears this week.  (Good thing, too – we've still got quite a bit left.)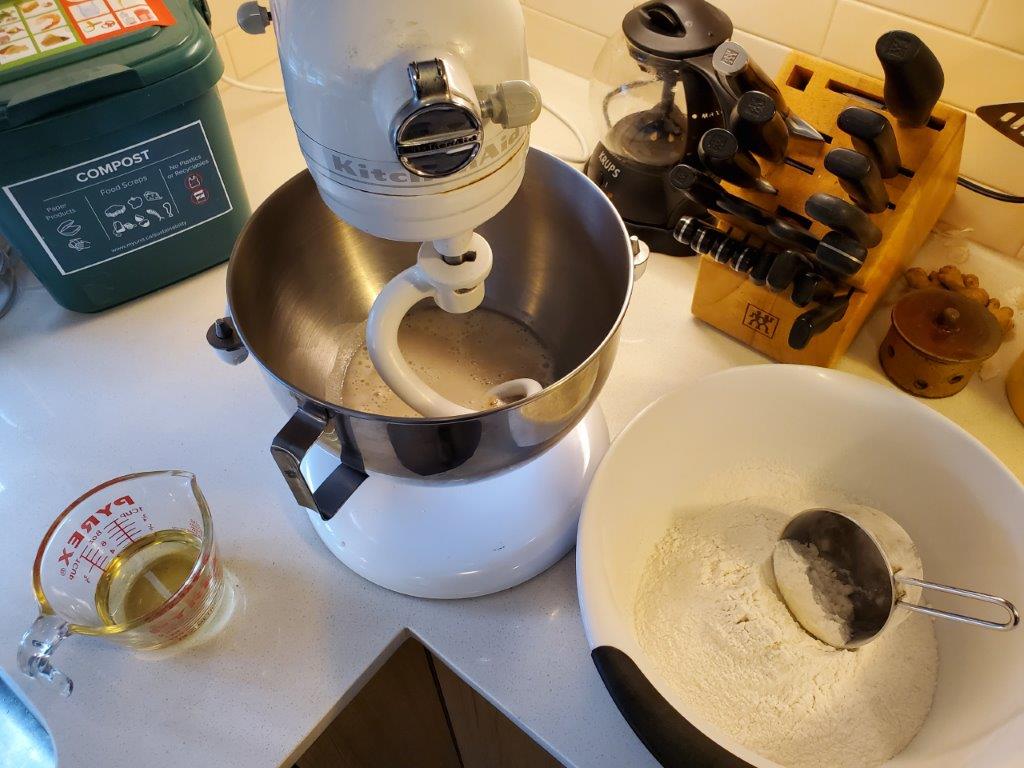 This recipe starts by melting the lard, and slowly, slowly mixing it with a blend of regular and bread flower.  But not as slowly as last week's 30 minute mixing time for the nut roll!  Just regular slowly.  Once the dough has come together, you let it rise for an hour, roll it out, and then roll it into a long, baguette shaped loaf.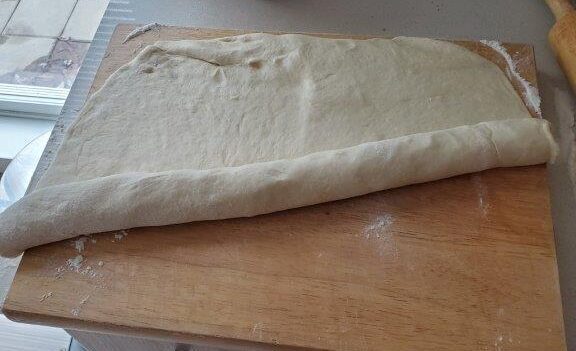 After another rise, it goes in the oven and comes out… gorgeous.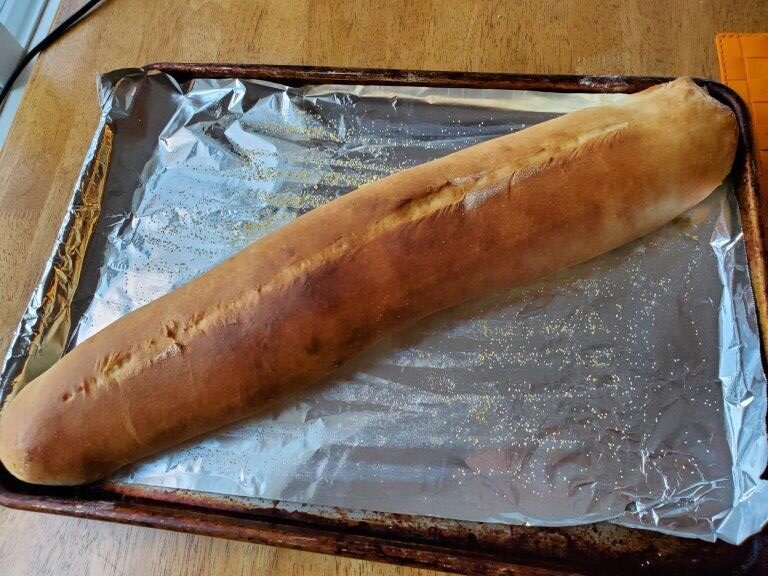 This loaf was incredibly soft, and super rich.  Lard may have to become a regular addition to our bread arsenal.  It made fantastic sandwiches the next day, too.
On to the main event!  The traditional cut of meat for ropa vieja in Cuba would be flank steak, but only because it shreds nicely.  Source after source pointed out that it's actually a poor choice of meat for a long, slow braise, because it's got very little fat.  Chuck and brisket are suggested as much better choices, and since brisket was somewhat less bonkers expensive, we went with that.
There are a million recipes for this online, and a million people with strong opinions that any given recipe is either excellent or terrible.  I went with one from Bon Appétit that seemed a happy medium, but we did make a few changes, which I'll point out as they come up.
First the meat is given a nice sear on both sides.  (Our Dutch oven couldn't quite handle the whole brisket, so we chopped it in half.)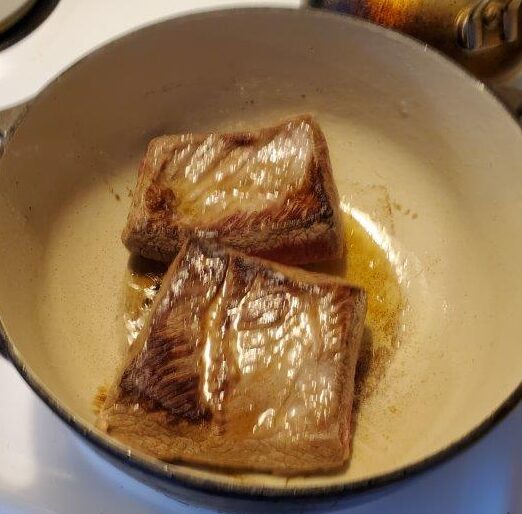 Sorry the picture's a bit blurry.  I promise the actual meat was in much better focus.  We hadn't gotten to the rum yet.
Once the meat is colored, you pull it out of the pot, and soften up some onions, peppers, garlic, and tomatoes with spices to make a base.  Our first change at this point was to replace the sweet paprika in the recipe with achiote, for two reasons.  One, it's probably more authentic, and two, we didn't HAVE any sweet paprika.  (See last week's error in that regard with the cabbage rolls.)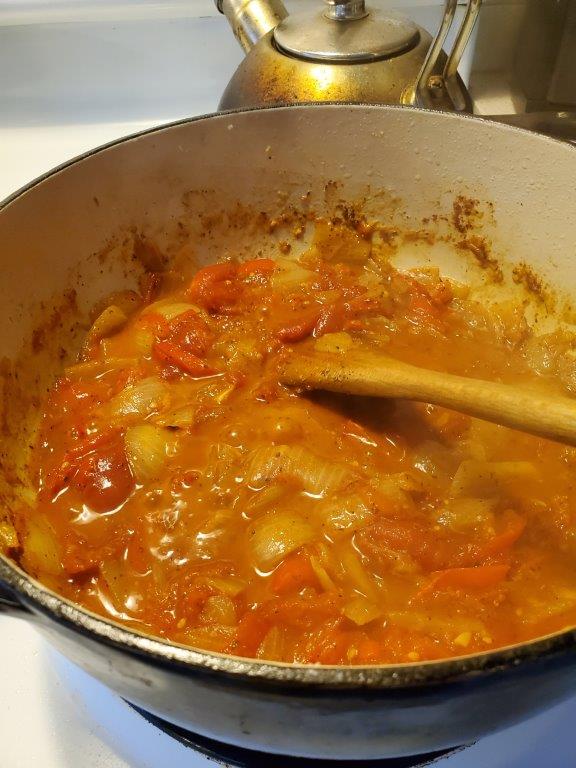 Once the sauce is ready to go, you tuck the beef back in for a nice long soak in a low oven. Like, three and a half hours long.  There are lots of recipes for doing this in a pressure cooker, and we'll likely use one of those next time.
After an impossibly long wait, the stew is super aromatic, and the beef is ready to be shredded.
Finally, the shredded beef is tossed back into the pot, along with white vinegar for finishing and some sliced olives.  I imagine some sort of citrus, like orange juice, would also be fine instead of vinegar here.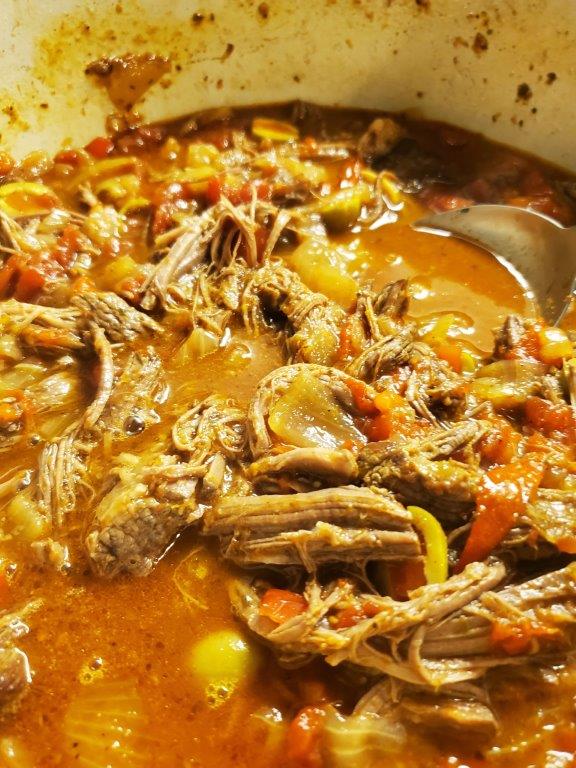 We departed from the recipe here by NOT adding cilantro, as it seemed to be universally scorned as a garnish by every Cuban person who commented on the recipes we looked at.
We also made a side dish and a drink to accompany our meal.  For our side, the obvious choice was Cuban style rice and beans.  The beans are cooked for almost as long as the meat, and topped at the end with a mix of sautéed onions, peppers, and spices.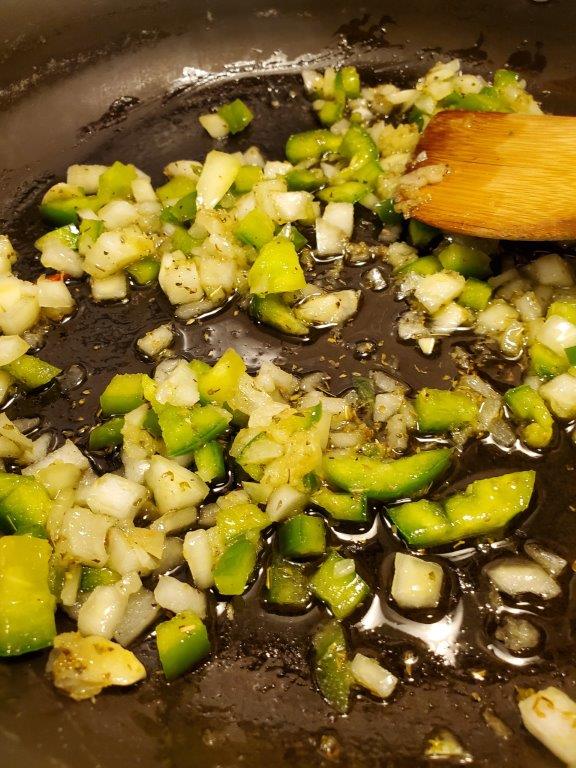 And finally, I believe I mentioned rum?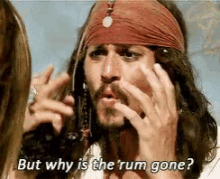 "American Chopper" a few weeks ago, Jack Sparrow now.  We're going to be a meme blog before you know it.
No.  No we are not.  However, we ARE going to make Batidos! One of the things I miss  about Michigan is a little Cuban restaurant in Ann Arbor, "Frita Batidos." They have AMAZING burgers.  Eat there if you have a chance.  But the SECOND part of their name refers to a traditional Cuban drink made with milk, ice, and fruit.  And possibly rum.
While almost any kind of fruit is possible, we decided to go with an inexplicably Pixar-branded pineapple.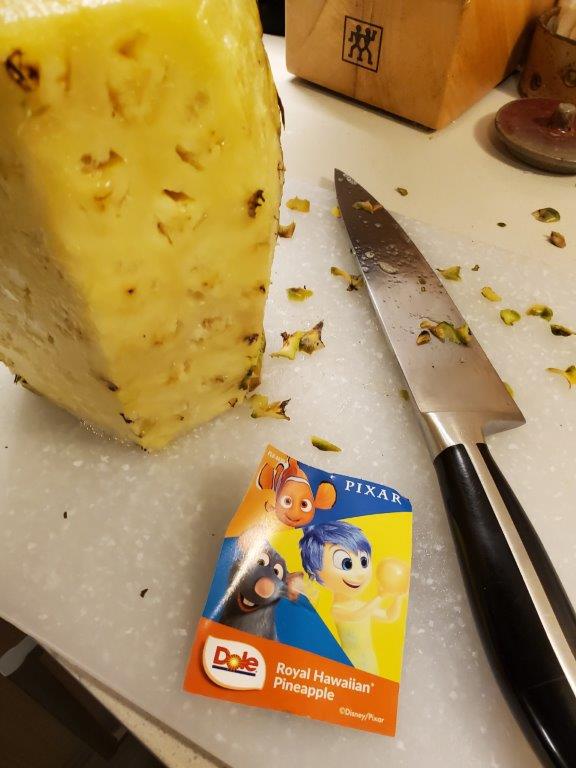 Our blender decided to die halfway through making these, but that's OK, because we had also forgotten to refill the ice cube trays, so there wasn't much ice for the food processor to deal with.  Final product, after the obligatory splash of rum: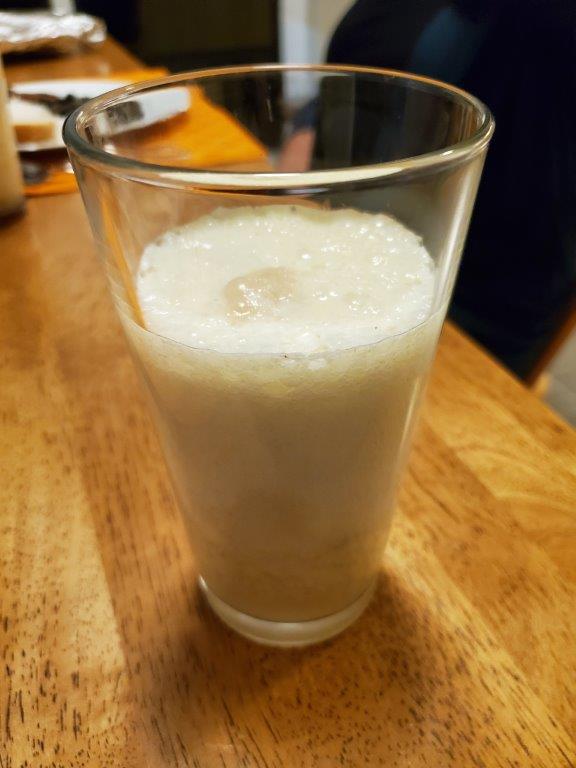 And here's our full tropical Cuban meal, in the middle of our rainy Vancouver December: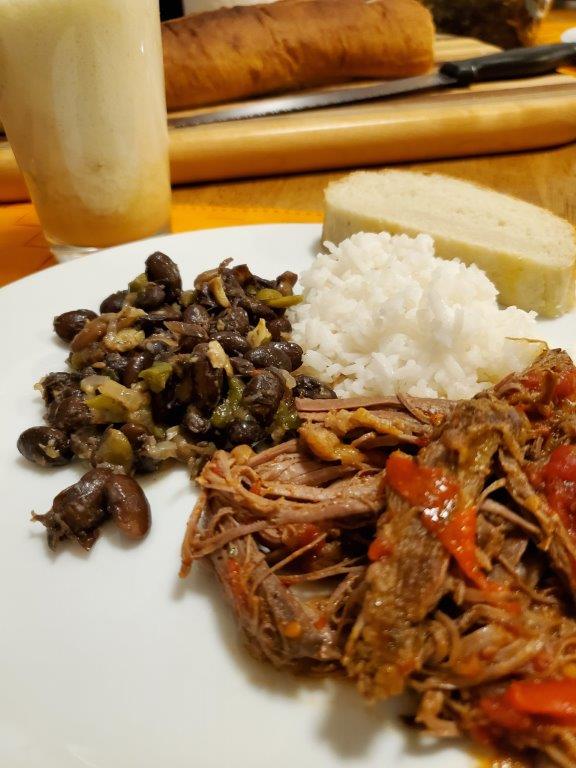 Doesn't that look amazing?  It totally was.  Leftovers for days, too.  The beef was sour and tangy and delicious, the beans were rich and flavorful, and the soft bread was perfect for soaking everything up.
Also, there was rum.
Next time, it's another island – Cyprus!
Recipes:
Ropa Vieja
Pan Cubano (Cuban Bread)
Cuban Beans
Batidos