I mentioned in the planning post that we had schemed to acquire tickets to the Studio Ghibli museum.  And by "schemed" I mean "set an alarm on my phone two months ahead of time."  Tickets for the museum go on sale once a month, and they sell out within an hour or so.  Incidentally, if you're not sure what Studio Ghibli IS, they're an animation company that has made a bunch of really incredible films that you owe it to yourself to watch.  Maybe don't start with "Grave of the Fireflies."
The museum is out in a suburb called Mitaka, which also contains a cat / capybara café.  We never ended up going to that one, because we couldn't figure out how to make the online reservation system work.  Among other things, you have to enter the pronunciation of your name in katakana, which proved to be challenging.
Does this mean we didn't see a capybara today?  It does not!  The Ghibli museum is in a medium sized park, which also contains a small satellite zoo to the Tokyo Zoo.   I'm willing to bet that after the construction of the museum, something like half their traffic on weekdays became tourists, like us, waiting for their admission time.
For some reason, I thought it would be entertaining to take selfies with a bunch of the animals.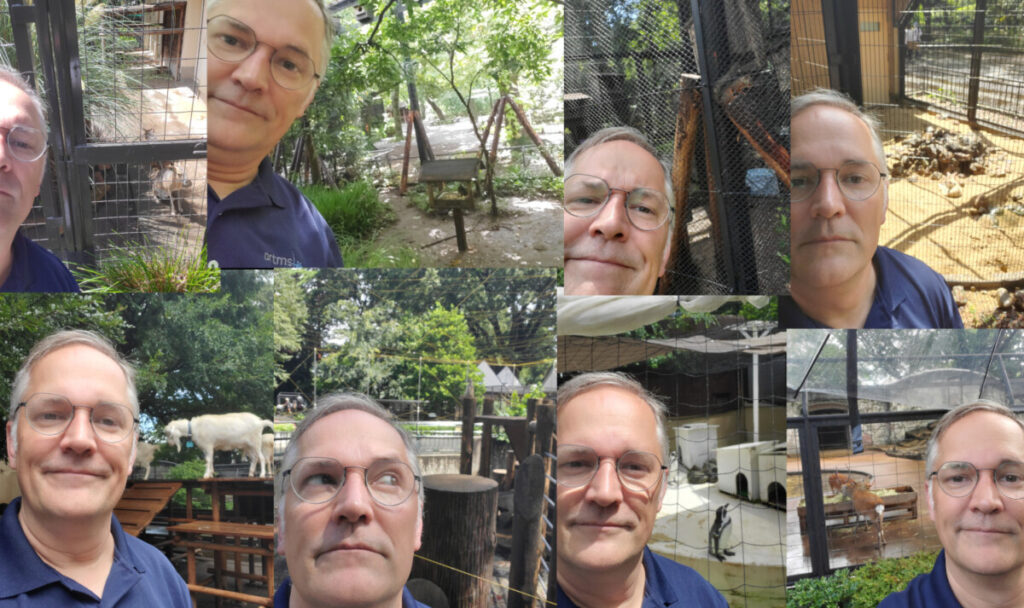 This should give you an idea of the type of zoo we're talking about.  It has an entire enclosure where visitors can walk around and get an up close and personal view of… squirrels.
Anyway, here's the aforementioned capybara.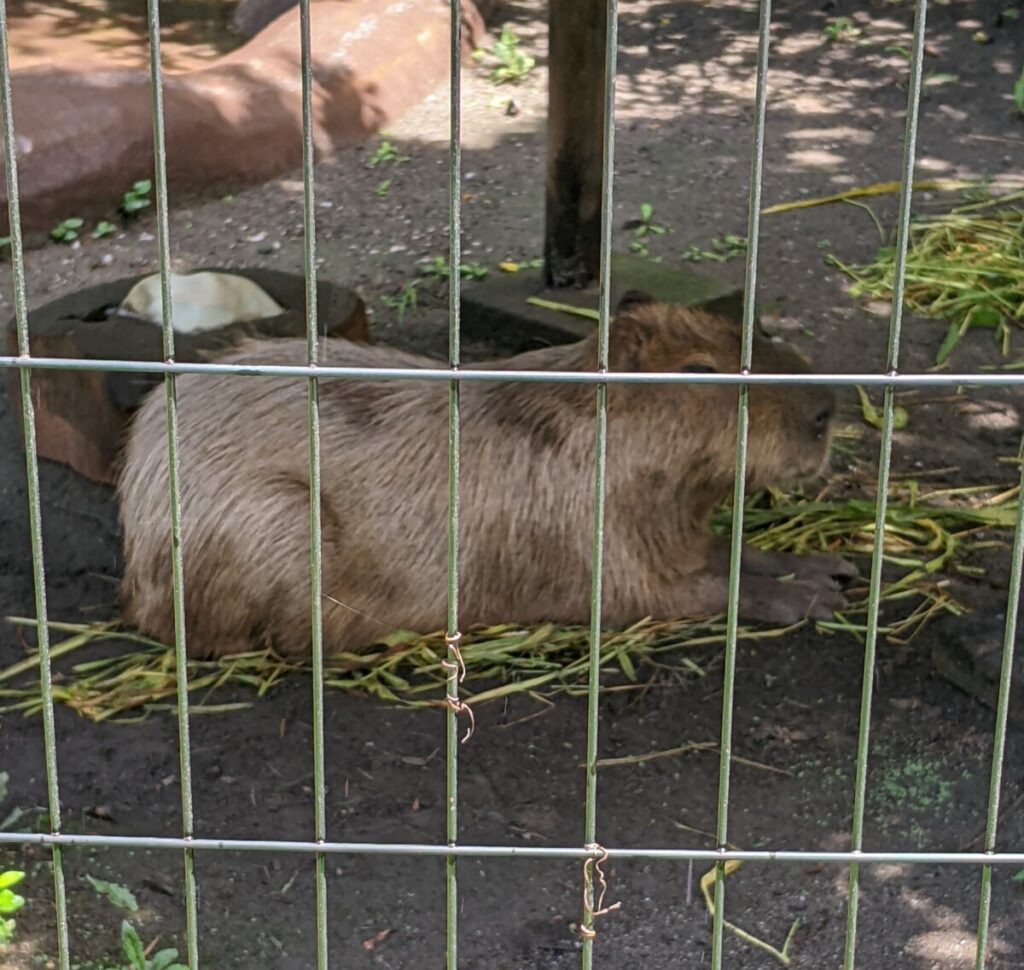 But with that, it was time to go to the museum!  It's an amazingly whimsical building.  Random spiral staircases.  Balconies with tiny doors. Bridges over courtyards. SO MUCH WHIMSY.  Are you not bemused?  Sadly, it does not allow interior photographs. But here's the box office attendant.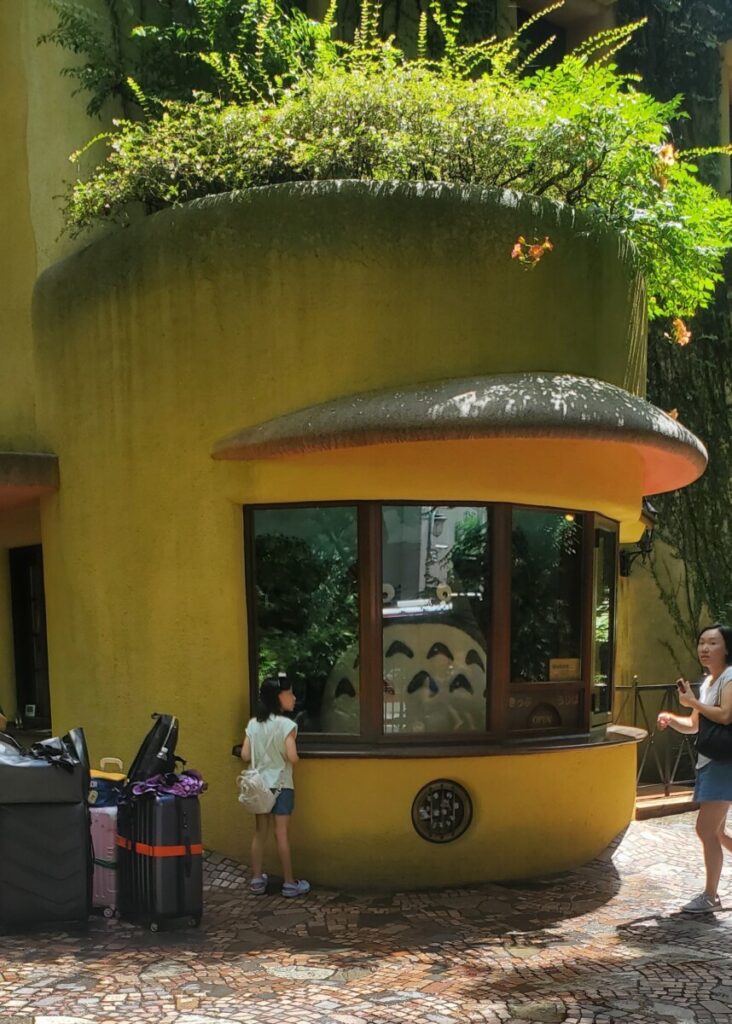 Given that ticket sales are online-only, I suspect there's some boredom at play here.
In addition to exploring the space, there's amazing exhibits about Ghibli's animation specifically, and animation processes generally. There was a temporary exhibit about Miyazaki's one TV show, "Future Boy Conan," which we'd never seen but now kind of want to.  I also had a pork cutlet sandwich at the café with a potentially inappropriate decoration.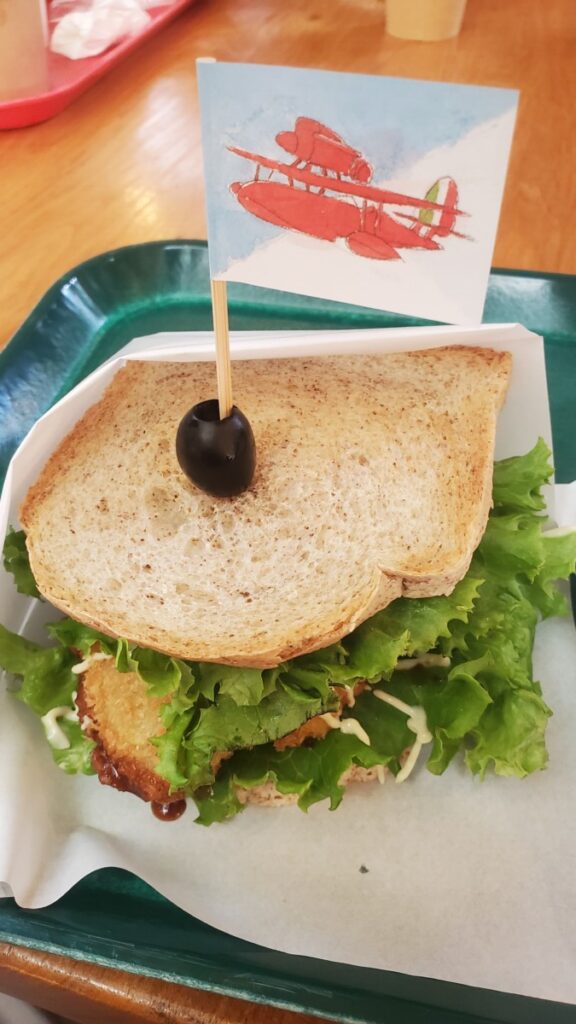 IYKYK.
On our way back to the train station, we stopped by the capybara café again to confirm they didn't have any slots available.  They didn't, but we did get to see the capybara through the door, so that's cool. Two capybara sightings in one day!
Heading back into Tokyo, we decided to go to Shinjuku, and meet a friend of ours at the Giant 3D Cat Café.
To be clear, the Giant 3D Cat Café is NOT a cat café.  Rather, it's the café located under this…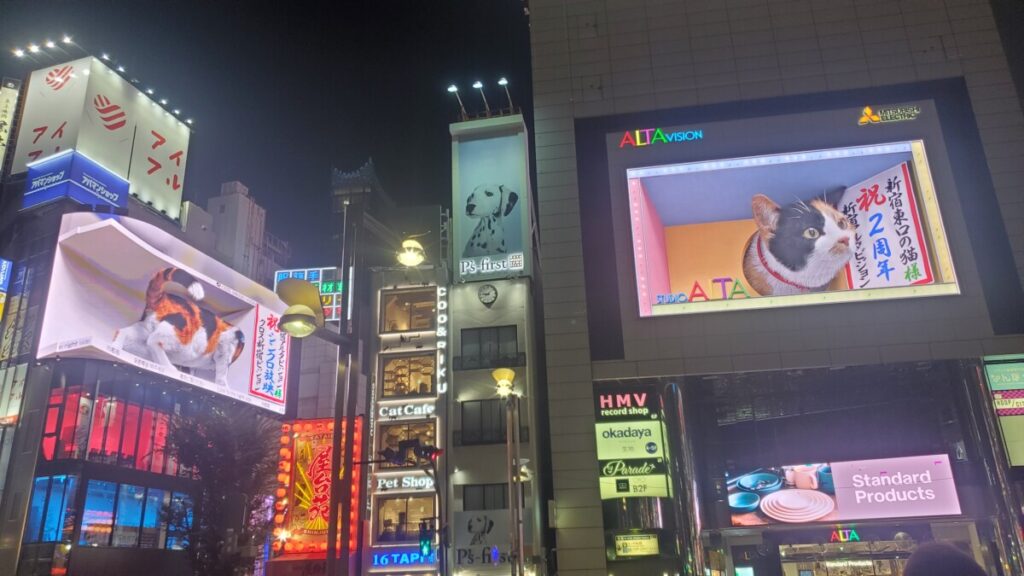 …a giant 3D cat.  The 3D effect from the billboard on the left is really quite striking. And the giant cat meowing down at the square is a pretty damn Tokyo thing.  So's this sign, not to mention all the lights around it.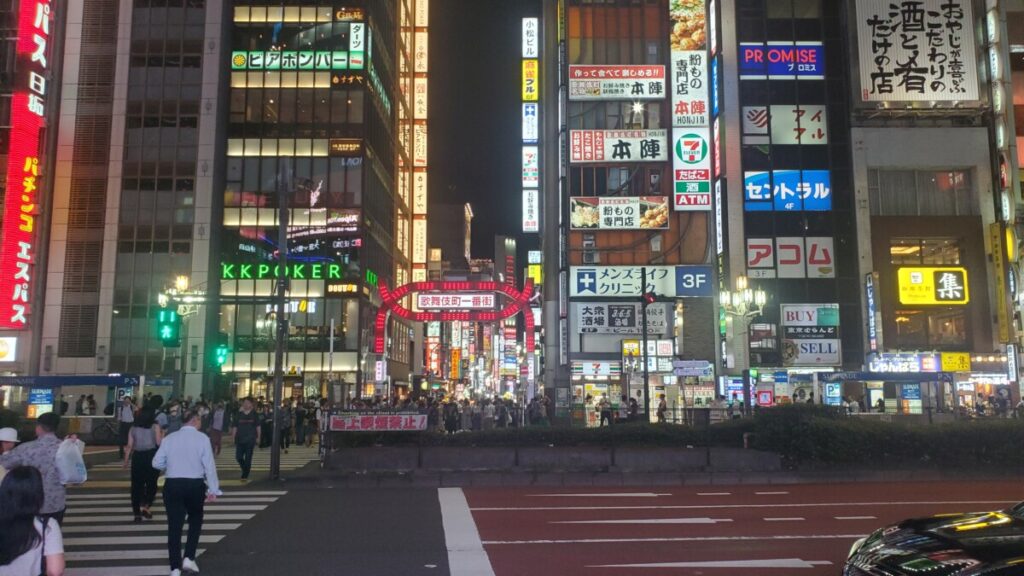 That's the entrance to Kabukicho, a "red light district", although our understanding is that that mostly just means hostess clubs and the more seedy types of maid cafes. (i.e., NOT the kind you take your kids to get an omelet with a happy face drawn on it in ketchup.)
Shinjuku at night is CROWDED.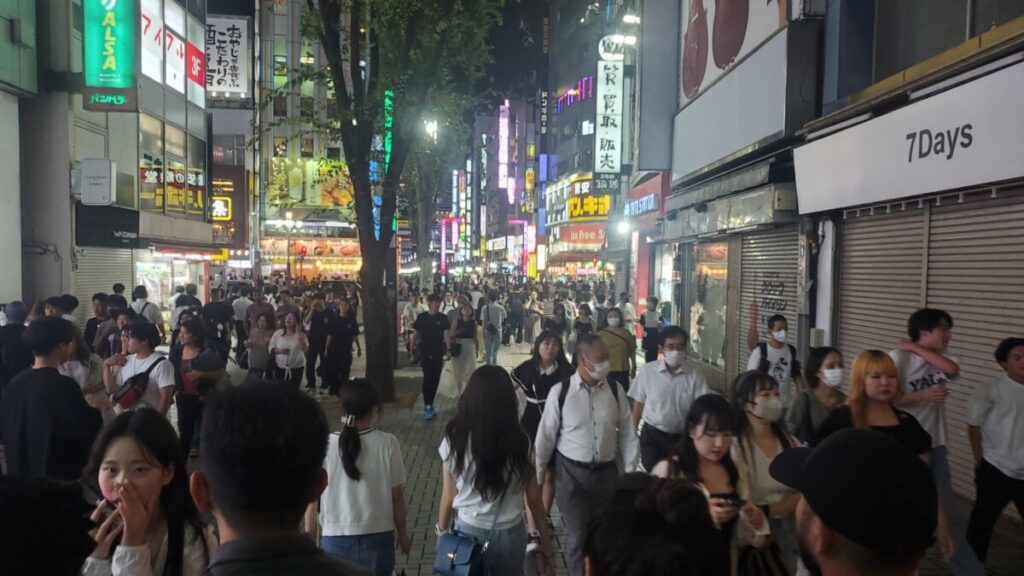 We went and got some delicious ramen, which I remembered to photograph after already having eaten half of it.
And then we went up to the best free observation deck in Tokyo, at the Metropolitan Government Building.  Tokyo is really pretty at night from up high.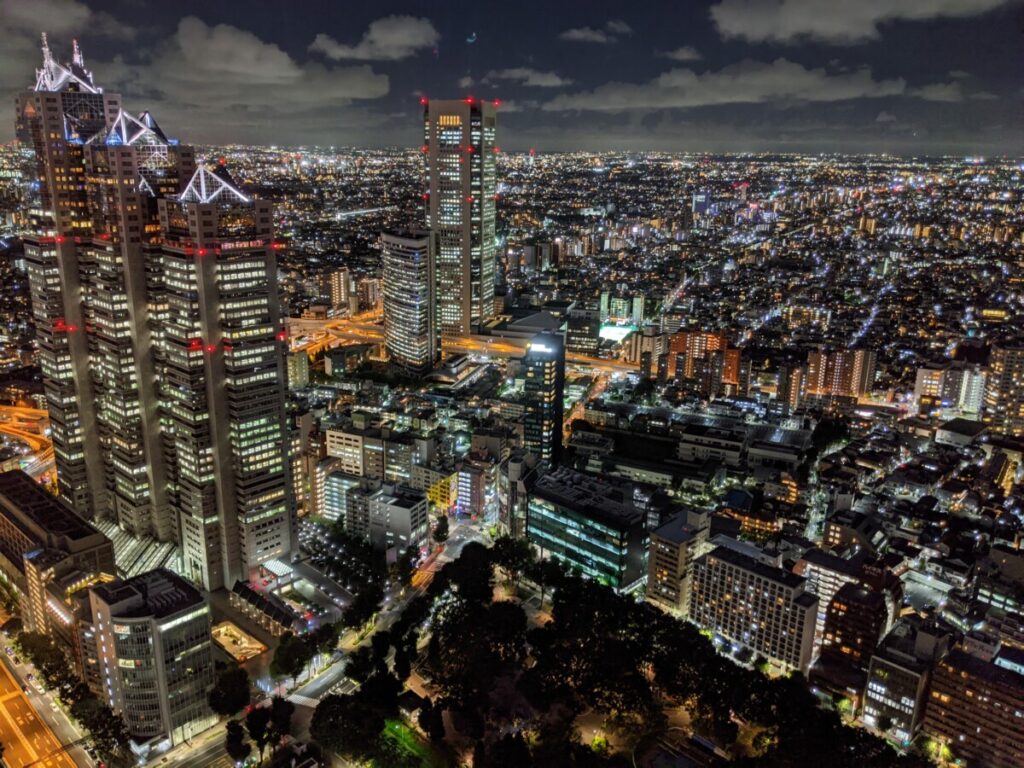 Finally we headed back to the station for the night, but along the way we passed a crowded square, packed with people cheering for… something? going on on a stage.  One by one, groups from the audience were going up to the stage and joining a growing crowd, to big cheers from the crowd and excited Japanese from the hosts.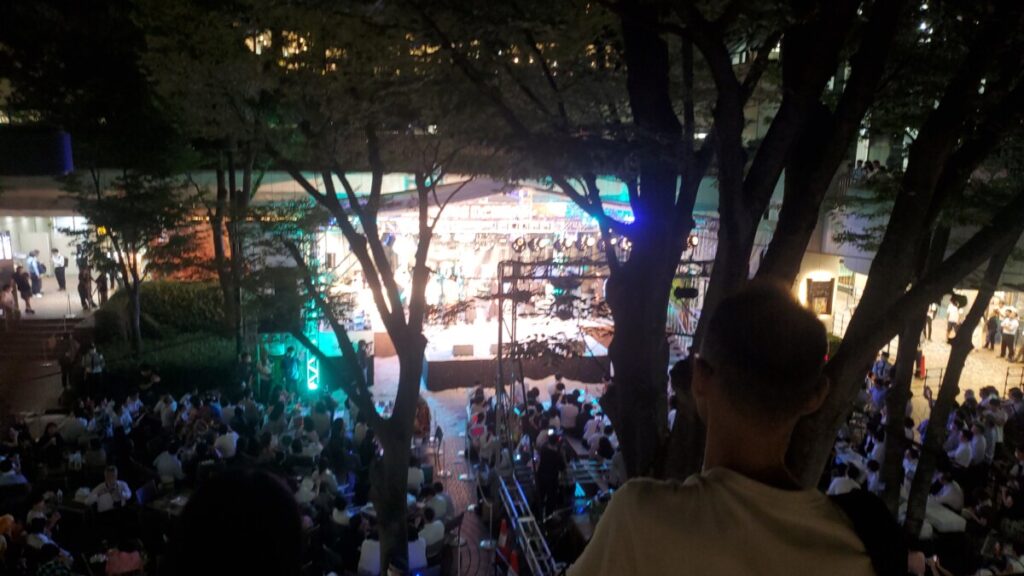 A bit of Googling when we got back to our hotel, and as far as we could figure, this was a singing contest for all the companies with offices in the adjacent skyscraper.  Each company could enter a group, and we had caught the award ceremony.  But none of the actual performances.
At this point, it was time to crash, as Leigh's conference started the next day.