Leigh's conference started on this day, but as we were still getting accustomed to the Tokyo rail system, I rode out with her so I could see where it was.  The conference was at a university in a quiet residential neighborhood in the northwest suburbs.
After dropping her off, I wandered past a nearby shrine. This one has an ersatz Mount Fuji, so if you, a pilgrim, can't climb the real one, you can climb this: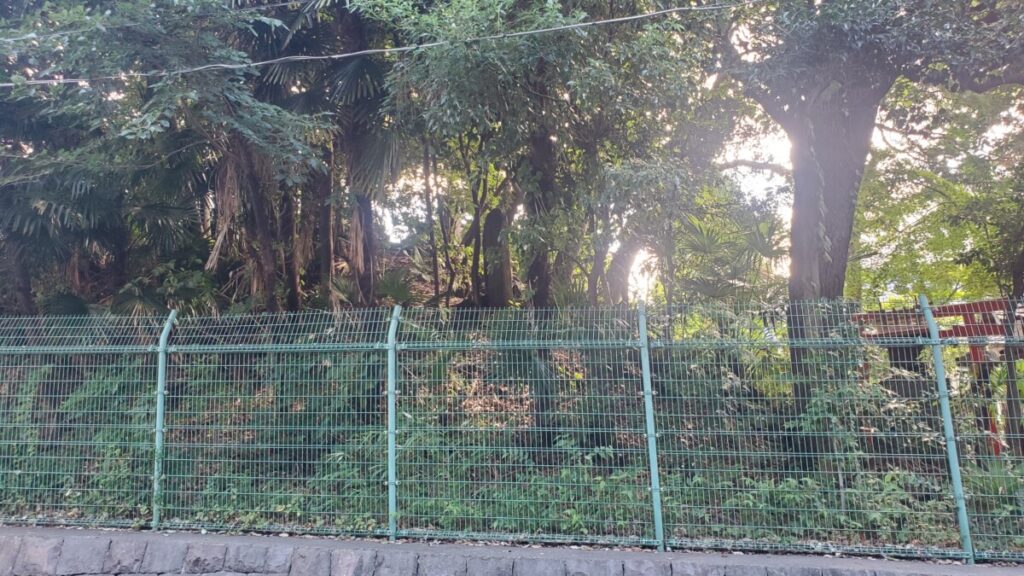 Or at least you could on the three days a year it's open.
I had breakfast at a tiny little bakery that clearly doesn't get many tourists, but I managed to order some nice cheese toast.  And then I had the rest of the day left to my own devices.  Apparently, left to my own devices, I forget to take pictures, because there isn't a single one on my phone for the remainder of the day until I reunited with Leigh.
After not making it to an arcade in Osaka, I headed for the Round One arcade near Ikebukuro station. This is a building with ten floors of various forms of entertainment, but I was only interested in the fifth floor – rhythm games! Turns out, there's a lot of new ones since I last played DDR and Rock Band on the regular, and they're a lot of fun.
There were also some terrifyingly good teenagers playing, but I didn't bother them, and they didn't laugh at me, so it all worked out.
I then wandered over to the Sunshine City Mall to check out the world's largest gachapon store.  Gachapon are machines that sell you a plastic capsule with a toy in it.  A given machine will be dedicated to a theme, like "Dinosaurs", or "Moomin," or "Midcentury Danish Furniture."
You think I'm making that last one up, don't you?
I swear I am not making that one up.
At any rate, at the world's largest gachapon store, there were several THOUSAND of these machines, and people wandering around sticking money into them to get plastic toys, and then going over to tables to look at what they got, and then going back to get more plastic toys, ad infinitum.
Tokyo is kind of the final boss of late stage consumerism.
After that, it was lunch time, and the department store on the east side of the station had a food hall, but also a roof garden where you could EAT the food hall food.  I settled on a chicken karaage bento, but the clerk insisted on "omikase" – picking out the BEST chicken bento for me, in her considered judgement.  Who was I to argue?
Took the bento up to the roof, where there were also a number of small food stalls including one selling Cornish pasties. (!?!)
After lunch, I bonked around a bit more looking for geocaches and was eventually joined by Leigh, since the first day of the conference was only a half day.  We went down to Shibuya to look at the famous "scramble" street crossing, and this is where I can finally break up the wall of text with some pictures.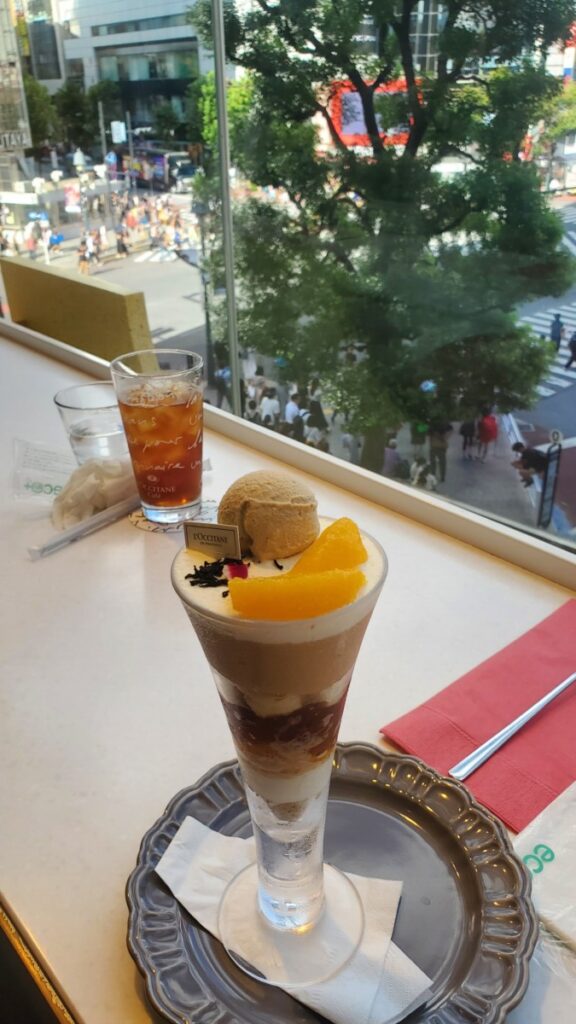 Oh, sorry, did you want a picture of the crossing itself?  Sorry, too hot.  Here's a parfait.  You can sort of see the crossing in the background.
We then wandered over to see what else there is to see in Shibuya.  There's this, in a park built OVER the train tracks.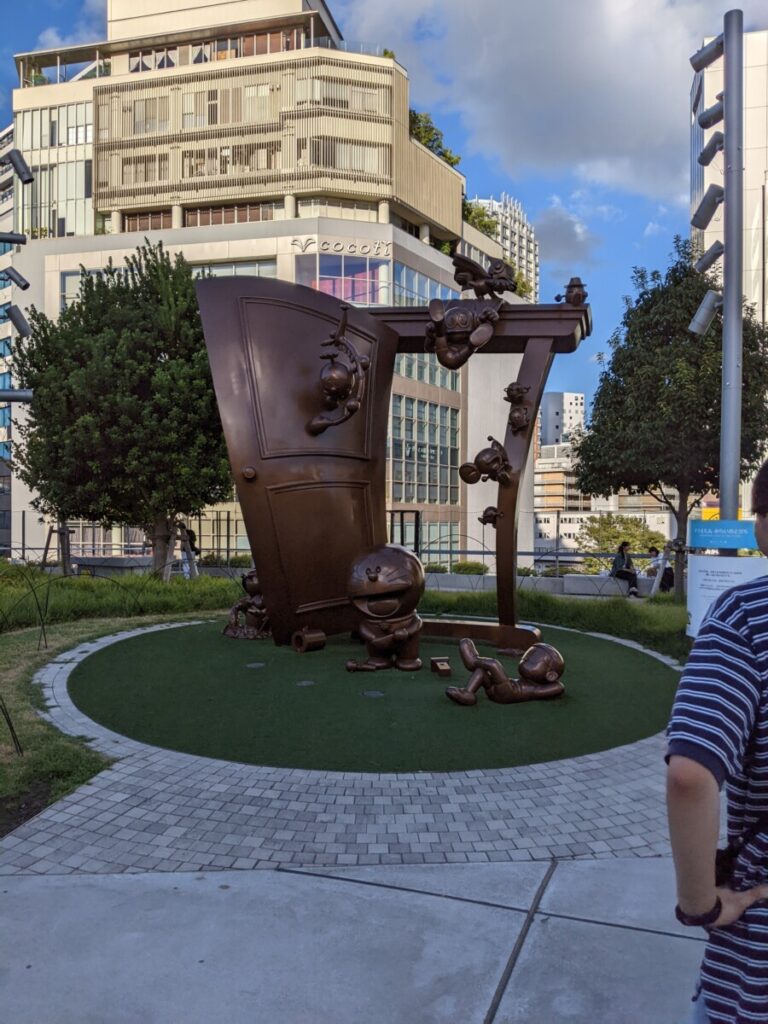 That's Doraemon!  According to Wikipedia, Doraemon is "an earless robotic cat who travels back in time from the 22nd century to aid a boy named Nobita Nobi."
Okay then!
Then we went to an art gallery in the basement of a Diesel store, which I'm going to let speak for itself, because it was AWESOME.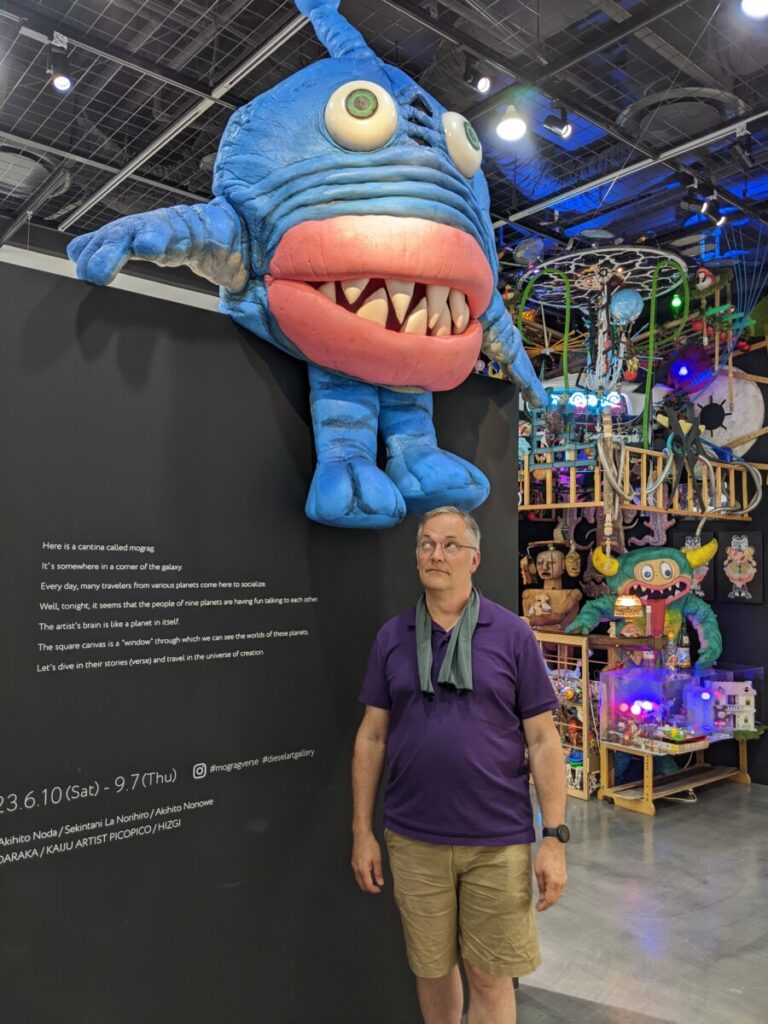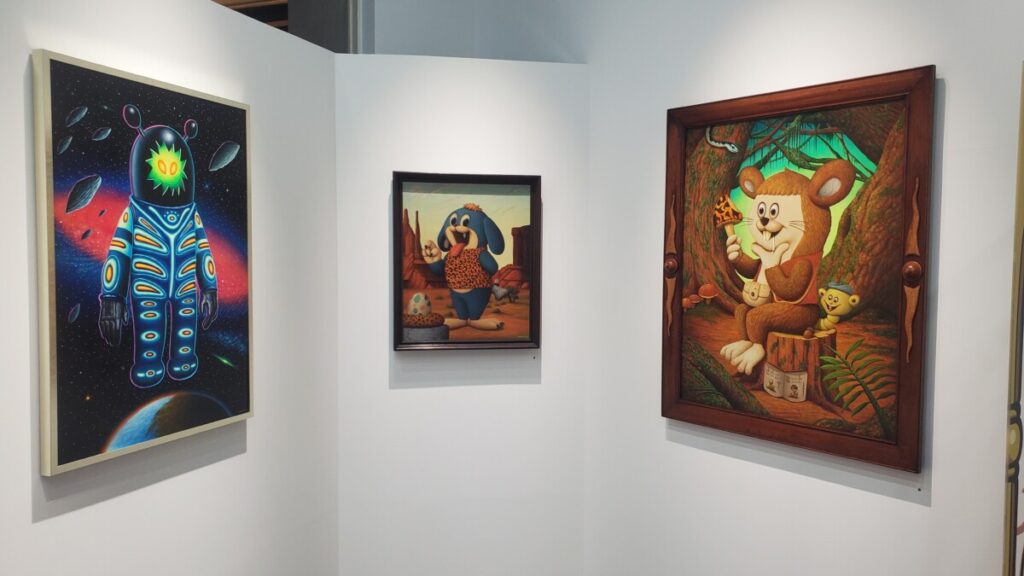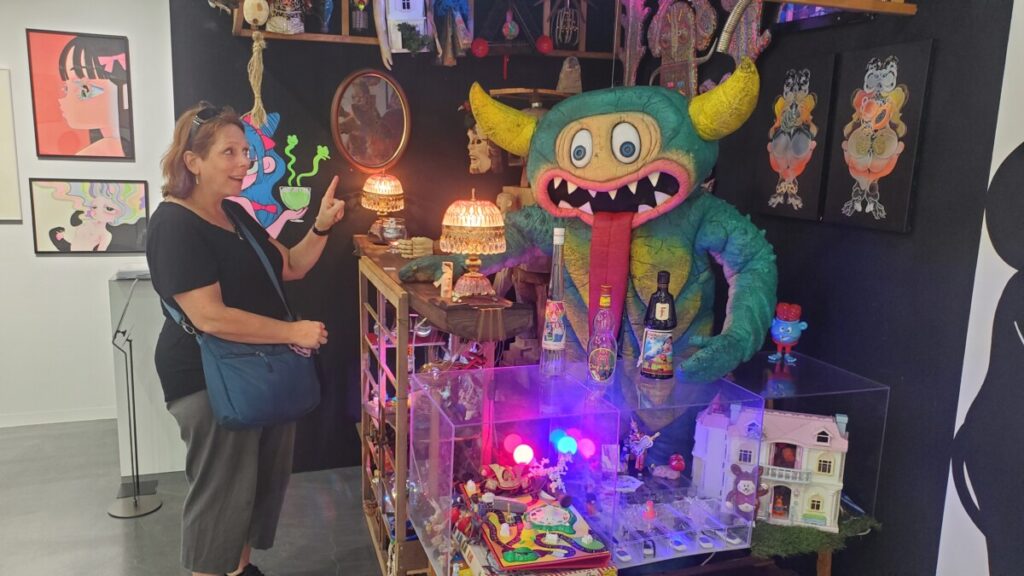 We wandered around a bit more, and managed to run into friends in an art gallery on the 6th floor of a nearby high-rise.  Running into friends at a tourist destination is one thing, but running into them at a weird art gallery was even LESS likely. Small world, I suppose.
There was also a nice view of the sunset over the scramble crossing from there.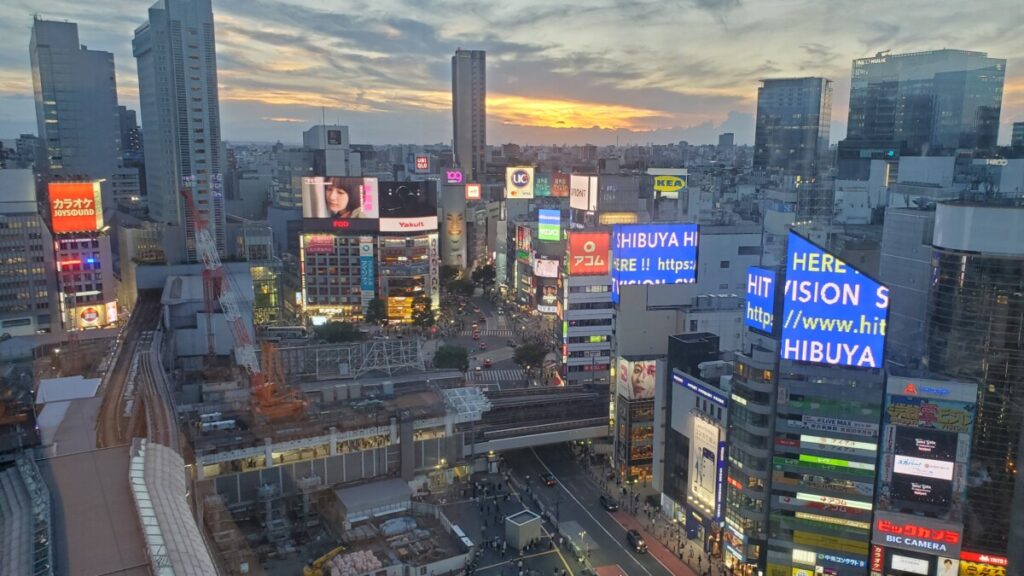 And here's what it looks like while waiting to cross at ground level.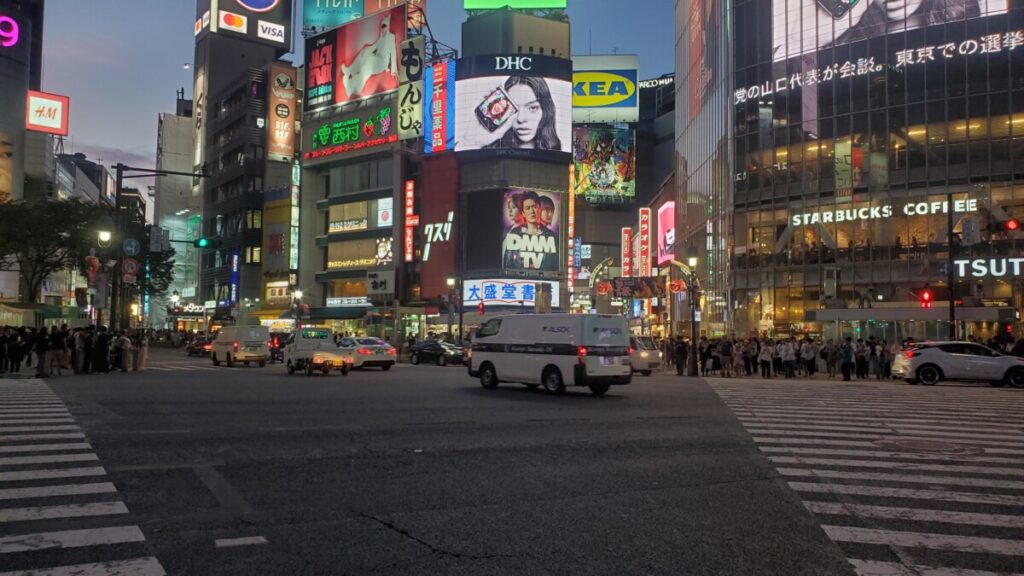 For dinner, we decided to do the quintessential tourist thing of going for conveyor belt sushi.  (Apparently non-tourists ALSO do this, but probably not right in the heart of Shibuya.)  It is just as silly as you'd expect, but the sushi quality is still pretty darn good, given the circumstances.  Better than most neighborhood sushi joints in Vancouver, which is not a slouch in the sushi department.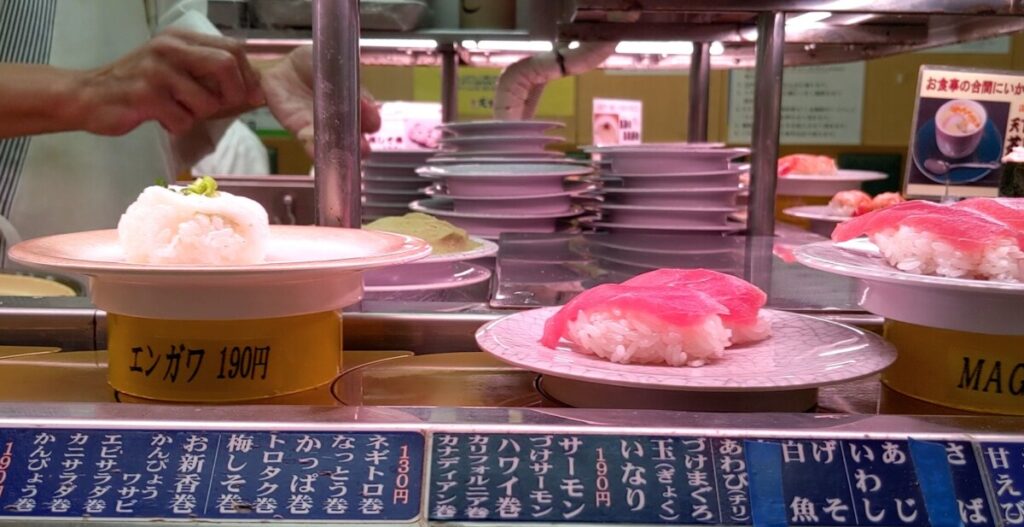 In addition to taking stuff off the belt, you can make special requests of the chefs.  I ordered a taco.
Sorry, I ordered "tako", which is Japanese for octopus.
The final damage: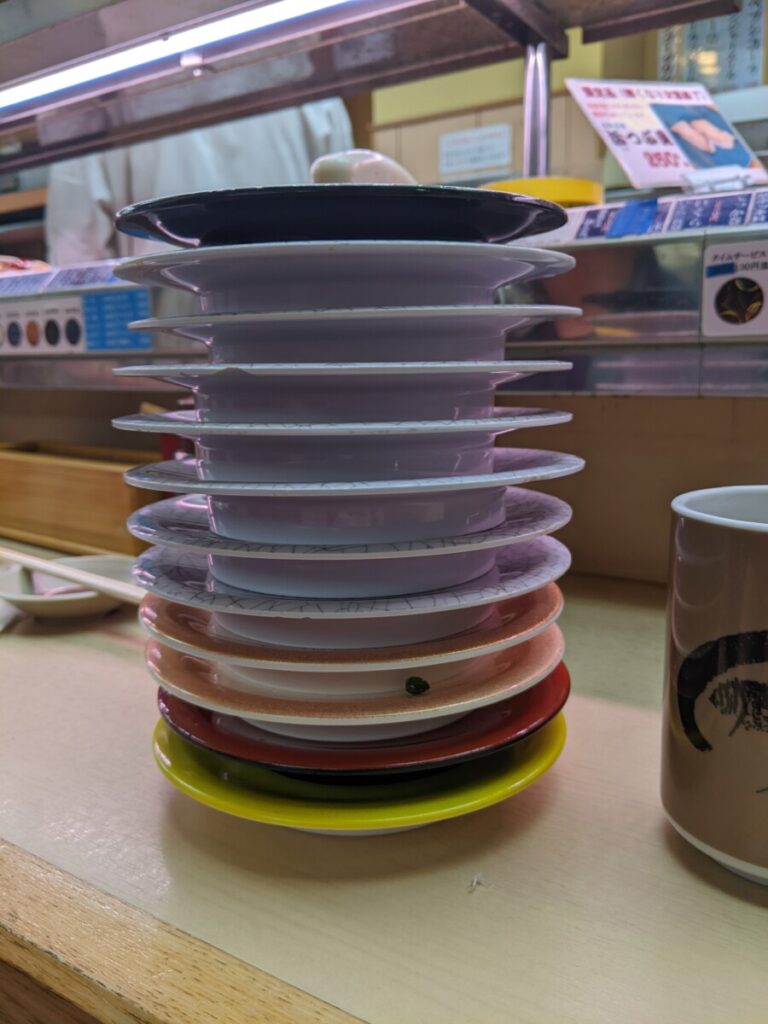 And this pile of plates is how you are billed – the attendant comes around, counts up your empty plates, and gives you the total.  Which, for this stack of plates, came out to less than 30 dollars.  It's an insanely good deal.
And with that, it was time to head back to the hotel.