Cambodia was our second or third foray to southeast Asia, depending on how you count Bangladesh.  As always, the question was, "What makes this country different from the one next to it?  What will make this a Cambodian meal rather than a Vietnamese or Thai one?"  And the answer in this case seems to be prahok. What is prahok, you ask?
Mud fish sauce.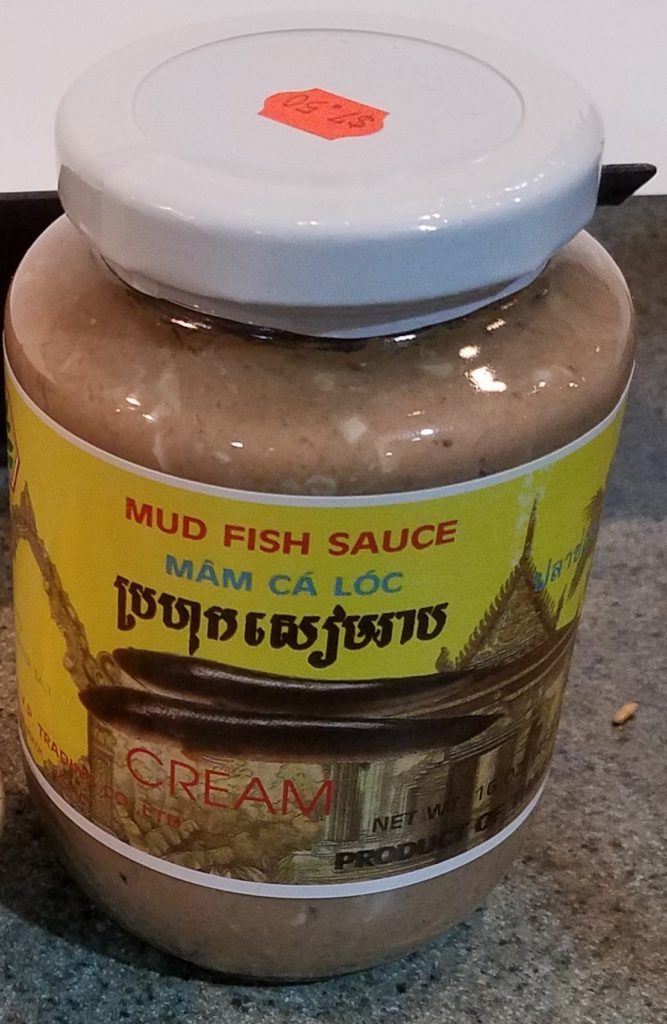 If you're familiar with standard Asian fish sauce, such as Oyster brand, this is not that.  Rather it is a thick paste, and is VERY aromatic.  For the big pot of stew we were going to make, only two tablespoons were going in, and that was plenty. But everywhere I read agreed – THIS is what makes a dish uniquely Cambodian.
That, and a spice blend called kroeung. Spice pastes are common in southeast Asian cuisine.  I've made any number for Thai dishes.  This one, however, called for an ingredient I'd never encountered before: fingerroot.  Fingerroot is a rhizome, like ginger or tumeric.  In fact, the package I found (at an Asian grocer over an hour away), was only labelled "rhizome."  I had to google the Thai characters to verify that I was, in fact, holding the correct product.
In addition to fingerroot, the paste called for a number of other ingredients familiar from Thai cuisine, including gallangal, lemon grass, and keffir lime leaves.  (If you've not tried using these leaves in cooking, they are amazingly potent, and worth seeking out.)
One of these days, we really MUST get a larger mortar and pestle, as our little one took a WHILE to reduce everything seen here to a mush: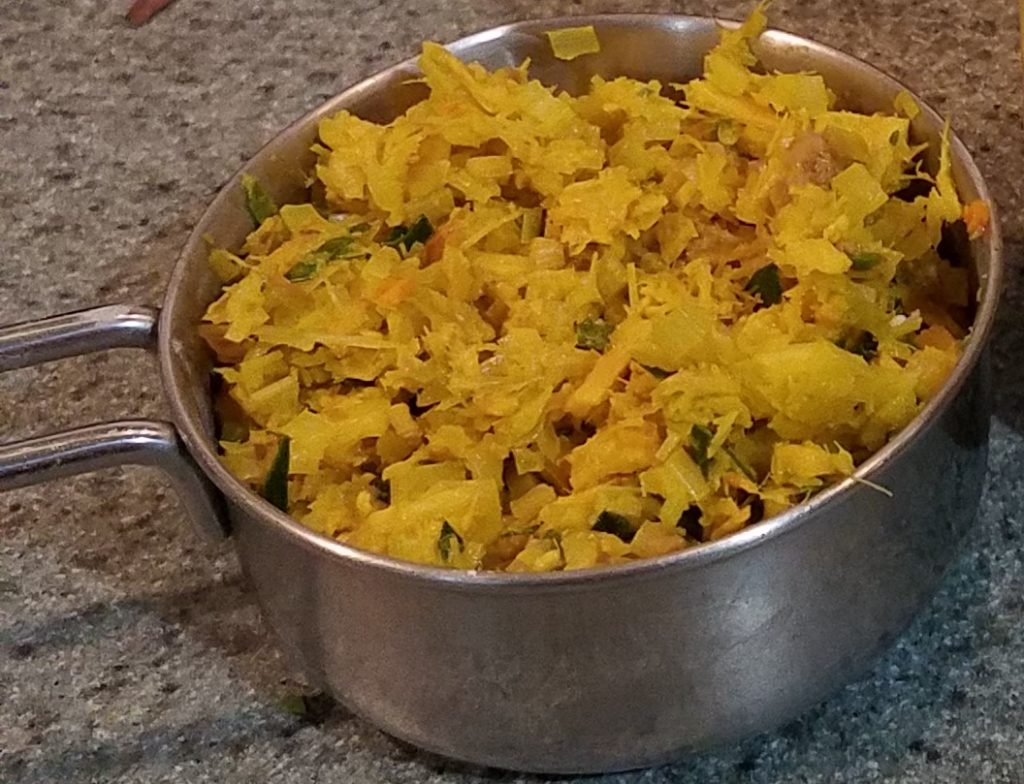 So, now that we have our kroeung and our prahok, what's for dinner?
A leading contender for "national dish of Cambodia" turns out to be a veggie stew called (with a MILLION different possible spellings) Somlor Kor Ko, which literally means "stirring soup."  There are also as many different ways to MAKE it as there are to SPELL it.  I finally settled on a recipe (linked below) which had the advantages of a) using actual quantities, instead of phrases like "use a mix of vegetables" and b) NOT using random herbs that I can't even figure out the English translation for, let alone figure out where to acquire them. ("Angkeadei?" "Mrum?")
Instead, our vegetables are going to be eggplants, small Thai ones and large Chinese ones, green beans, and shredded green papaya, and our protein will be pork and tilapia. (Catfish would be ideal, but the store was out.)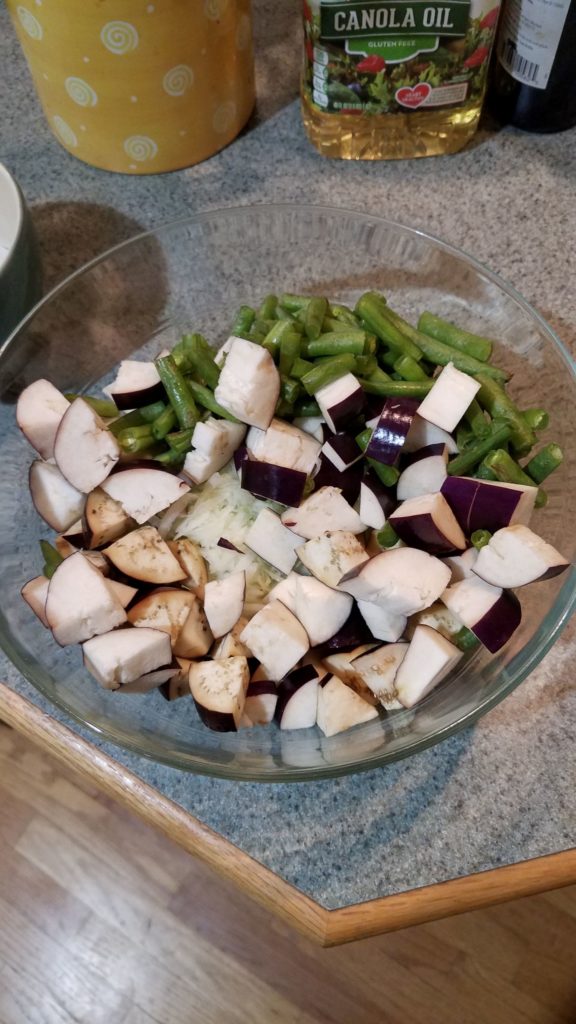 First though, we have to toast some rice: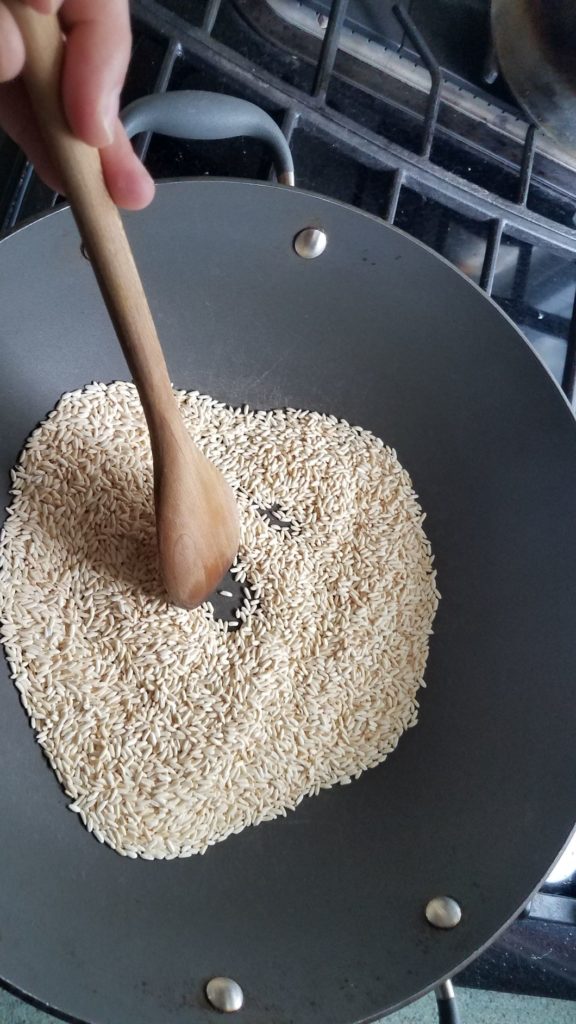 This is glutinous or "sticky" rice. Not so sticky when dry, but when roasted and ground, it becomes a thickening agent common to many southeast Asian cuisines.  It's not hard to do, but it takes a while, and you have to stir the whole time so it doesn't scorch.
After all this preparation of ingredients, the actual cooking was pretty anticlimactic.  It's a stew, so you just throw everything into the pot and let it cook.  The only complication is that you pull the fish out as soon as it's cooked through and then add it again at the end so it doesn't overcook.
And the final result: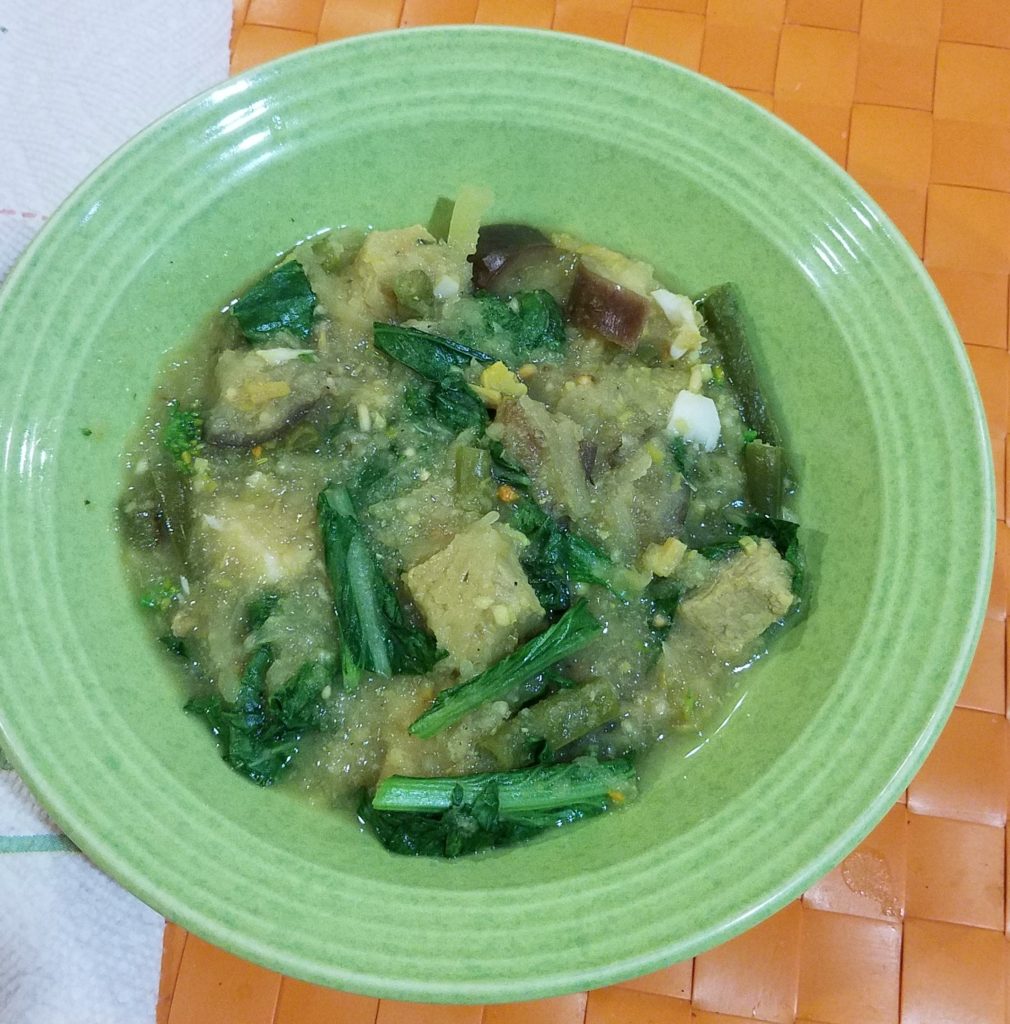 Our version won't win any beauty contests, but…
… it was really good.  The spice blend, while full of amazing aromatics, notably DIDN'T contain any chilies.  That just let all of the other flavors come to the fore and perfectly balance the incredible density of the fish sauce.  The toasted rice and eggplant thickened the broth to the point where is was more of a gumbo than a liquid.  The pork, fish, and vegetables soaked up all the flavors beautifully.
For desert, we made a traditional Cambodian wedding desert made with more sticky rice, red beans, tiny bananas, and coconut milk: (The chronology is a little misleading here – we started these things HOURS before the stew.)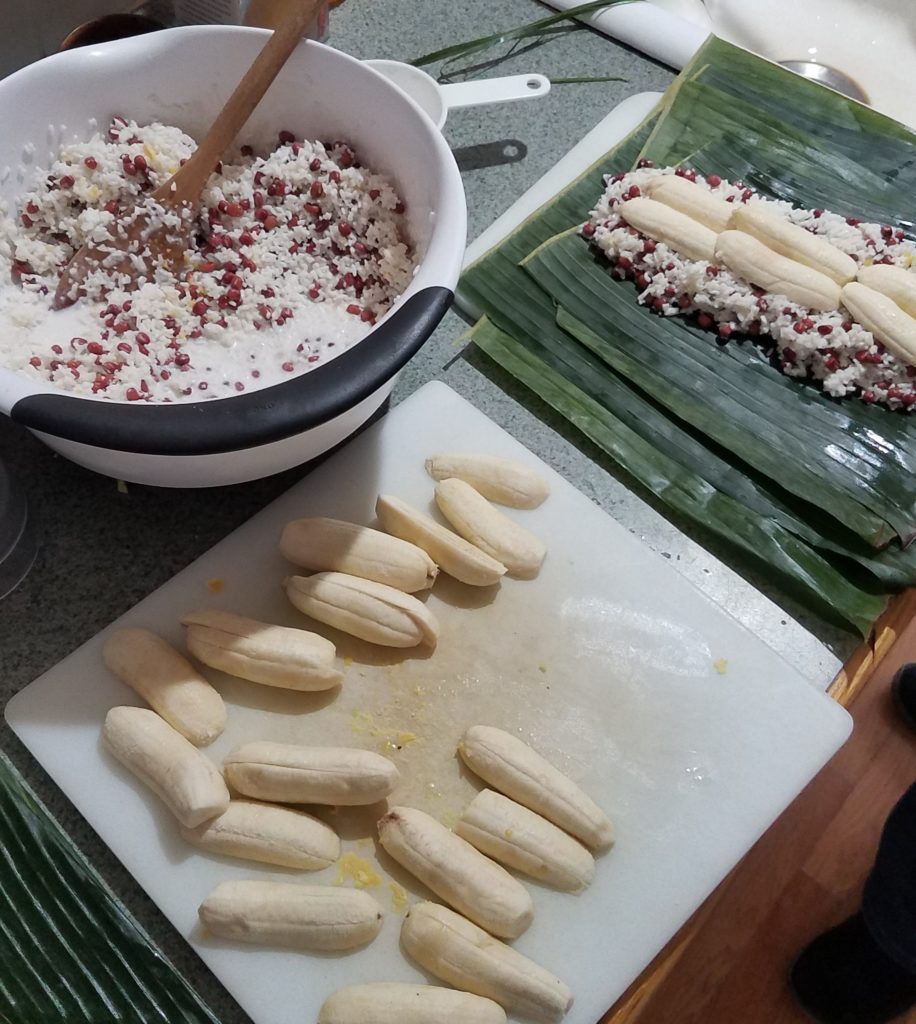 The rice and beans are soaked overnight, then blended with the coconut milk.  The mixture is then combined with bananas, wrapped in a banana leaf, and steamed.
It was… fine.  I didn't take any pictures of the final product, sadly.  We steamed them for four hours, and it still seemed like we probably hadn't cooked them long enough.  I suspect we may have made the individual packages too large, preventing them from cooking as thoroughly as one might hope.  They weren't terrible, but I feel like had the rice and beans been cooked a bit more, or if there had been more coconut milk flavor, I would have liked it more.
Or I may just be a heathen American.
Pleasantly, we did have company, which is always nice for these adventures.  Sadly, we once again forgot to take a group photo, but one of Leigh's colleagues joined us, and a good time was had by all.
Next up – Cameroon, and a chance to get that jar of red palm oil off the shelf again!
Recipes: