I've been posting about our international food adventures on Facebook, but I'm going to start moving them here, because it's easier to integrate pictures into the story, and we don't actually go on vacation that much.  I'll probably also start retroactively moving the prior meals on here too, which means this explanation will be in the middle of the narrative, and that will be confusing too.
But without further ado – Bosnia and Herzegovina!  I have an old friend who is a professional eastern European musician, so I contacted him for suggestions. Being that sort of person, he opened another chat window to the mayor of Hamtramck, just to make sure he had the right places to send me. (Follow that link, by the way. They're really good.)
He nailed it, too – I walked into a nondescript grocery store and asked for Kajmak and the dude behind the counter enthusiastically told me "You can have this kind, which comes right from Bosnia, or THIS kind, which my grandmother made this morning."
Naturally, I went with the grandma Kajmak.
But what IS Kajmak, you ask?  Let's not get ahead of ourselves.
The centerpiece of this meal was going to be cevapi, which should have a bunch more diacriticals on it, and comes from the same root word as "kebab."  It's an uncased beef and lamb sausage that has a very distinctive "springy" texture that you get from grinding the meat several times, and mixing in baking soda.
I had never used a meat grinder before, but fortunately our friends who were coming for dinner were able to loan us one. Meat ground, we tossed in parsley, garlic, and a packet of cevapi seasoning mix that was also provided by the Balkan grocery store. Into the fridge with the meat.
Cevapi is traditionally eaten on a fluffy flatbread called Lepinja – like pita but softer and airier. I came home early from work on the day we were having dinner so I could get the dough started.  The other accompaniments are ajvar, a roasted red pepper spread with eggplant, and kajmak.
Oh right, kajmak.  So kajmak is essentially clotted cream.  You can make it yourself, but it takes a while, so I went with the grandma version. It's made by simmering milk and heavy cream forever and then skimming off the heart attack that forms on top.  It's incredibly sweet and rich.
Our friends arrived, so we put on some Bosnian music, and put them to work making sausages, which we tossed onto the oven plate at the same time as we put the bread in the oven.
The bread really did turn out amazingly well for a first attempt.

Once the sausages were done (and the one smoke alarm I missed hurriedly disabled), it was time to feast! To cut the richness of the kajmak, ajvar, and cevapi, we added some raw onion, and served it all up with some Croatian beer brought by our friends.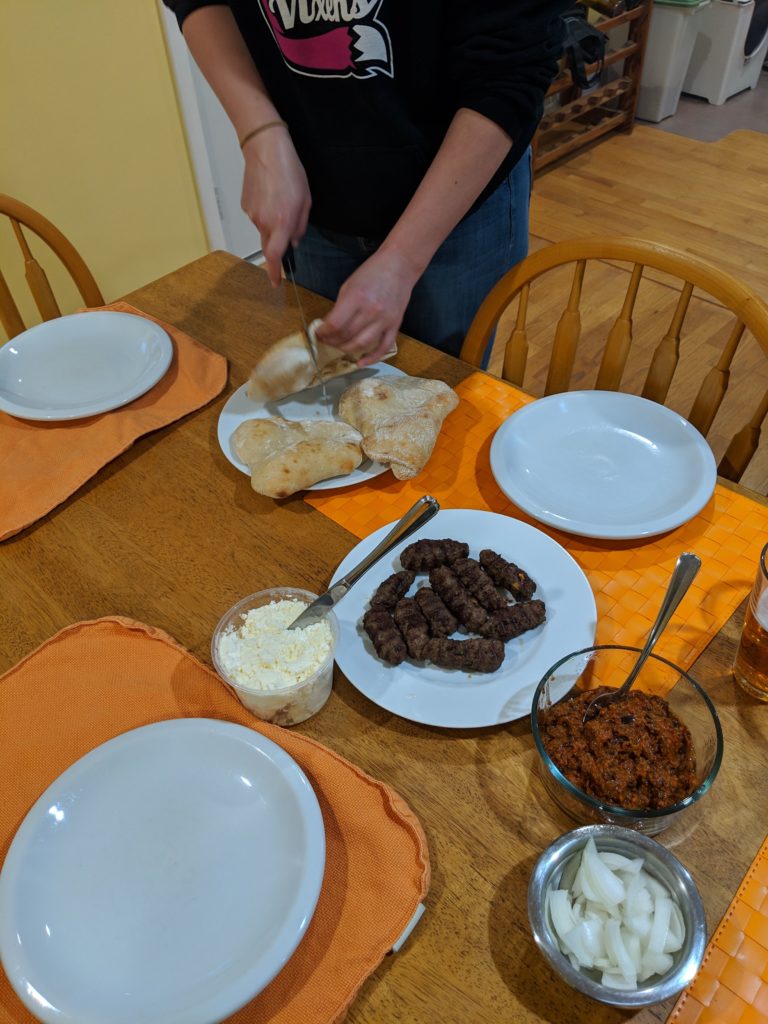 For dessert, we made what my friend Walt described as "the only Bosnian dessert that isn't  a variation of Baklava", namely Tufahije – apples stuffed with honey and walnuts.  Apparently grandmas will actually come to blows over whether they should be made with sweet or sour apples.  We went with sour, and they were fantastic, especially because everything is better eaten with friends.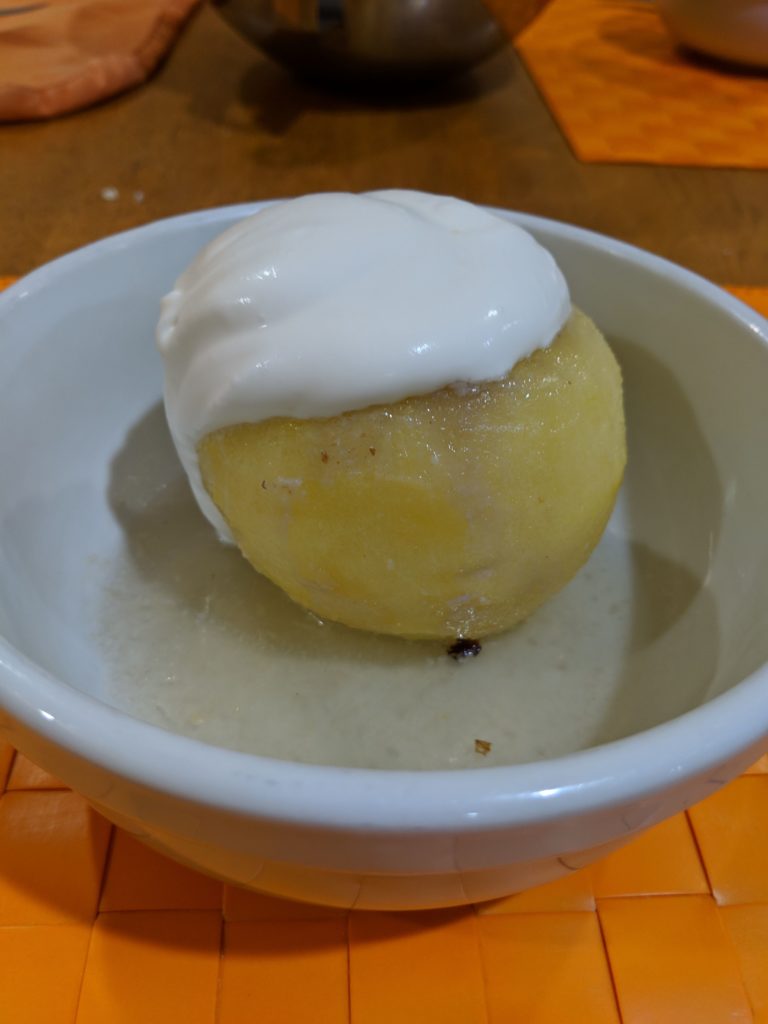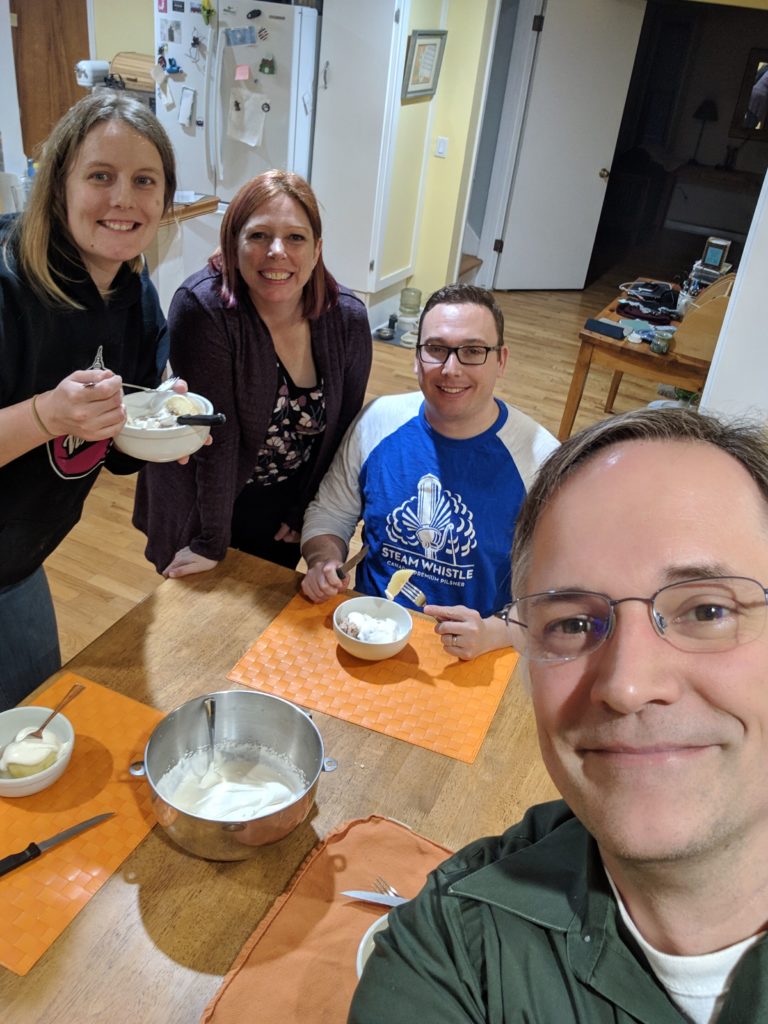 Next up, Botswana!
Recipes:
Cevapi, Ajvar, and Lepinja
Tufahije
Kajmak – ask grandma