"Did we… did we just make tacos?"
A recurring theme of this project is trying to figure out what makes a country's cuisine unique.  What can we make that is uniquely Albanian, rather than Macedonian?  What separates Eritrean food from Ethiopian?  Where can we get the right kind of caterpillars for Burkina Faso?
Wait, no – ignore that last one.  We didn't make caterpillars for Burkina Faso, and we're not making fermented shark in two meals from now.  We're adventurous, but there are definitely limits.
So for Honduras, we instituted our usual stringent research program of making half-assed internet searches. And in this case, we found recipes that claimed to absolutely be Honduran.  Some were even from an official government tourism website.
But… they didn't seem to be dramatically different from the food of other central American countries.  Costa Rica has Salsa Lizano.  El Salvador has pupusas.  Honduras has… refried beans?  Well, OK – we LIKE refried beans, let's see how this goes.
For our main dish, we'll be making carneada, which is grilled flank steak marinated in bitter orange juice.  For our last country, Haiti, we managed to snag the last of the season's fresh bitter oranges from Granville market.  This week, I realized we needn't have gone to QUITE so much effort:
Turns out you can just BUY the stuff in a bottle.  Still, I'm sure fresh juice didn't hurt, and the Haitian meal was delicious.  Let's see how flank steak soaked in the stuff turns out. The marinade also contains garlic, olive oil, cumin, and Worcestershire sauce.  Not having any of that last, we just pulled out the aforementioned Salsa Lizano.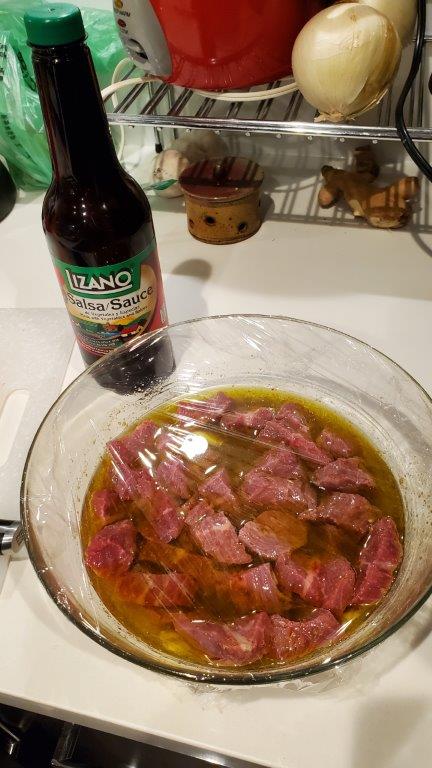 Next up, beans.  First, the all-important sofrito.  This one is bell peppers, garlic, and onion.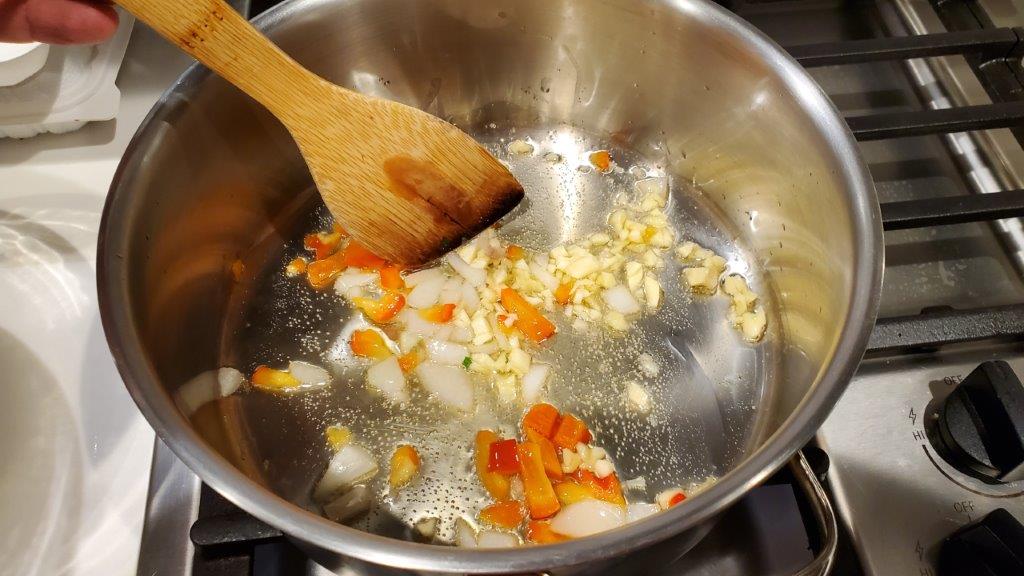 Next, after blending up cooked kidney beans in a blender, they get dumped into the pot and, well, re-fried.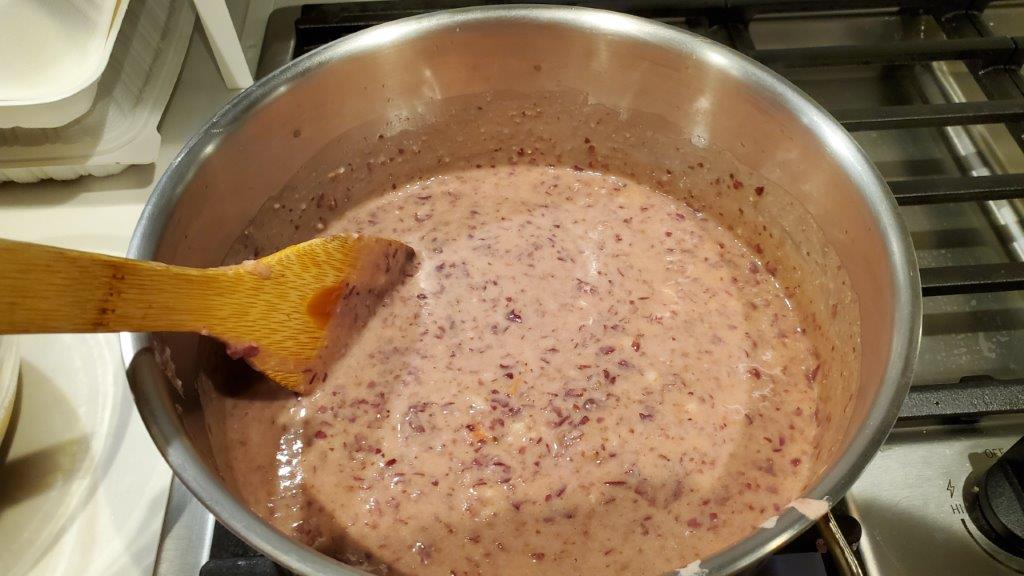 It was at about this point that we realized I had cut the meat into pieces too small to grill. "Cubed steak" means something different than "steak cut into cubes", as it turns out.  Fortunately, there's a device invented for the express purpose of cooking small pieces of meat on a grill.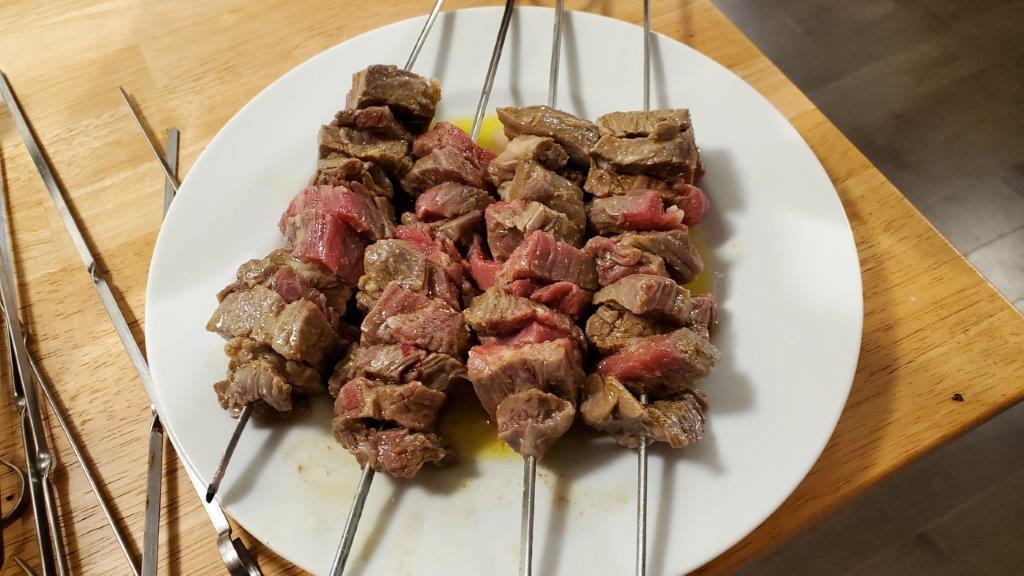 This is pre-grilling – that color is entirely from the marinade.
Just two more things to make – tortillas and chimol, which seems to be another word for salsa.  Tortillas are in principle simple – masa flour, water, and a little salt.  Roll out, and dry fry.  We got about six done before we set off the smoke alarm, so that was about it for that.  Living in a high-rise as we do now, the last thing we wanted to do was trigger an evacuation of the whole building.
The chimol was onion, pepper, tomato, cilantro, lime juice, and salt.  So yeah – salsa.  But, you know, we like salsa.
And here's the final meal: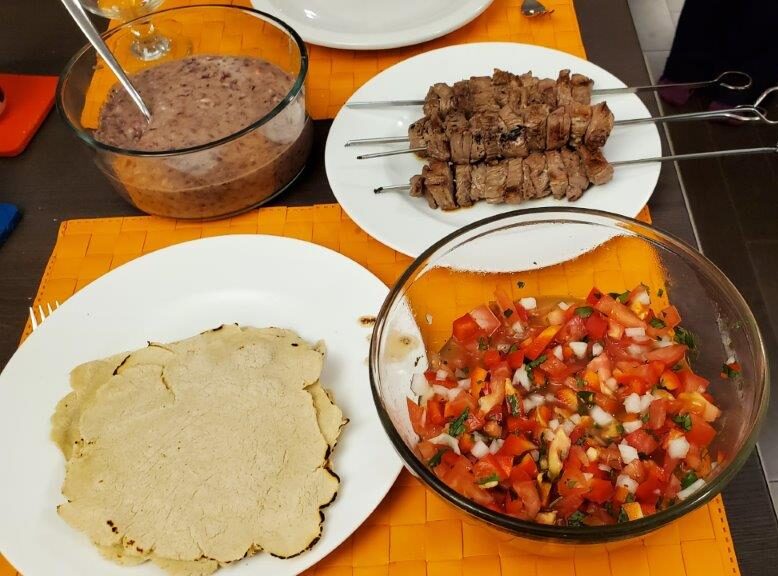 Beans, meat, salsa, tortillas.  What's not to like?  The meat, in particular, was extremely flavorful.  I do wish that I had realized that "cubed" means "hit repeatedly with a spiked mallet," because a) that sounds AWESOME, and b) the meat was still a bit chewy. The combination was, however, delicious.
And yet…
It still bothered me that we had basically grilled steak, and made salsa and refried beans.  Wasn't there something more… Honduran we could do?
After some more reading, I discovered that one more dish that is strongly associated with Honduras is baleadas. The urban legend is that this dish is named for the corner where a street food vendor was shot. "Adonde la baleada" means "where the shots were fired," so "baleadas" is basically "bullets."
And what is this dramatically named dish?
Refried beans.  In a tortilla.
…
Well, we still like refried beans, so let's give it a shot.  The version we're trying this time is from the blog of a Honduran immigrant to the US, and starts by charring the daylights out of some onion: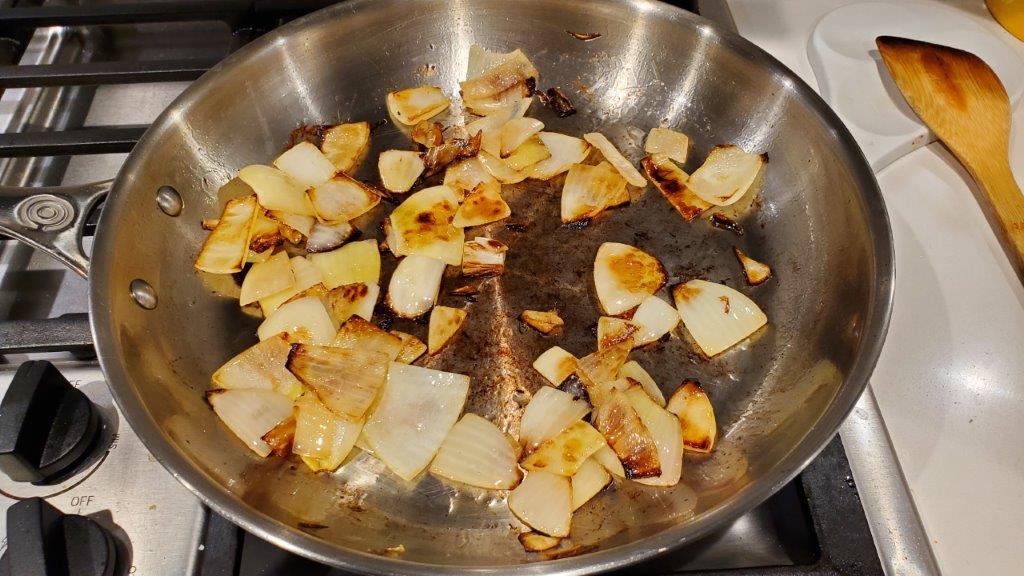 That's blended with the beans and some cumin and refried, and that's it.  The other two mandatory toppings are cotija style cheese and Honduran crema, which we made by mixing sour cream with heavy cream and salt. They are served on the fluffiest available flour tortilla, as distinct from the corn tortillas from the first dish.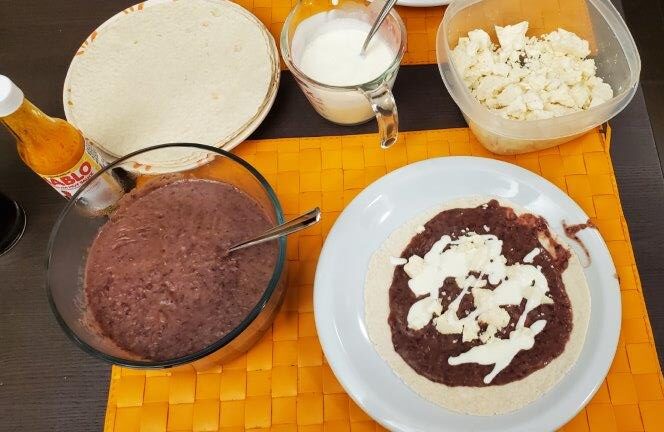 So – beans, cheese, crema, hot sauce.  Again, what's not to like?  This dish actually DID seem a bit more unique, if for no other reason than you really could taste the charred onions, and the salty crema was a bit different.
And to be 100% clear – the fact that these dishes don't seem super unique is down to OUR shoddy research.  I'm sure there are more distinctive elements of Honduran food culture that we just didn't find.  Also – this stuff is DELICIOUS, so who cares if it's not caterpillars and shark?
Honduras, you make tasty food, and don't let anyone tell you different.
Next up, either Hungary or Guyana, depending on stuff.
Recipes: