This meal seemed to be cursed.
We decided to celebrate the land of approximately 25% of my ancestors with a dish called Pasta con le Sarde, or "Pasta With Sardines." So naturally, we needed to acquire some sardines.
The FIRST time I went to get sardines, my car battery died.  So not only did I not get sardines, I also missed a brass band rehearsal, and eventually had to pay a LUDICROUS amount of money to have the thing replaced.  Thanks, supply chain!
Take 2: Got in my car several weeks later to drive to Granville Island.  Car started right up, got to the fish counter, and found out that fresh sardines are no longer a thing in Vancouver.  Something about currents.  The curse then kicked up to high gear when I LEFT Granville Island, and discovered that a race course had been set up such that I couldn't get back within half a mile of our apartment. I had to park a long way off, go get my horn, walk back to the car before my parking ran out (in the pouring rain, of course) and go sit in a library for the next two hours.
On the other hand, if I HADN'T gone to fail to get fish, I would have been trapped INSIDE the race route, so that's something, I guess.
Sooo…. canned it is, I guess. Not the ideal choice, but better than nothing.  (We later found out that frozen can be had if you know exactly which specialty grocery store to hit, but the ones I tried didn't have them.)
We ALSO managed to buy the wrong size pasta, but at that point we just wanted to EAT, darnit.
OK, so what even IS this recipe?  Well, it's a somewhat similar flavor mix to the salad we had last time, but with the addition of this bad boy: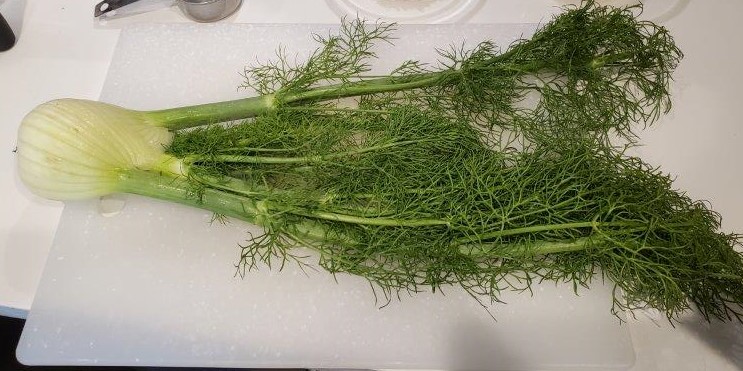 But lets not get ahead of ourselves.  Our mise en place starts with soaking raisins and saffron in hot white wine.  Sicily really has been a crossroads for a LOT of cultures over the years.
Next up, let's fry some bread crumbs in olive oil.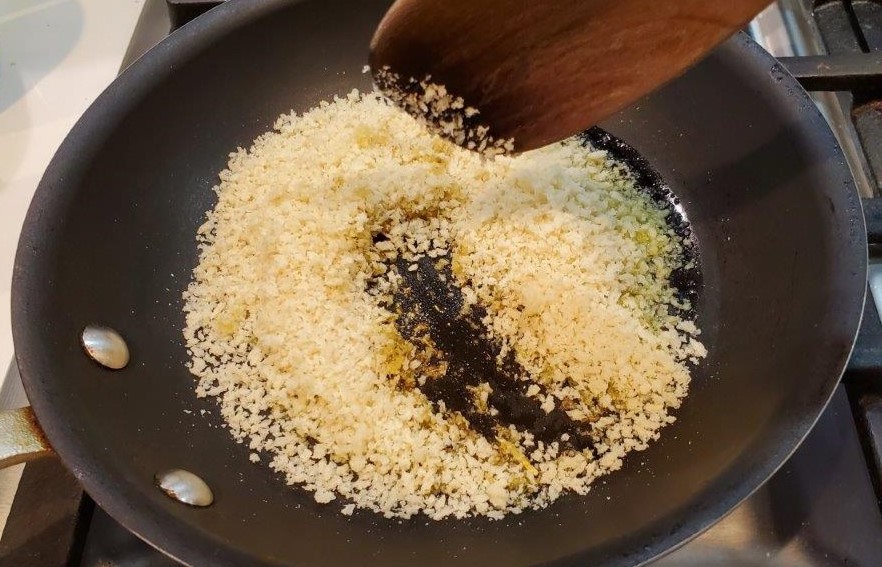 And then chop up a buncha other stuff, including the inevitable onion.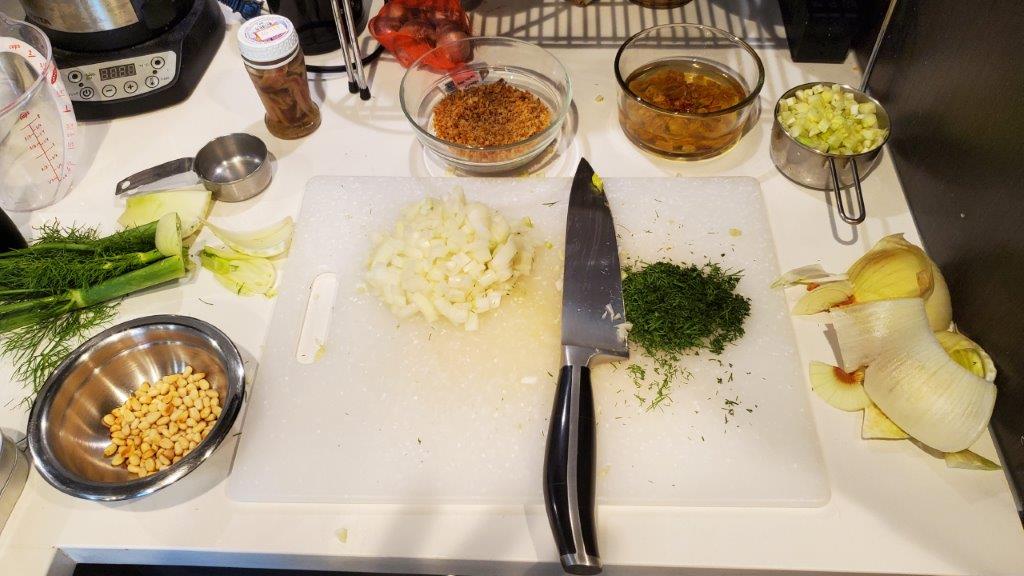 That package of pine nuts has now made an appearance in all three Italian meals, so they're pulling their weight, for sure. In addition to those, onion and fennel fronds on the cutting board, and the aforementioned raisins and breadcrumbs up top, you can also see the jar of anchovies from last week coming back out for another appearance, and the chopped fennel BULB at upper right.
Everything ready, it's time to start cooking. You start by softening up the onion and fennel, then you add in the anchovies.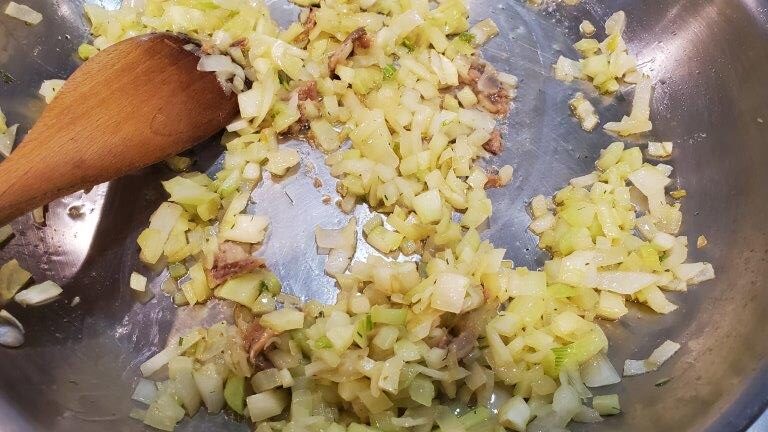 This gets cooked until the anchovies have basically completely dissolved into the oil, which is kind of amazing.  Next up, in with the raisins and wine, which get cooked until they reduce away.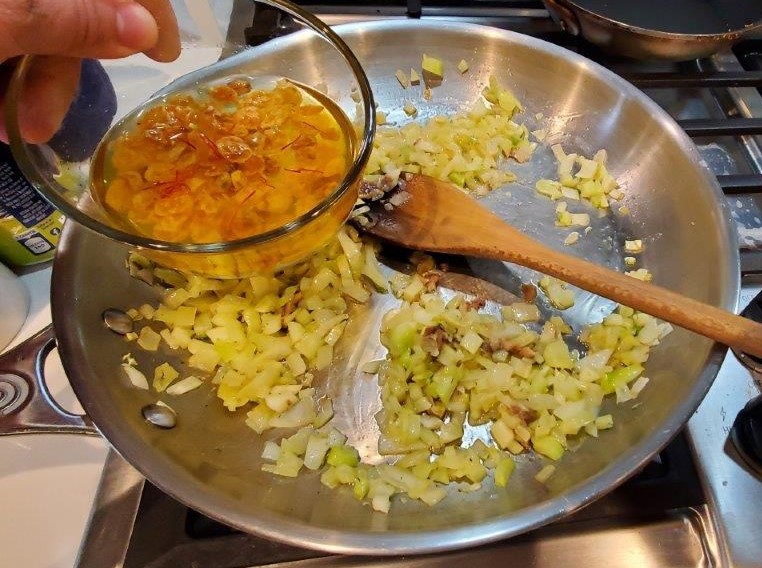 Finally, in go the sardines and pine nuts.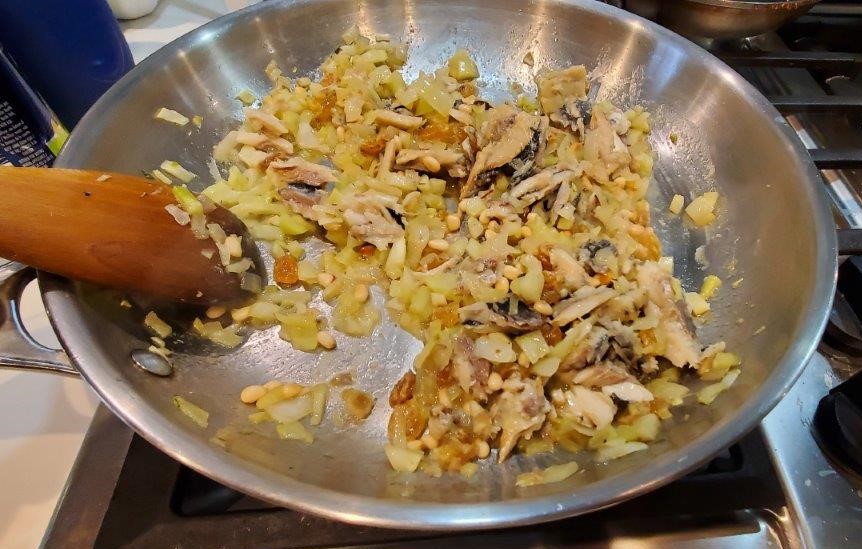 Meanwhile, the pasta gets cooked separately until just this side of done, and finally everything gets tossed together with a little bit of pasta water.
It's not actually all that complicated a dish.  Did I mention we did this one on a weeknight?
The breadcrumbs go on at the end when the dish is served, along with the fennel fronds.  And here it is!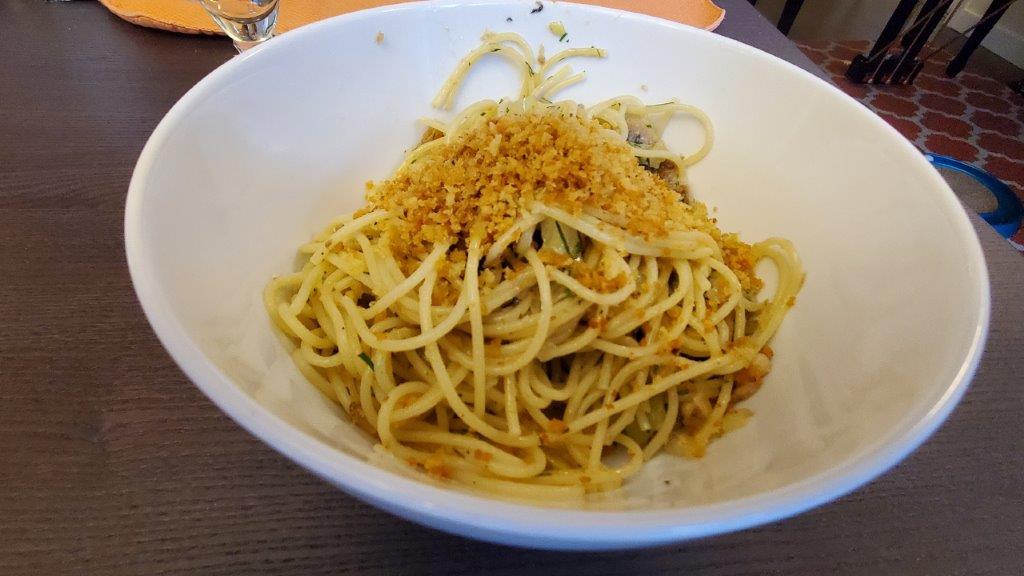 Not my best food porn, which is a shame, because this was actually delicious.  The sweet raisins, salty anchovies, toasty pine nuts and bread crumbs, fishy sardines, and pungent fennel, all combined to make something that really felt of a place – there wasn't any question of "isn't this the same as what you can get across the border in the next country over?"
It was also delicious.  If I ever spot fresh sardines on a counter, I'll snap them up so we can try this again with the not canned kind.
And after a solid year… that's the "I"s done!  It's been a long trip.  Next up, Jamaica!
Recipe:
Pasta con le Sarde