We haven't done a lot of recreational travel recently, so this blog has been dominated by food. That changes with this entry – where we took a trip which had nothing to do with roller derby.
Which was dominated by…  well, food.
The impetus was that I was just short of Silver Medallion status on Delta, so I needed to drag myself over the line for the year without using up too much PTO.  Or any PTO.  So we flew out Friday afternoon, got back Sunday night, and spent the weekend in NOLA.
On arrival at Louis Armstrong International Airport, we discovered that getting to town was going to take a while – traffic flow at the terminal, which had opened less than a month prior, was incredibly poorly designed.  That, and Cher was playing at Smoothie King Center.
In other news, New Orleans has sold naming rights to a major arena to a business called "Smoothie King."
Our preliminary research indicated that we were going to need to spend our 4 or so meals in the Big Easy at approximately 37 different restaurants, but we managed to narrow it down.  Our friend Dan insisted that we absolutely had to try Dat Dog. So once we finally reached town, since it was a block from our AirBnB on the eastern edge of the French Quarter, that's where we started: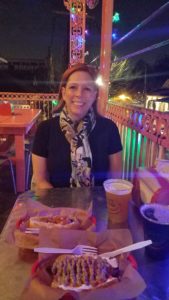 Leigh had a spicy andouille, and I had a crawfish sausage with crawfish etouffe.  Both were outstanding.  And we got to sit on a balcony overlooking Frenchman street, watching life's rich paegant.  Not the REM album, although we could hear basically every other type of music from where we were sitting.
After we finished eating, it was time to wander around the French Quarter.  The architecture is just as unique and distinctive as it is always made out to be.  And a single block on Bourbon Street confirmed that we are both, in fact, too old for Bourbon Street.
The other thing you see walking around the French Quarter at night is ghost tours.  LOTS and LOTS of ghost tours.  At one point, we could actually count FIVE visible from where we were standing.  We did not do a ghost tour, because we are not credulous idiots. We did take some nice pictures, though: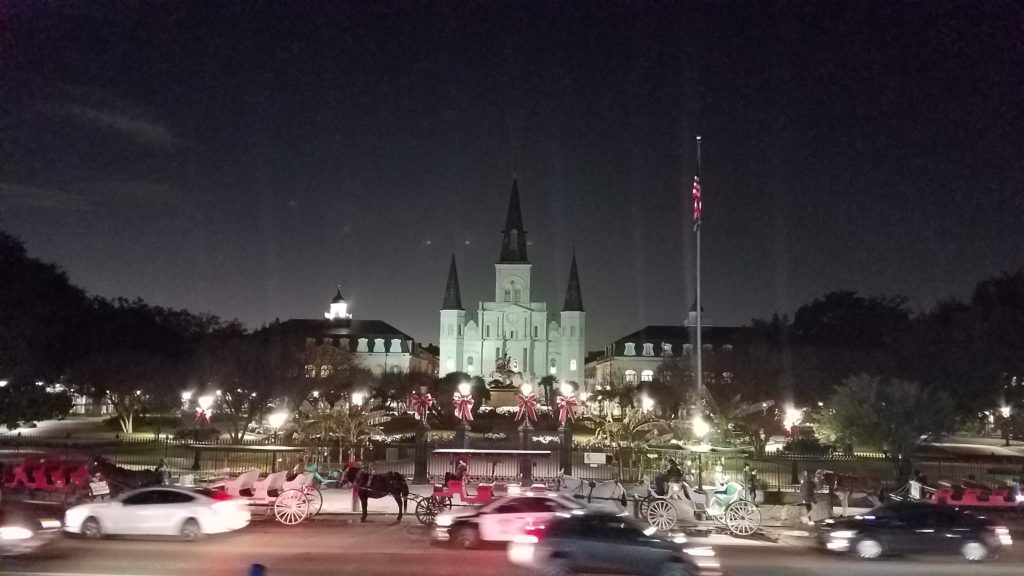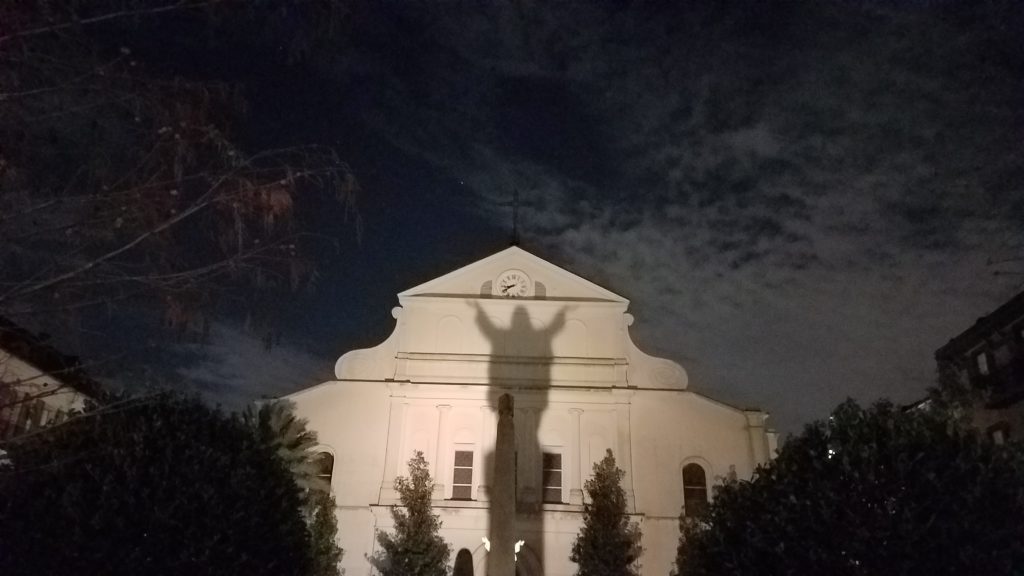 This picture's not as good, but it shows a street band – one of a number we encountered while walking around.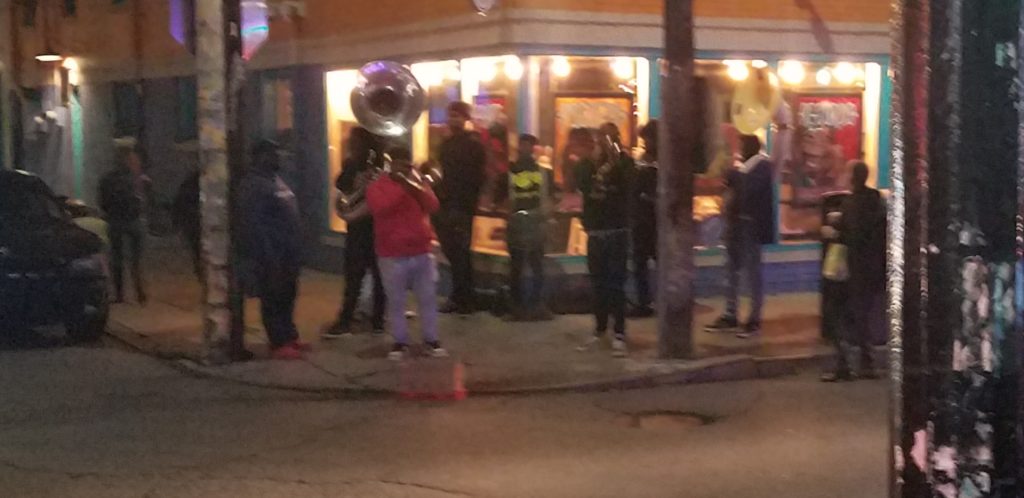 Saturday's highight was a bicycle food tour given by Confederacy of Cruisers.  If you're in New Orleans, I cannot recommend this tour highly enough.  They did NOT just go to tourist spots, and the historical information was not even a little bit whitewashed.
We went to four places – Bennachin, an African restaurant in the French Quarter, St. Roche Market, a former fish market which has become an upscale food court, L'il Dizzy's Cafe, a soul food restaurant in Treme, and Loretta's bakery.  The food at each location was spectacular, and we learned a lot about the recent history of the city, as well as the origins.  Our tour guide was also a perennial 3rd place finisher in the "Salvador Dali" category in the national beard and mustache competition.  Make of that what you will.
One small detail from the tour: Earlier in the day, Leigh and I had made the obligatory stop at Cafe Du Monde for breakfast coffee and beignets, but our tour guide informed us that the pastries served there are not truly beignets.  Our final stop on our bike tour was at Loretta's bakery for some true beignets.  Filled with pralines.  Magical.  (The ones at Cafe Du Monde may not be accurate, but they are ALSO pretty tasty.)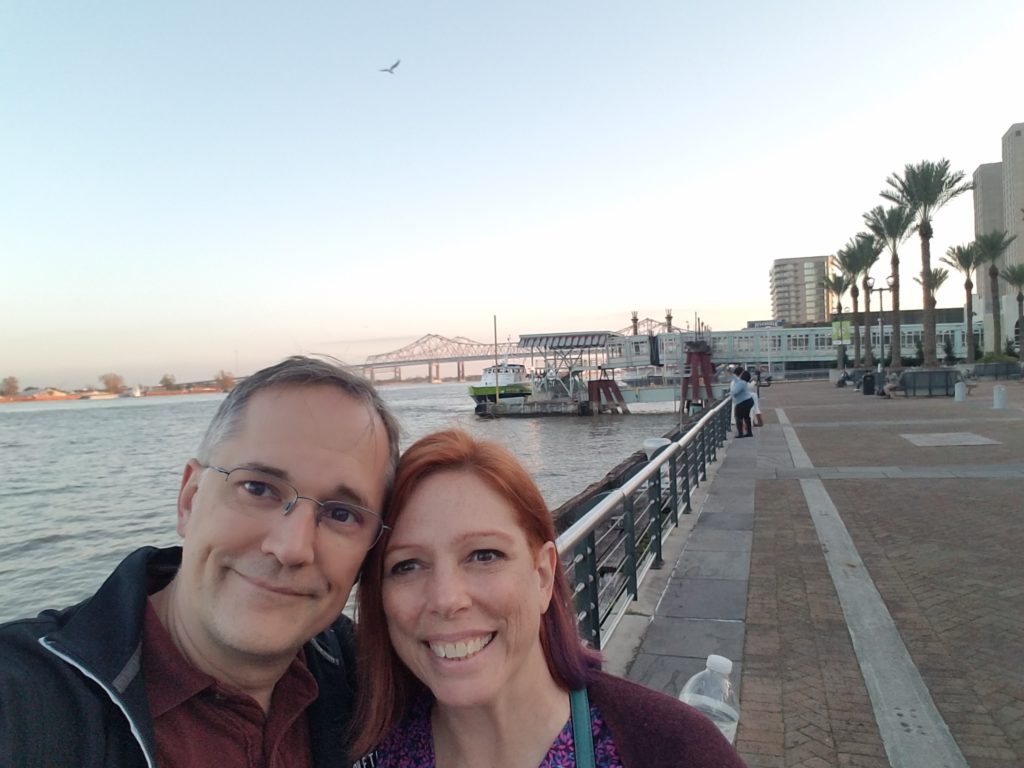 After the tour was over, we walked around some more, and then met friends for drinks and dinner at Galliano's, a midpriced seafood place in the warehouse district. And then it was time for taking part in the OTHER thing New Orleans is famous for – Music!  Leigh's friend who recommended Dat Dog also suggested Tipitina's as a great music venue, and since we only had one night available, we bought tickets for… well, whatever was playing.
We got lucky.
"Whatever was playing" turned out to be Dragon Smoke – an all star band made of musicians from different local groups who get together to turn up the juice once a year.  One of said leaders is also a Neville brother.  The concert was fantastic, although we didn't quite make it to the end. (The headliner didn't even START until midnight, and we're old.)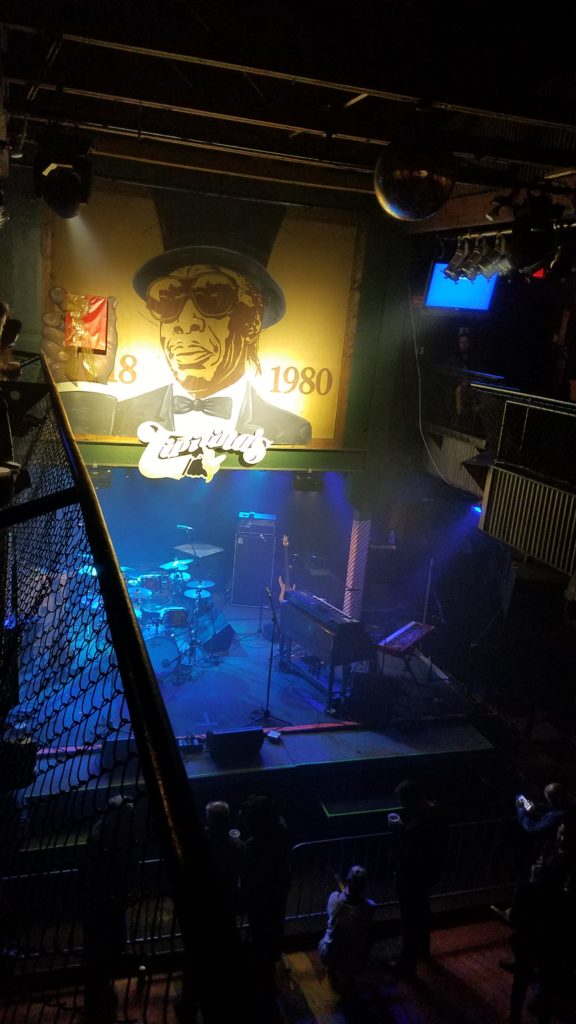 Sunday was a day with not much planned other than brunch reservations.  We ended up joining a tour of St. Louis Cemetery #1, but had to leave early in order to make brunch.  The first half of the tour was still fascinating, and New Orleans cemetery construction is like nothing else in the country: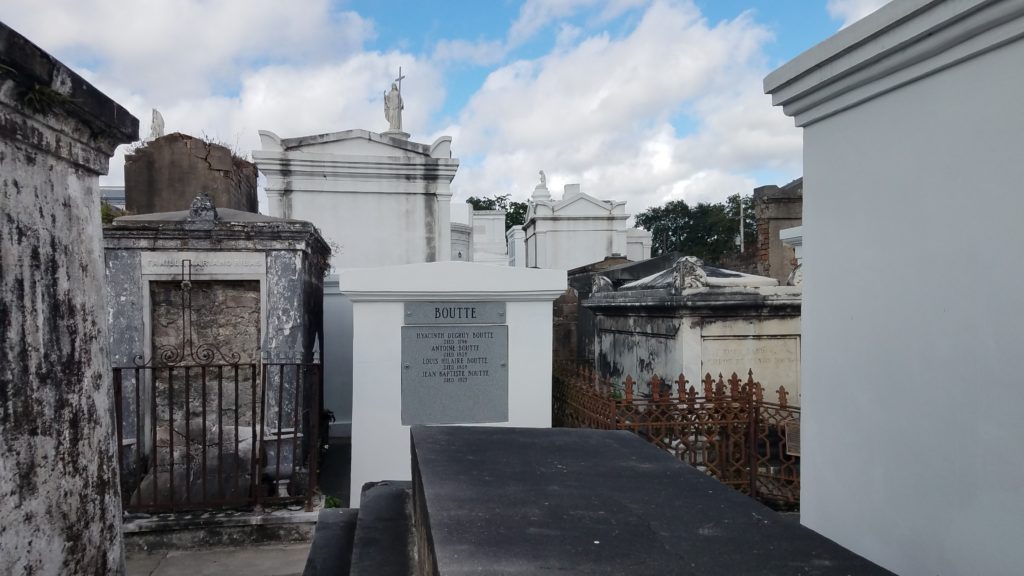 Amongst the famous tombs we did see were Marie Leveaux, Paul Morphy, Howard Plessy, and Nicolas Cage.
Yes, Nicolas Cage.  We're aware he's not actually dead yet: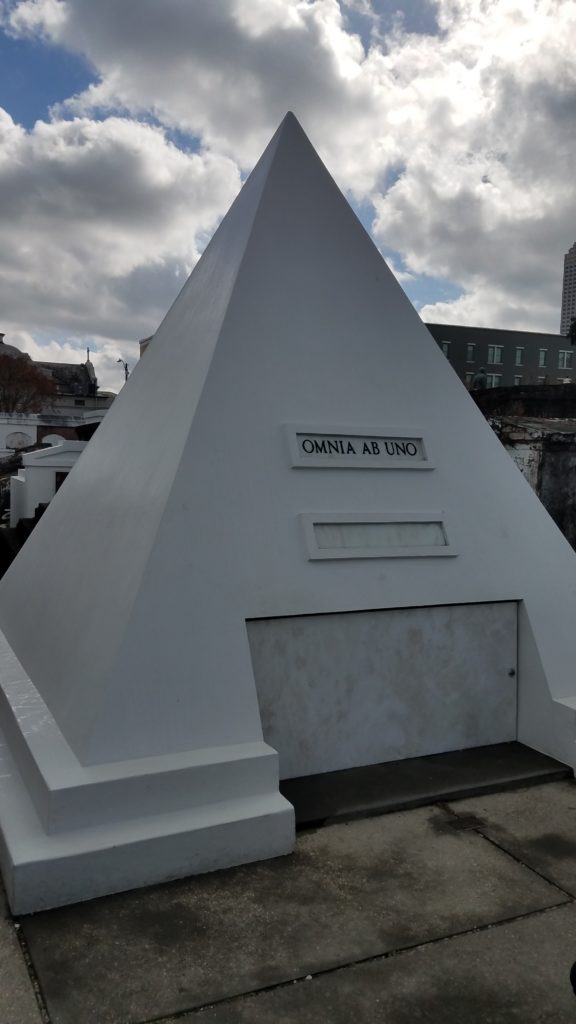 Brunch was at a Vietnamese Creole fusion restaurant called Maypop.  We didn't take any pictures, but the small plates were excellent – I especially recommend the Blue Crab and Head Cheese soup dumplings.
Finally, we took a streetcar to the approximate vicinity of Magazine Street, and just spent the afternoon people watching.  All in all, it was a fantastic little trip, and since there was no possible way to do everything in two days, we enjoyed not having the pressure to even try.  A+, would New Orleans again.