We decided that France simply couldn't be just one meal, so we planned one more.  This one was substantially less complex than the first one, but still consisted of dishes that (we hoped) were quintessentially French.
For our entrée, we decided to go with Magret de Canard, or "Duck Breast."  As we've mentioned in the past, we are far from the first people to have the "cook the world in alphabetical order," idea.  There's a number of blogs dedicated to similar projects, probably the most famous of which is "United Noshes." We consult the various blogs for ideas, but try hard not to simply copy any one of them.
That said, when that blog describes a dish as "I'm not sure I've ever made anything this delicious before", we decided it was definitely worth a try.
So we headed back to our favorite butcher where we got the demi-glace and the ostrich, and bought ourselves a duck breast.  The recipe calls for first scoring the fat in a crosshatch pattern: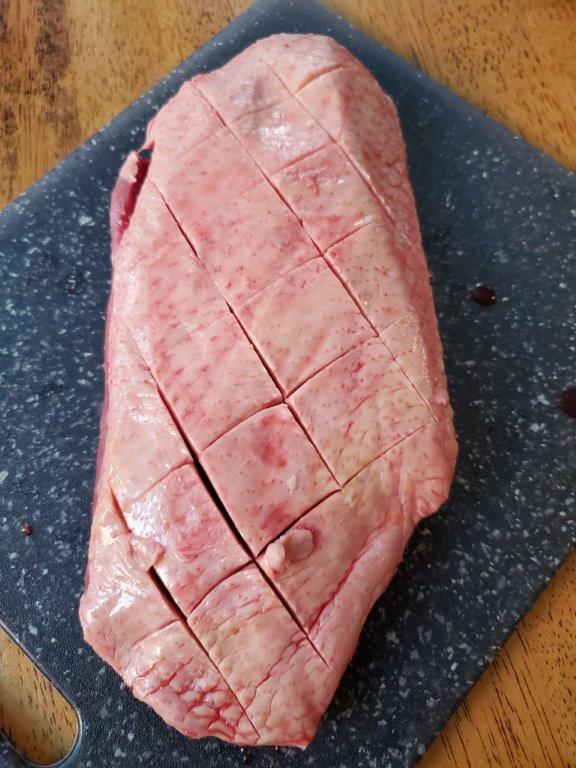 Next a marinade in honey, orange juice, and thyme.  A quick trip outside to the planter box for some fresh thyme, and the duck was ready for its overnight soak.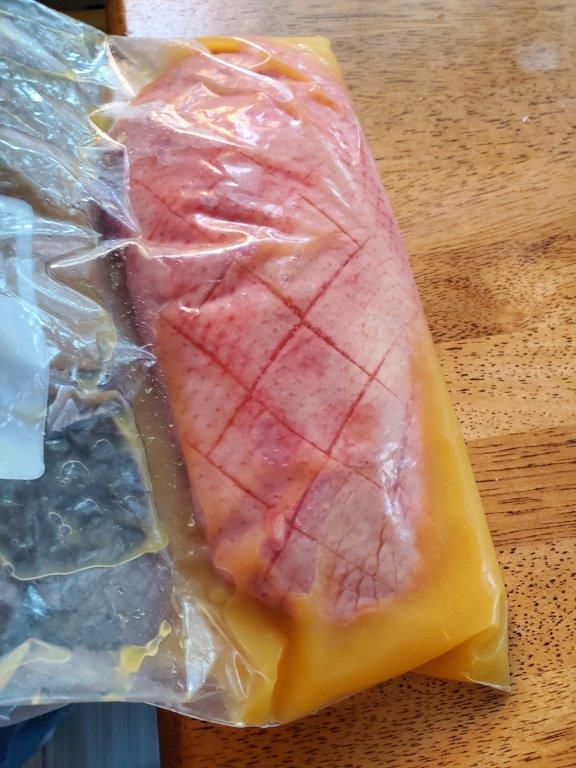 The next day, the duck was dried off, and then tossed into a skillet to render off much of the fat. One duck breast produces a LOT of fat.  This picture is still early in the process – there was plenty more coming.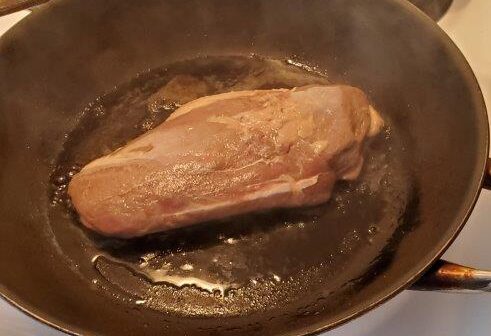 Which is fine – duck fat is amazing, and we used it to make potatoes later in the week.
What is SUPPOSED to happen at this point is that you flip the duck breast over, and the other side is a lovely golden color.  What ACUTALLY happened is that the other side was pitch black.  Oops.  The good news is, we're moving soon, and our new place has a gas range, which should allow for better heat control.
Either way, once flipped, the duck gets seared briefly on the meat side, then tossed into a hot oven to finish.  Once again, a thermometer is your friend.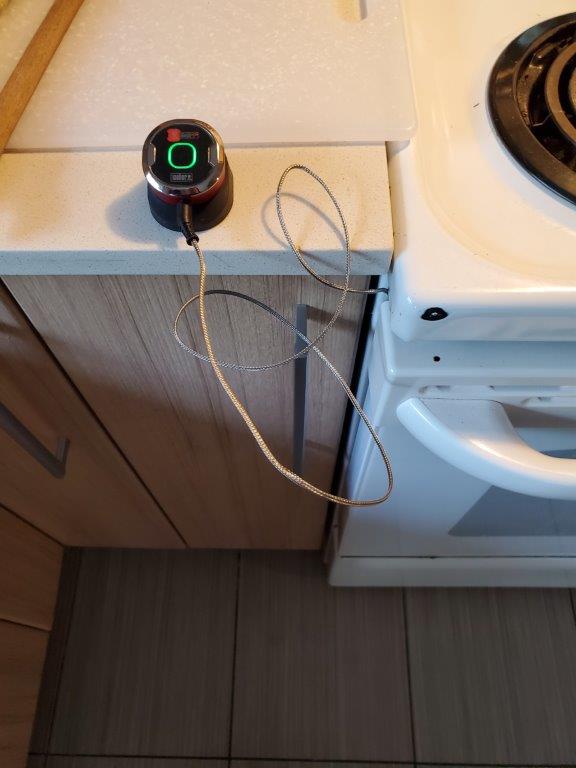 This is a Bluetooth grill thermometer we picked up last year, and let me tell you, it's amazing.  Especially when your oven sucks and takes three times as long to get things to the proper temperature as the recipe says it will.  Did I mention we're moving?
At any rate, once the duck came back out and was sliced, it was absolutely gorgeous inside, and the slightly (ok, very) singed crust didn't hurt the flavor at all.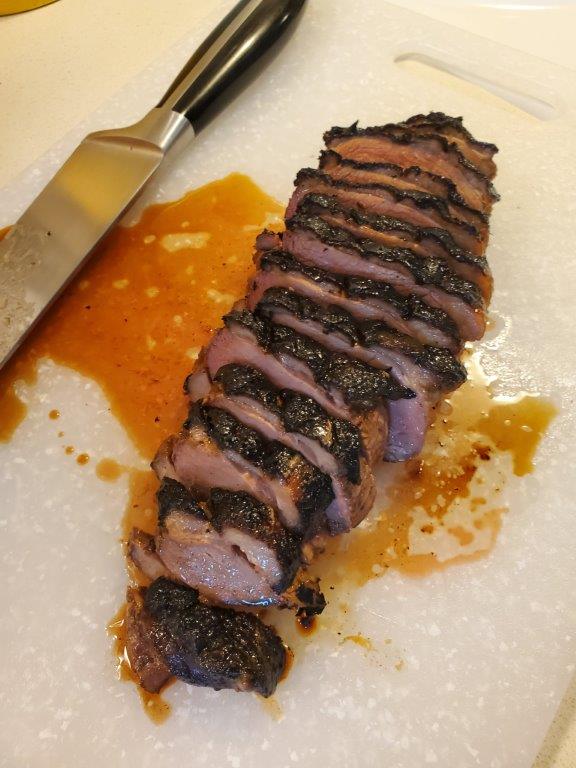 For a side dish, we went with a very simple mushrooms provençal. What makes something unambiguously provençal?  Well, obviously, Herbes de Provence.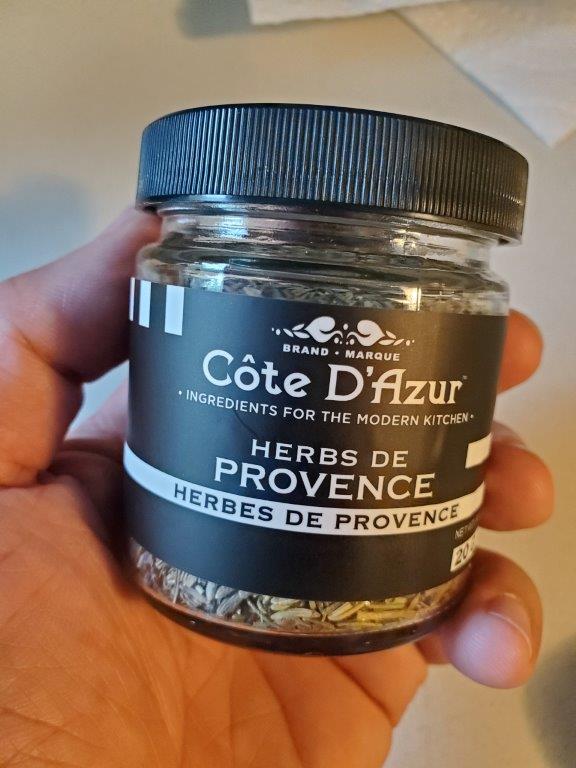 I've made various versions of this blend in the past, but they had it at the duck store, so we decided to just get it pre-made.  The actual recipe couldn't be simpler – sauté mushrooms in butter and herbs until done.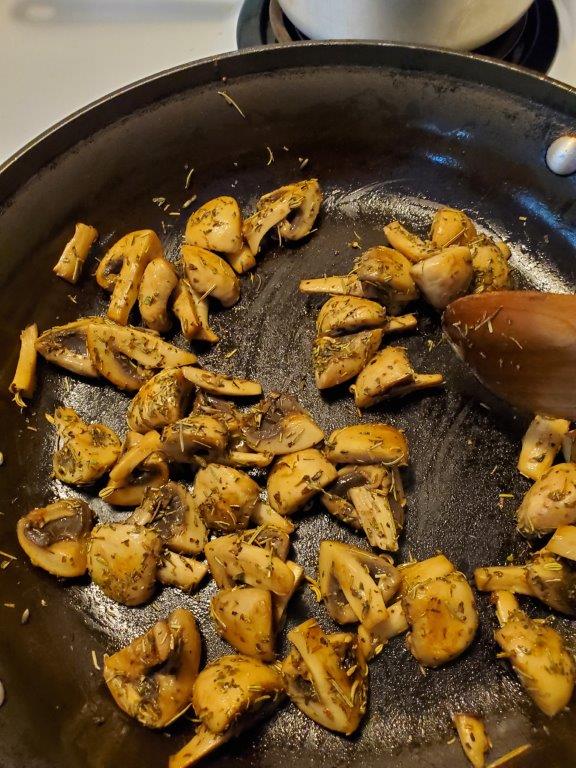 And here was the meal, including a cheese plate that probably looks awfully familiar if you read last week's entry. We also bought a nice French Pinot Noir, since that's the wine everyone says you should drink with duck.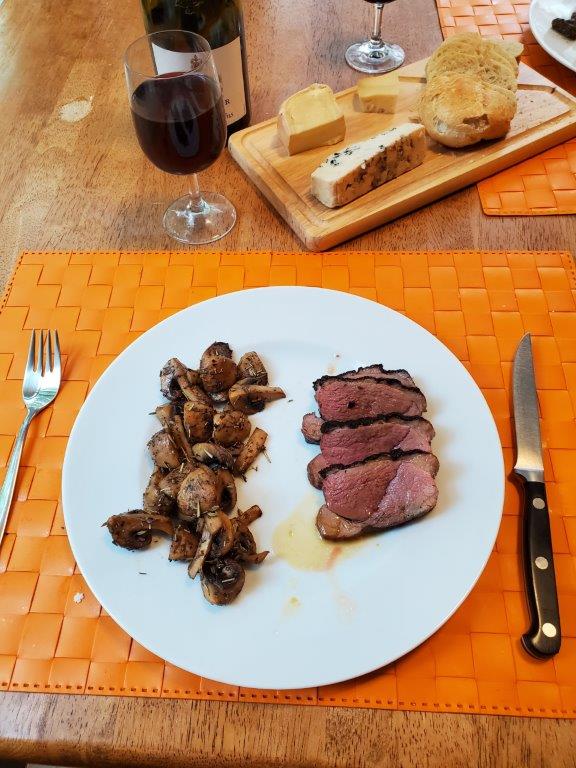 And it was pretty darn good.  Not life-changing like last week's meal, but better than a lot of things we make.  The duck, in particular, while it didn't pick up as much of the flavor of the marinade as one might hope, was a lovely texture.  The herbs did a nice job of accenting the mushrooms.
We did also make a classic French dessert, tart au citron. The crust for this is a pate sucrée, or "sugar crust."  It's got a LOT of butter, so it gets rested for a while in the fridge before you roll it out, and then rested for ANOTHER half an hour afterwards, because you don't want the butter melting out too soon.  It needs to be COLD when it goes in the oven.
We didn't take any pictures of mixing the dough, because it's not very exciting, but here's the crust all rolled out and ready to bake: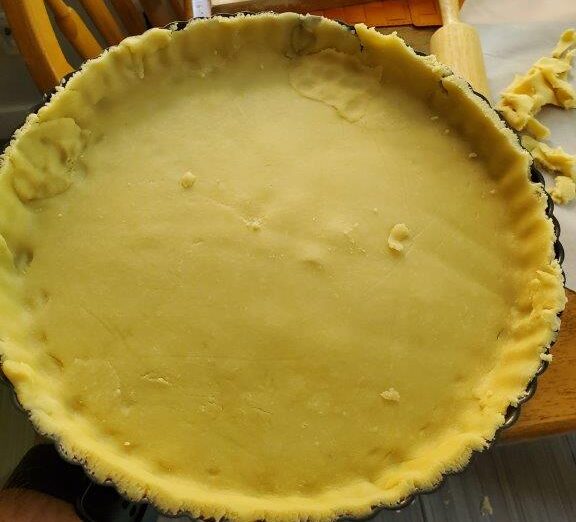 And here it is filled with random desi chickpeas, because we don't have any pie weights.  Sorry, chickpeas, but you were rendered inedible for a good cause!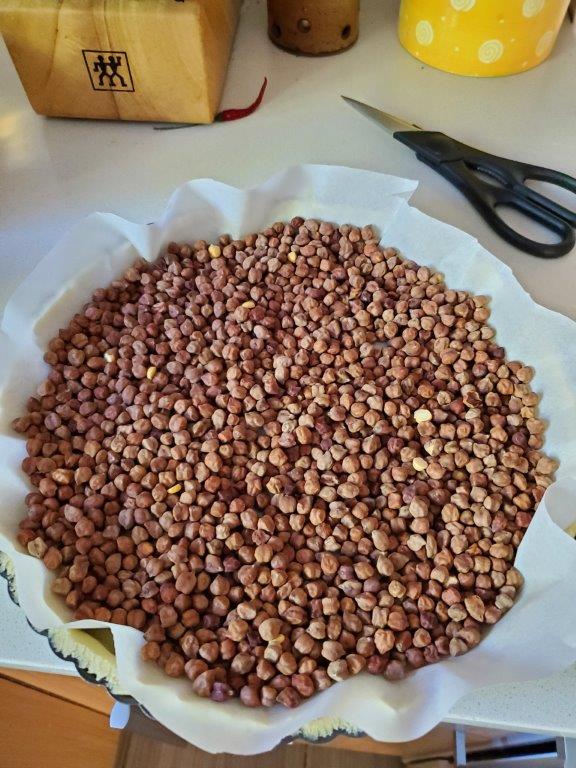 The chickpeas are part of a process called "blind baking", where you weigh down the crust and bake it first in order to stop it puffing up too much.  You also want to bake it before you put the filling in so it doesn't get soggy.
About that filling.
The filling for this tart is technically a custard, so it used eggs.  LOTS of eggs.  Four whole eggs, AND four more yolks to boot.  Plus butter, a metric ton of lemon juice, and the zest from two whole lemons. (It's French, it HAS to be metric.)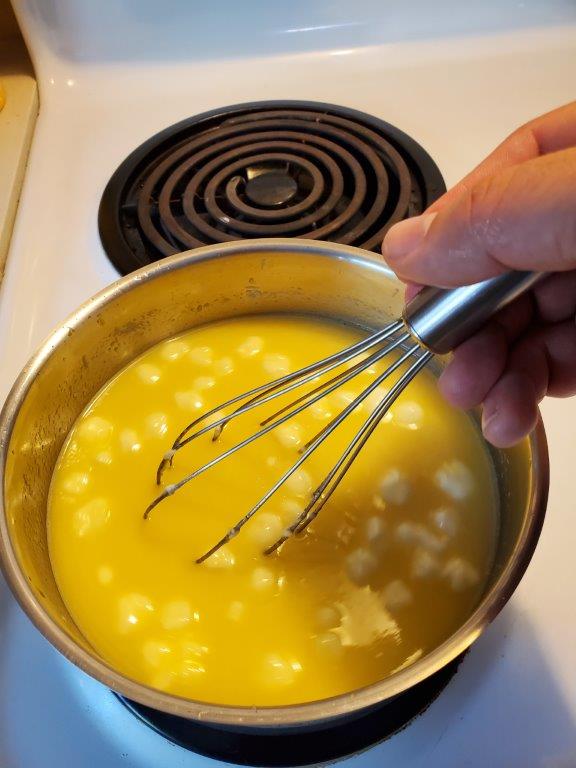 This gets cooked until it's thick, and then poured into the tart crust for a final bake.  And here's the final product.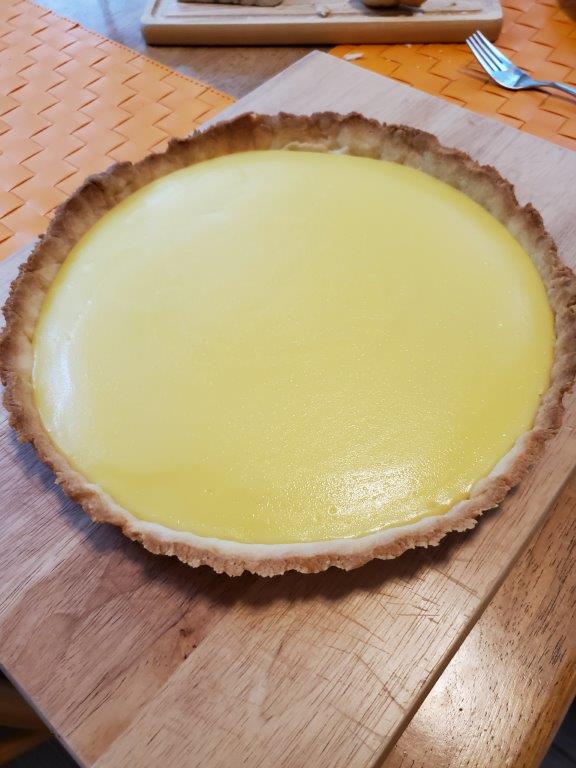 It was SUPER tart and delicious.  If you're looking for a dessert to impress people once it's safe to once again impress people in your region, this is an excellent choice.  Also, it looks like Pac Man once you've cut a few slices out, so there's that.
And that's it for France!  We could obviously cook for months and never finish exploring the whole country, but we do need to move on.  The pace may slow a bit here as we get ready to move, but we HAVE finished the Fs, so next up, Gabon!
Recipes:
Magret de Canard
Mushrooms Provençal
Tart au Citron