We have reached the Fs!  And we won't be here long, as there's only three of them.
First up is our first country in Oceana – Fiji!
Unsurprisingly, Fijian cuisine uses a lot of coconut milk.  For this meal, we used a full liter of the stuff, which is like half a bald eagle or something – we've lived in Canada for long enough I don't remember any more.
We made three dishes, starting with a coconut bun called a "Lolo bun." There's a number of different recipes for this online, most of which look very different from this one.  However, this recipe was accompanied by a video of an actual Fijian grandmother type making this in her kitchen, and anyone who remembers our Bulgarian meal knows that we're a sucker for grandma videos.
So these were a bit more, as they say on the GBBO, "rustic".  You start with a basic yeasted flour dough, and then knead in some butter and brown sugar. This is then formed into balls and placed in a pot.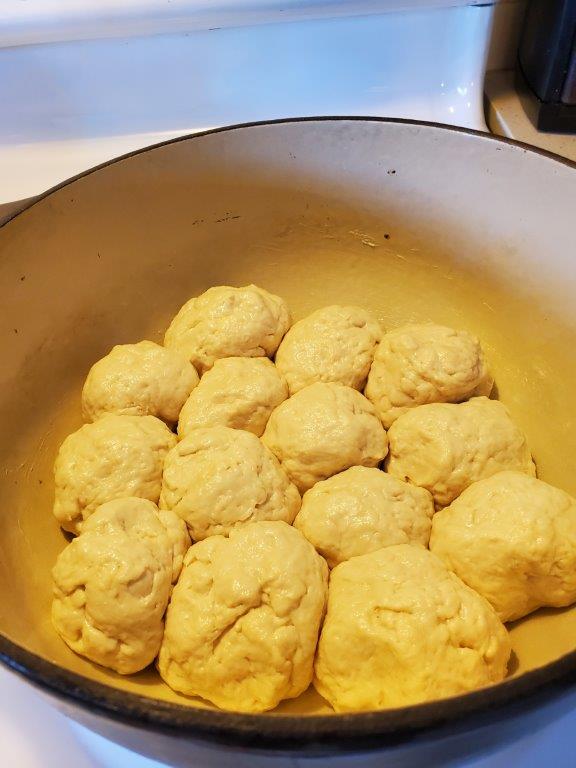 Oddly, this recipe does not call for any rise time at all – you make the dough, shape the buns immediately, and then get ready to put the pot on the stovetop. (Other recipes for this bun call for baking rather than stovetop cooking, but once again – grandma.)
There's just one more tiny step.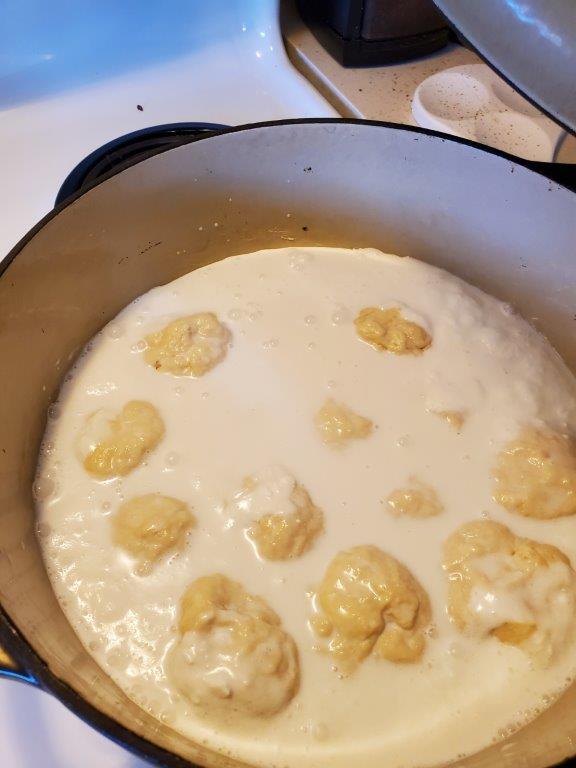 You DROWN the things in coconut milk. They cook for half an hour or so, and in that time they puff up and get huge, and soak up all the liquid.  Here's the final product.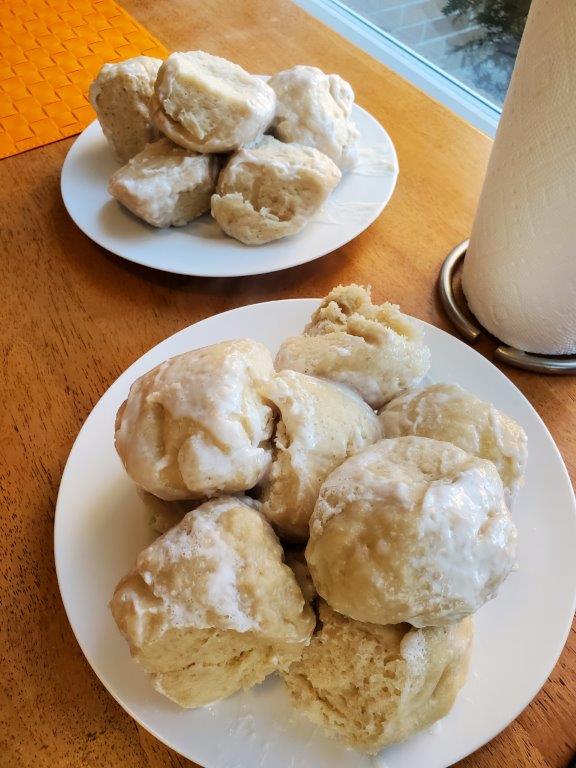 They got huge!
For our main dish, we're making the Fijian national dish – Kokoda! Kokoda is essentially ceviche, or fish "cooked" by submerging in acid for a few hours.  First, therefore, we're going to need to juice one or two citrus fruits.
Or six.  Fortunately, one of Leigh's favorite snacks is citrus corpses, so that worked out well for her.  There's not much more prep here – the fish (tuna steak, in this case) is chopped up and tossed into the juice to marinate for a few hours, and that's really it.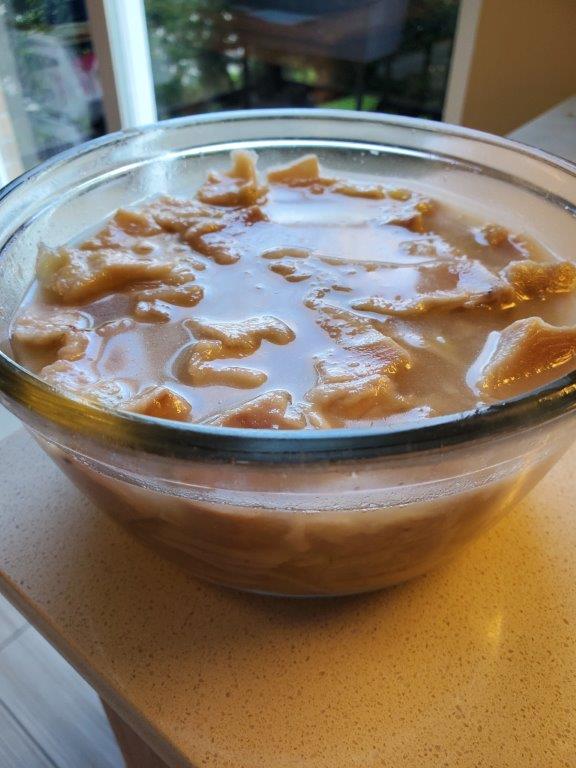 After a few hours, you drain the liquid, toss the fish with some tomatoes and onion, and then pour, you guessed it, a whole bunch of coconut milk over the bowl.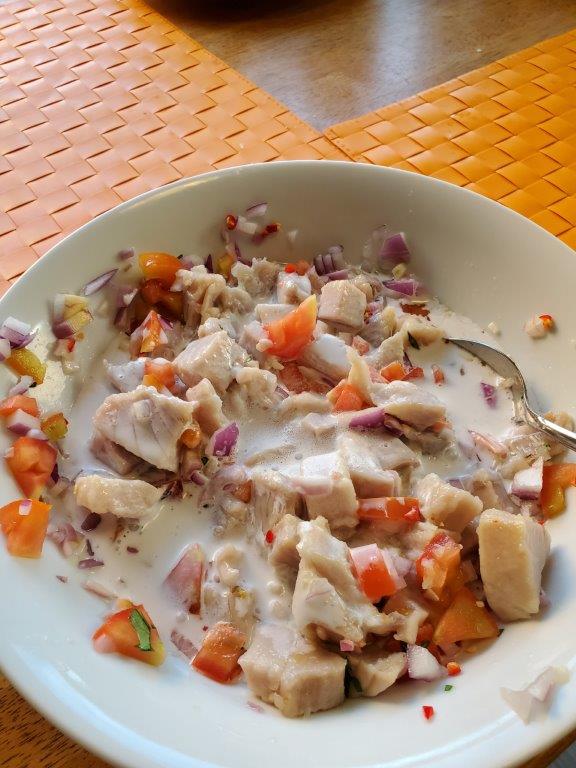 And that's basically it for kokoda.  Only one more side dish to go.
A few months ago when we did Dominica, we noted that a) Taro leaves are a staple part of the cuisine there and b) Taro leaves are toxic if not fully cooked.  So we chickened out on that one.  (But we didn't Mountain Chicken out, because that's an endangered frog, apparently.)
This week, we gathered our courage, and decided to boil the crap out of some Taro leaves to make the traditional Fijian dish, Roro. (or rourou) Here's what they look like whole: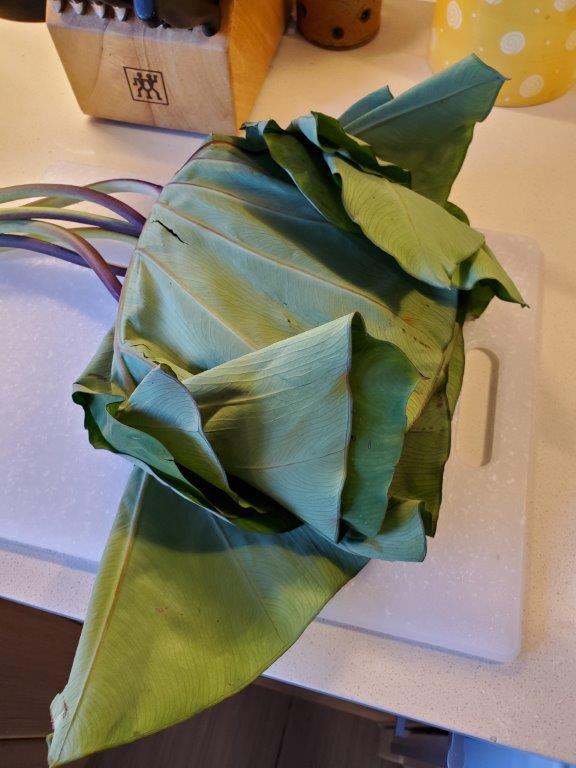 The cooking process is simple – you sauté some onion, garlic and chilis, wilt the taro into the pan, and then boil the whole mess until it doesn't give you anaphylaxis.
Boil it in what, you ask?
Why, coconut milk, of course!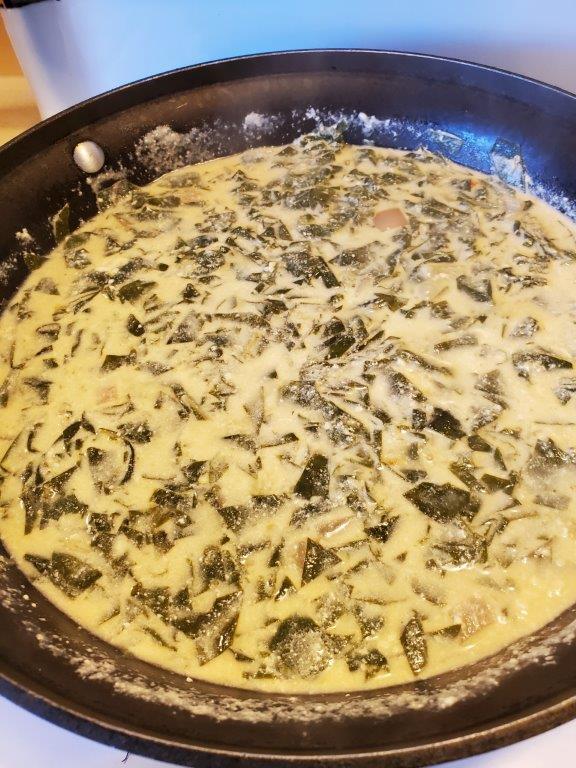 And here's all three dishes in one place: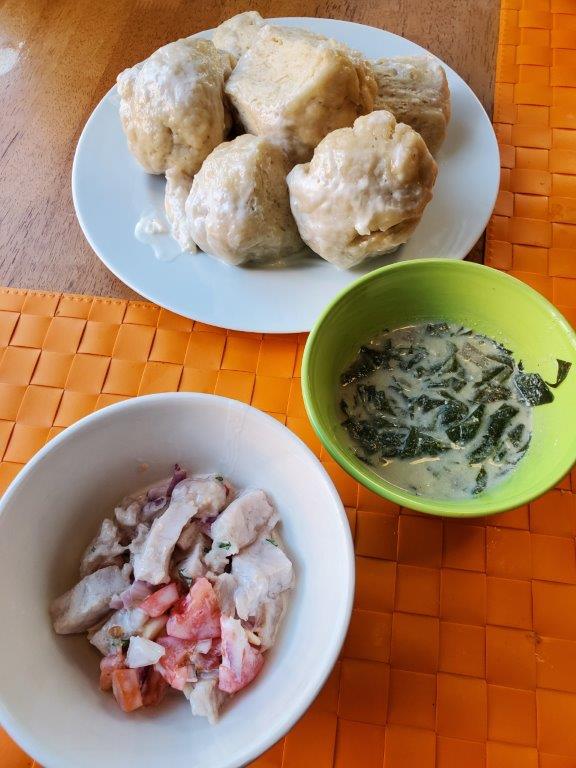 This meal was great!  The fish was bitingly tangy from the citrus, but the sharp onions balanced that out well.  The taro greens had a really nice deep flavor, and are definitely NOT the same as the spinach we'd been substituting. (And as a bonus, didn't kill us.) The buns were soft and chewy, and great for soaking up all the liquid from the other two dishes.  The leftover buns were a hit at my office the next day, too.
Next up, we return to a country that not only have Leigh and I both visited, we've actually visited it TOGETHER, albeit slightly too early for it to have made it into this blog back when it was just vacation photos.  Remember vacation photos?  Remember vacations?
Sigh.
Anyway, Finland awaits!
Recipes:
Lolo Buns
Kokoda (Fijian ceviche) (Note that we used this as a starting point, but left out some of the less typical ingredients like bell peppers.)
Roro (Steamed Taro Leaves)