I have to admit – we were intimidated by France.  It's hard to think of a food culture with more of a reputation for being challenging.  To some extent, that's definitely Western bias – Thai food, for example, is easily as complicated in terms of balancing of different types of flavors.  But hey – we're westerners.  We grew up with French cooking held up as the epitome of sophistication and precision.
How to even know where to start?  Well, two weeks ago we consulted with Puppy Shredder.  This week, it was clearly time to call Princess Beetch.
She was gracious enough to make a lot of great suggestions, and based on her input and some other research, we decided to make two meals.  No particular sorting by region or type of food – just two collections of dishes that sounded good to us.
So to start out this week's adventure, we went shopping!  Unlike for Asian cuisines, we don't need to visit a specialized "French" store for any special ingredients.  Instead, we visited a number of stores specializing in the ingredients themselves: a cheesemonger, a meatmonger, a chocolatemonger, and a coffeemonger. (I choose to assume that you can mong anything, not just a short list including iron, war, and whores.)
Our first dish was to be Entrecôte à la Bordelaise, a pan fried steak topped with Bordelaise sauce.
French sauces are, of course, a large part of the terror (not terroir) associated with the cuisine.  Bordelaise, for example, is a reduction of Bordeaux wine with shallots and bone marrow.  So far, so good, right?  Then you look more carefully at the ingredient list, and there's one line: demi glace. Well, OK, let's make demi glace.  What's that?
Demi glace, is a mix of Espagnol sauce and part brown stock.
OK – what's Espagnol sauce?
Espagnol sauce is made from brown stock and roux.
But what's brown stock in particular?
Brown stock is made from veal bones, ham knuckles, pork rind, aromatics…
…oh my god.
Proper demiglace involves boiling pounds of bones and gallons of liquids for hours, as it turns out.  And there is just no shortcut to getting that extreme depth of flavor.
Except – we did find a shortcut: we just bought some.  Turns out our friendly neighborhood butcher where we bought the steak and the beef marrow bones (and the ostrich a few weeks back) makes their own and sells it in frozen cubes.
The other key ingredient in a Bordelaise sauce is, of course, Bordeaux.  Hilariously, we found one called "Château Canada."  Yes, it's from France.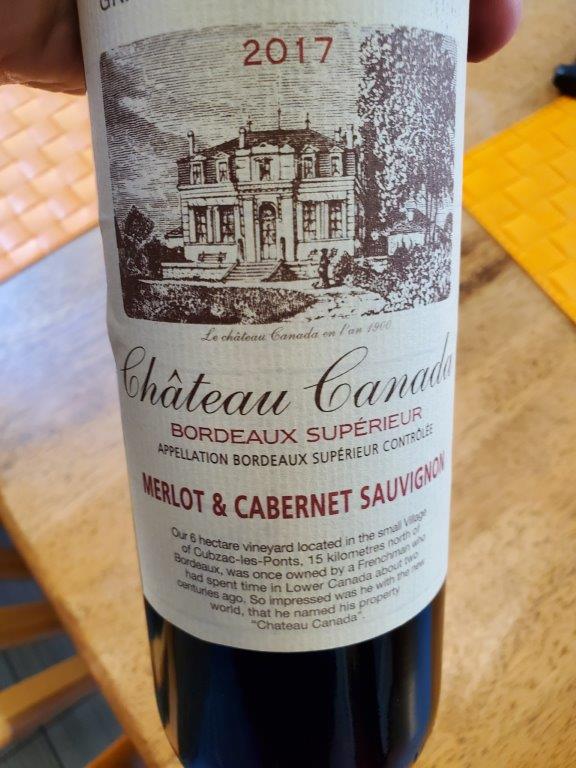 OK, let's make some sauce.  Once you have the demiglace in hand, the sauce itself isn't too bad.  You start by extracting the marrow from a few beef bones.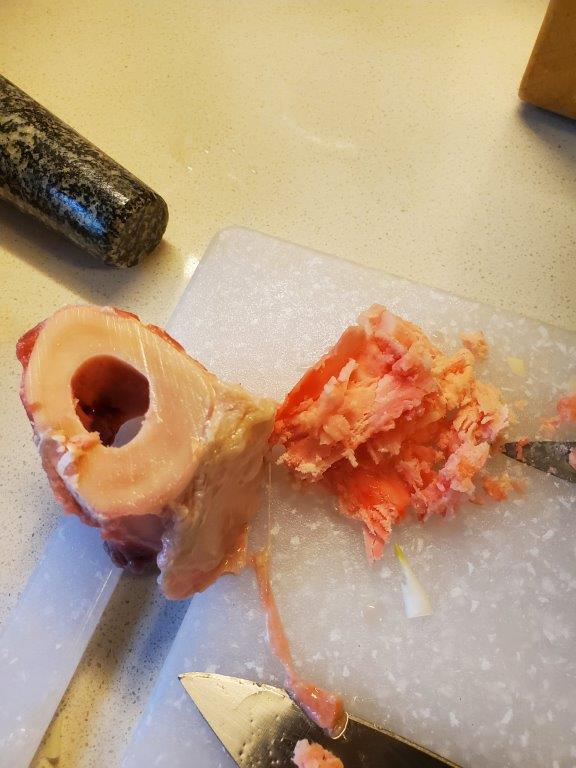 This gets boiled for just a little while, until it turns a really unattractive shade of grey.  Who cares? Marrow is delicious.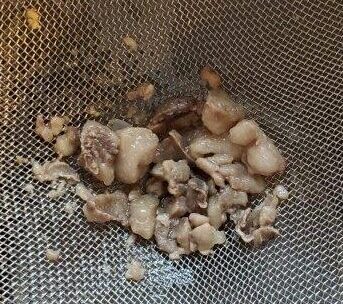 In a pan, you sauté some shallots in butter, then add the wine and some thyme.  Happily, our little garden box has been producing thyme like crazy, so we had some right off the stalk.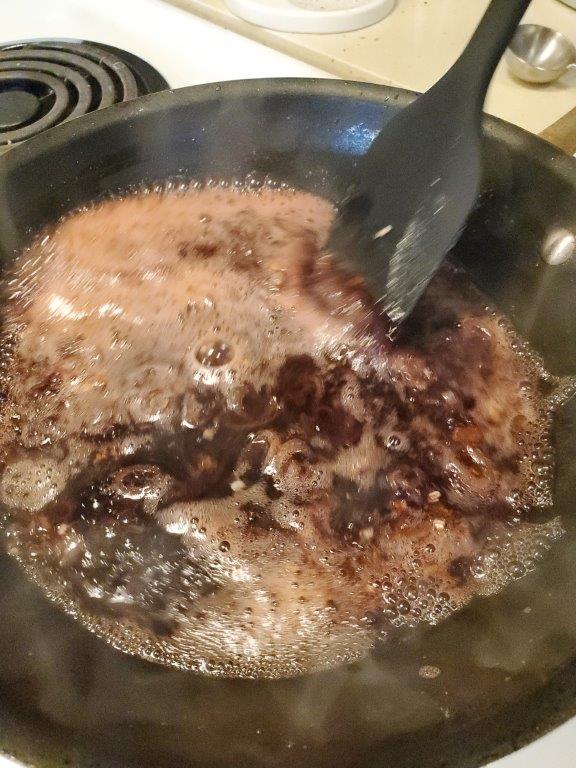 I promise the actual sauce was less blurry.  We'll just call this an action shot and move on.
And move on we do – after this cooks most of the liquid off, you add the demiglace, cook some more, and finally add the bone marrow and cook THAT together.  You're left with a dense, dense sauce, full of shallots and luscious flavor.  It also foamed a bit yellow for some reason – no idea why. The final sauce didn't stay that color when it was taken off the heat.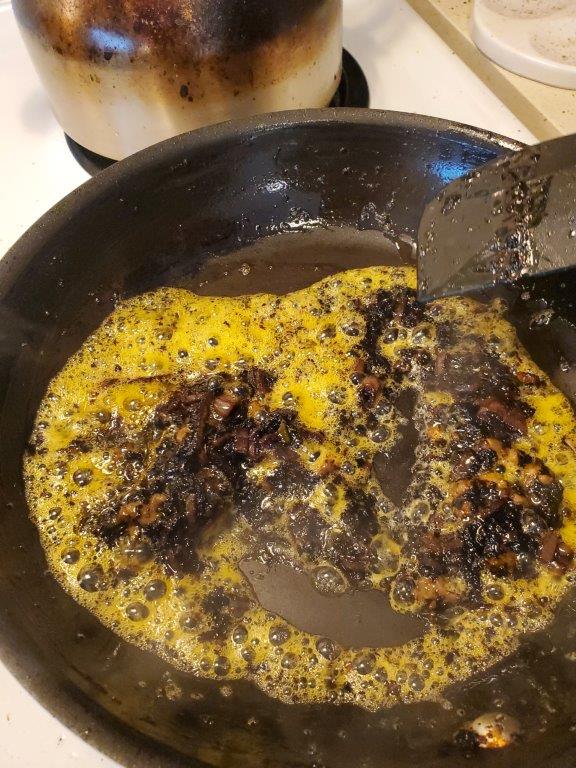 What are we PUTTING this sauce on, anyway? Well, a steak!  The cooking process is so simple and so fast, that I didn't remember to take a picture of it before it was done.  Just sear the heck out of a good quality ribeye steak for a few minutes on each side, use a damn thermometer instead of guessing, and you're done.  Here it is topped with the sauce.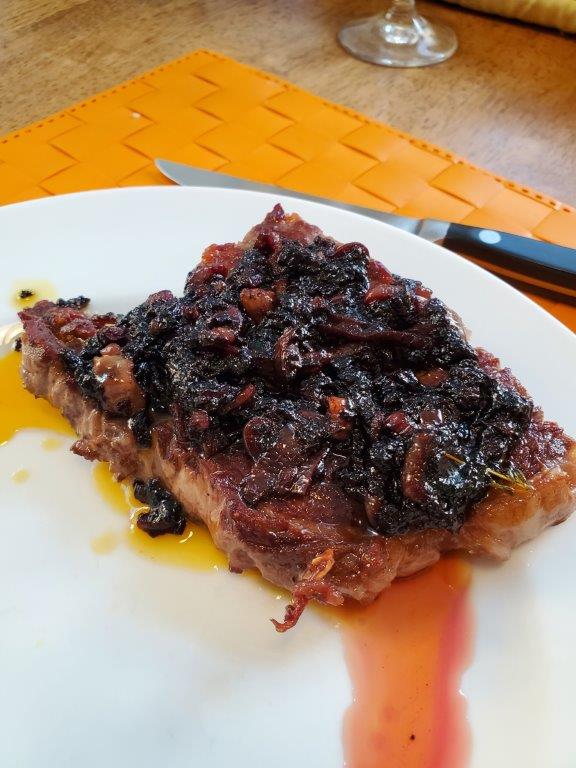 One dish down.  What else did we make?  To go with our steak, we decided to make tartiflettte, which is a potato dish made with cheese and bacon.  Traditionally, the cheese to use would be Reblochon, which is usually pretty hard to come by in North America.
The good new is that the cheese shop we visited did have authentic Reblochon in stock.  The bad news is that it was $40 a kilogram, and the recipe called for a full wheel's worth.  Cheese is EXPENSIVE in Canada, y'all.  We opted to sacrifice authenticity in the name of not paying more for the cheese than for the steak, and got a lovely Quebecois cheese called Fou du Roy instead.
The tartiflette is not too tough to assemble.  You boil some potatoes, and while they're going, you also fry some lardons, which is a fancy way of saying chopped bacon.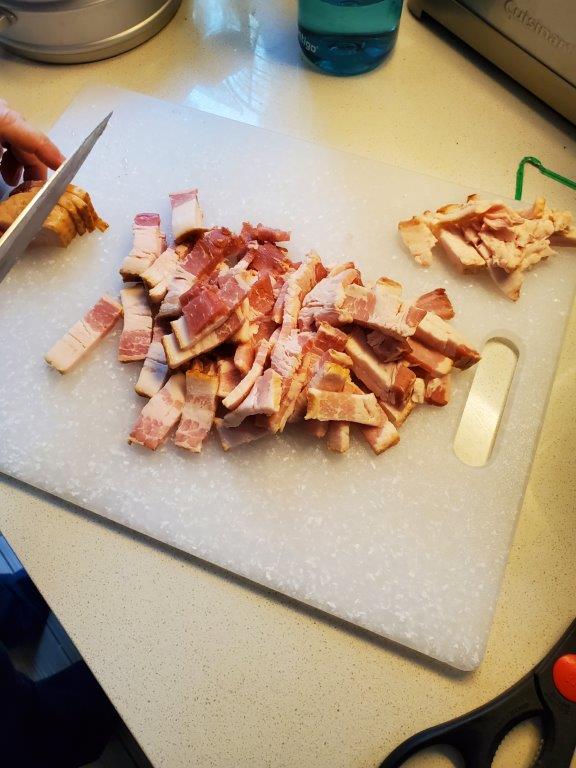 The bacon fat (never waste bacon fat) is then used to fry some onions and garlic, and the pan is deglazed with vermouth.  Then you just stack everything up in a casserole – potatoes, bacon, onions, potatoes, bacon, onions.
But now then the magic happens.  First you pour on heavy cream: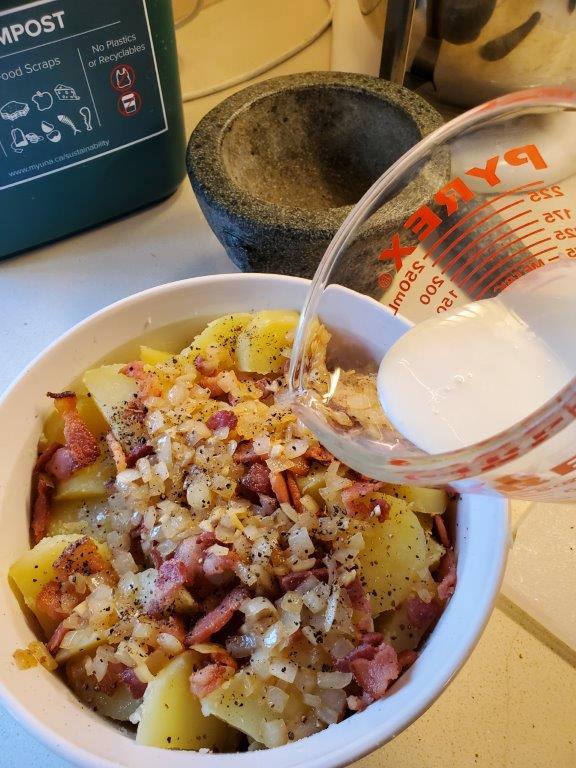 And then the cheese.  So much cheese.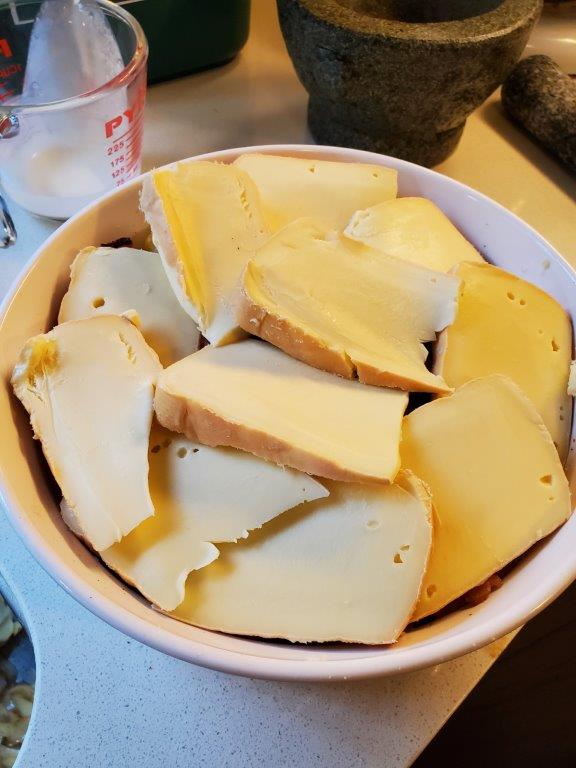 This gets baked in the oven until… well, words don't suffice.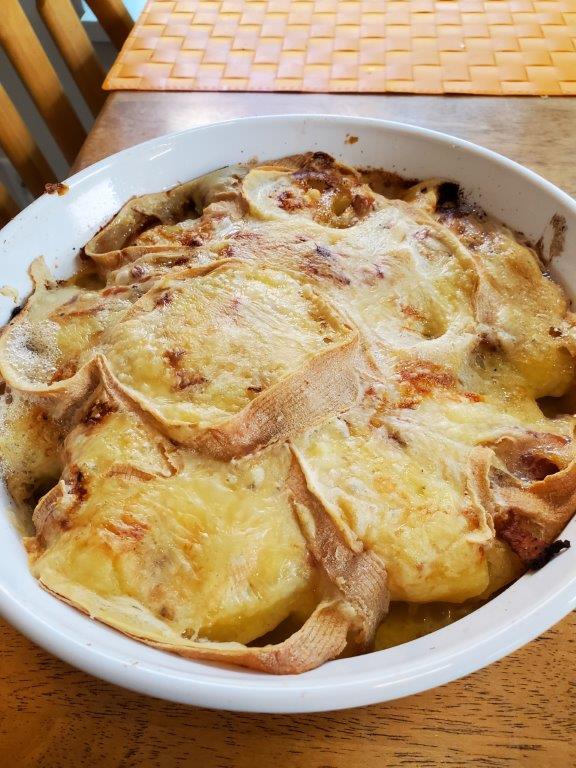 Please do not lick the screen.  It sure does look delicious though, doesn't it?
So this was our main course – Entrecôte à la Bordelaise and Tartiflette. Served with the remainder of the Bordeaux, of course.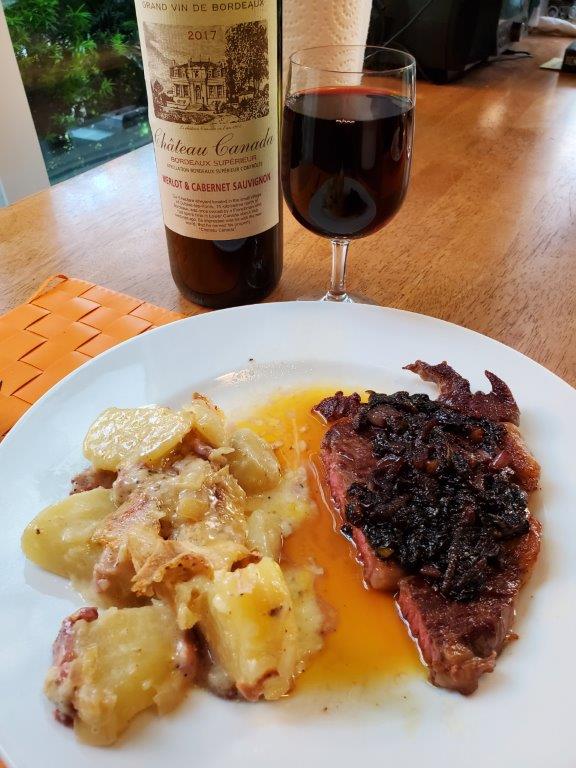 Rather than render a verdict yet, I'm going to continue to describe the rest of the meal, and give our overall impressions at the end.  Next up – cheese course! (A traditional French meal might have been preceded by a soup, and followed at this point by a salad, but we only had so many brain cells available.  Cheese involves nothing more complicated than unwrapping cheese.)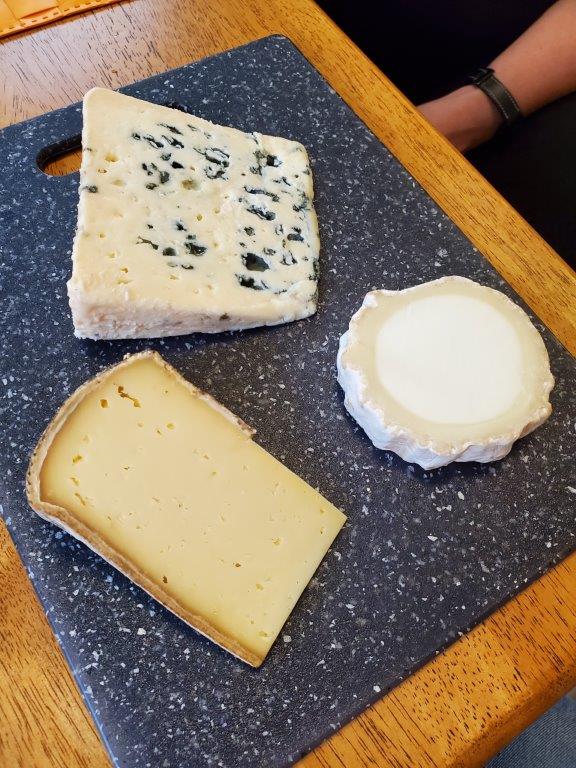 Upper left, Roquefort de Papillon, described by cheese expert Steve Jenkins as "The reason god invented caves."  Lower left Tomme de Savoy, and right side Bouche de Lucay.  We were COMPLETELY full at this point.  So of course it was time to eat dessert.
And for dessert, it was time at last to turn to Julia Child, who we had managed to avoid consulting up to this point.  (I mean, technically, we made this first, but let's not break the narrative flow here any worse than this parenthetical already has.)
Julia Child's chocolate mousse recipe is complicated, but worth it.  Step one: butter, good chocolate, and coffee.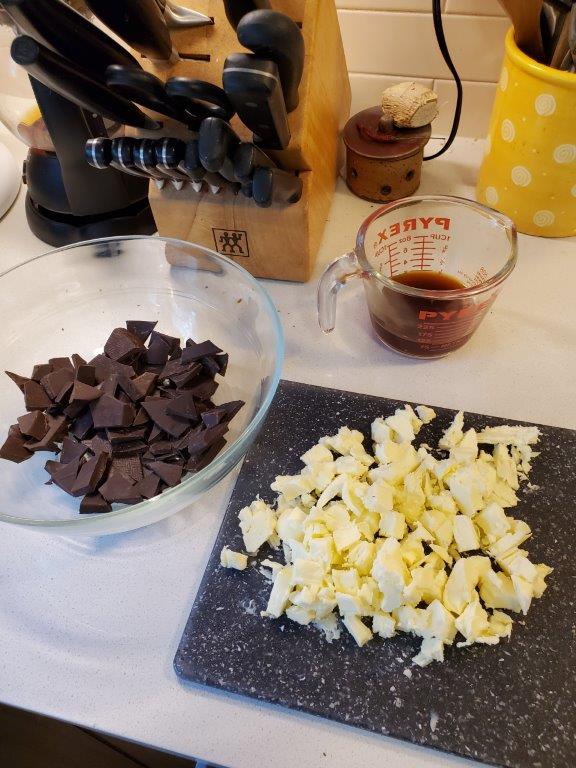 Melt in a double boiler, set aside.  Step two: egg yolks, sugar, and rum.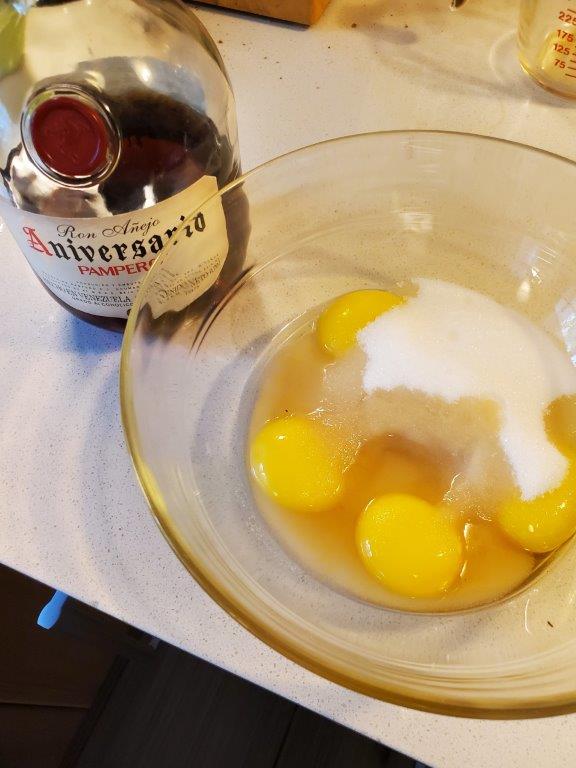 Whip over a double boiler, then continue to beat in an ice bath. We're at three bowls and a saucepan and counting so far.
Next step – egg whites, vanilla, and a pinch of salt. (Didn't get a separate picture of those.) Fold everything together, being extremely careful not to knock the air back out of the egg whites.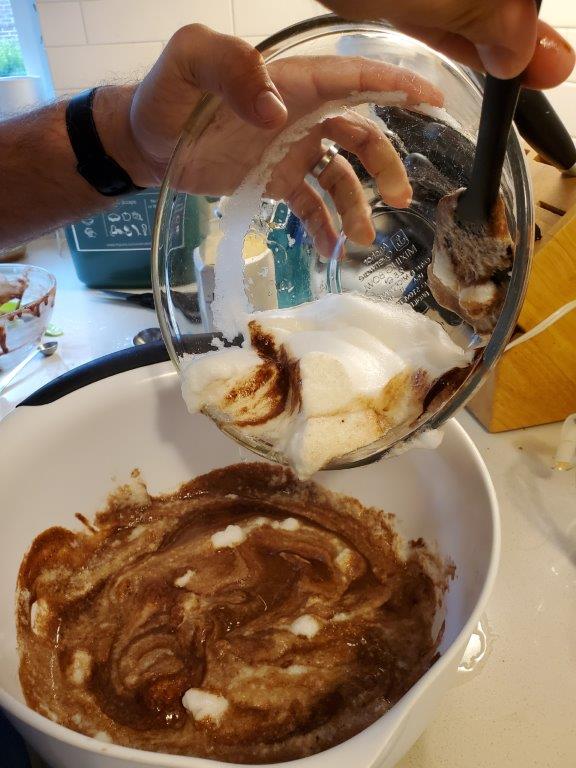 That's two more bowls, one for the egg whites, and one for the folding.  Finally, the whole mixture gets transferred back to the fridge to set up.  Returning to our meal already in progress, we pulled the mouse out of the fridge to see if we had succeeded…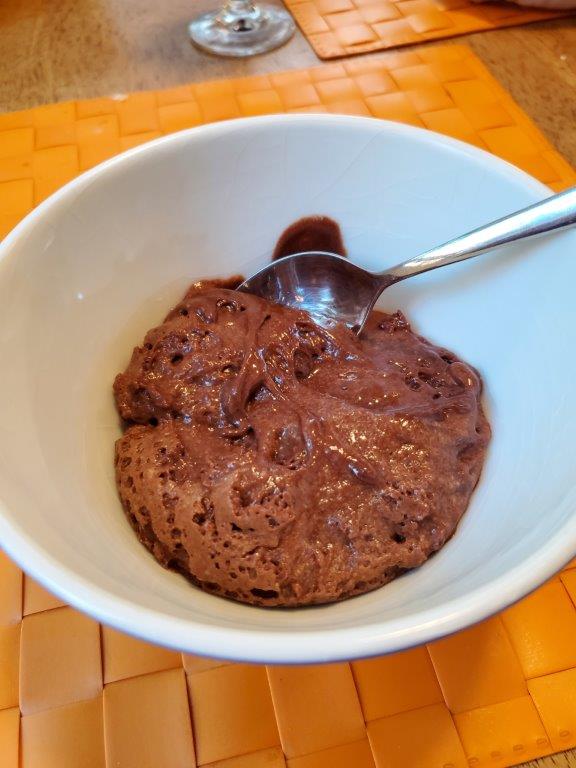 We had.
So what was our overall assessment of this meal?
This is not only one of the best meals we have ever made, this is reasonably high on the list of the best meals we have ever eaten, full stop.  There is, as it turns out, a reason French food is held in such high esteem.  All the steps are overwhelming, but there is a purpose behind each and every one, and that purpose is maximizing deliciousness.
The Bordelaise sauce was dark and rich and fruity and intense.  It perfectly complemented the steak, which we managed to cook to perfection.  The tartiflette was cheese, potatoes, bacon, and cream – just heaven on a plate.  All of the cheeses were amazing.
And the mousse was so good I may actually cry just remembering it.
We're may not do this very often, but we're definitely going to do it again.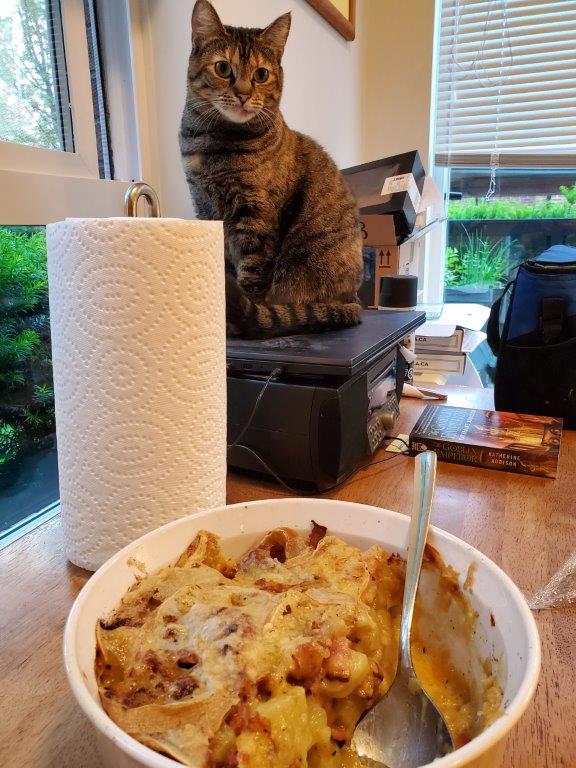 No cheese for you, Wren!
Next up, more France!
Recipes:
Tartiflette
Bordelaise Sauce
Chocolate Mousse