India. Wow.  OK, Let's do this.
For the most part, this project has involved one meal per country, on the assumption that there are a metric crapton of countries, and we're not likely to finish this under the BEST of circumstances.  But we've made a few exceptions.  China got five meals, and France got two.
There was NO way that India was going to get squeezed into one meal.  The plan is to do four, and even that is absurdly reductive.
Now the other thing about Indian food is that we make it all the time.  It is one of our favorite cuisines, and it is telling that despite the fact that all four of these recipes have quite long ingredient lists, we only had to buy one spice we didn't already have. (More on that later.)  If you need a good starting point, may I recommend 660 Curries by Raghavan Iyer.  Despite the clickbait-y title, it's a fantastic introduction / reference book, and does a good job of spanning a broad gamut of Indian recipes.
But given that we make Indian food a lot, we want these meals to be a bigger deal than our normal outings.  So we selected no fewer than four dishes – a bread, an appetizer, a lentil curry, and a lamb curry.
Let's get to it, shall we?  I'll talk about the dishes one at a time, rather than the frantic back-and-forth that actually happened as we tried to get all four of these to the table at approximately the same time.
Starting with the bread.  India has a wide variety of breads, and we originally wanted to pick one from Rajasthan, as that state is not otherwise represented in this meal.  But it turns out the quintessential Rajasthani bread, Khoba Roti, is fussy as all get out, and would be a project all by itself.  Pretty, though.  So instead we went with Missi Roti, a flatbread from Punjab made with a mix of whole wheat and chickpea flour, onions, chiles, and ajwain seeds.
Chickpea flour is something we just don't quite use often enough to justify the storage space, but fortunately, it's really easy to just put chickpeas in a spice grinder and make your own.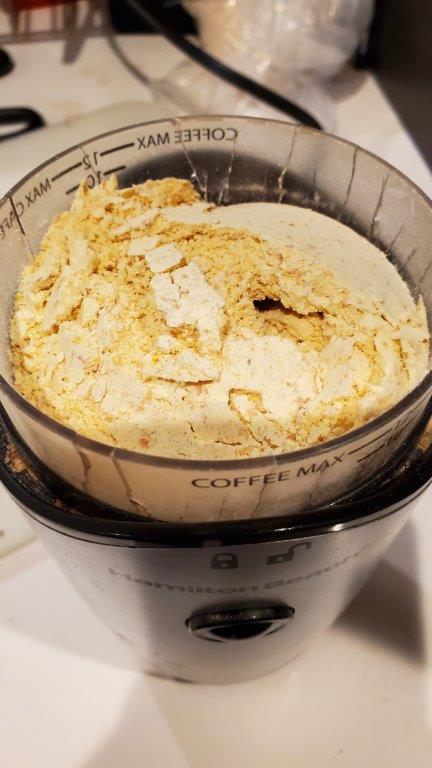 The Indian grocer I visited had whole wheat flour (which they literally referred to as "Roti Flour") in bulk, so we didn't have to commit to several pounds of that. The various flours got mixed together into a dough, along with chiles, onions, the ajwain seeds, and a pinch of asafetida (which is technically a resin, but we don't stand on ceremony here).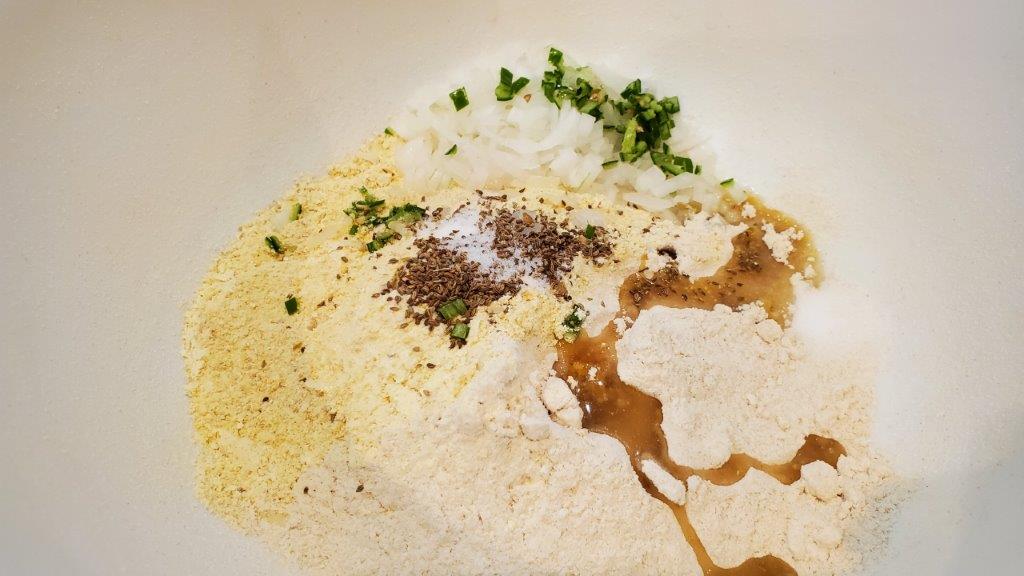 After a bit of a rest, the dough is rolled out: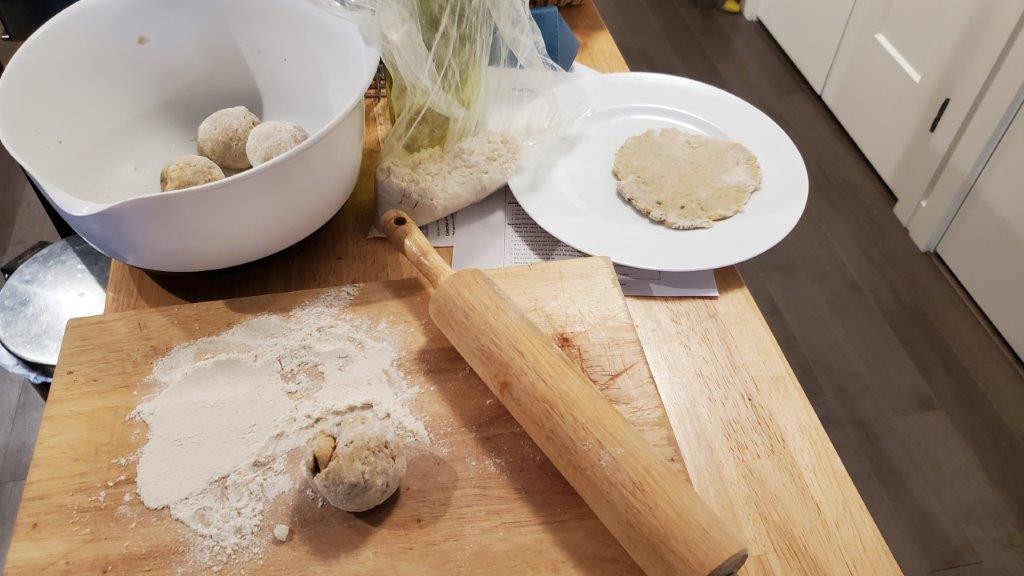 And finally cooked. Lacking a tandoor or a tawa, and not wanting to set off the smoke alarm like the LAST time we tried to make flatbreads in the apartment, we opted for cast iron on the grill.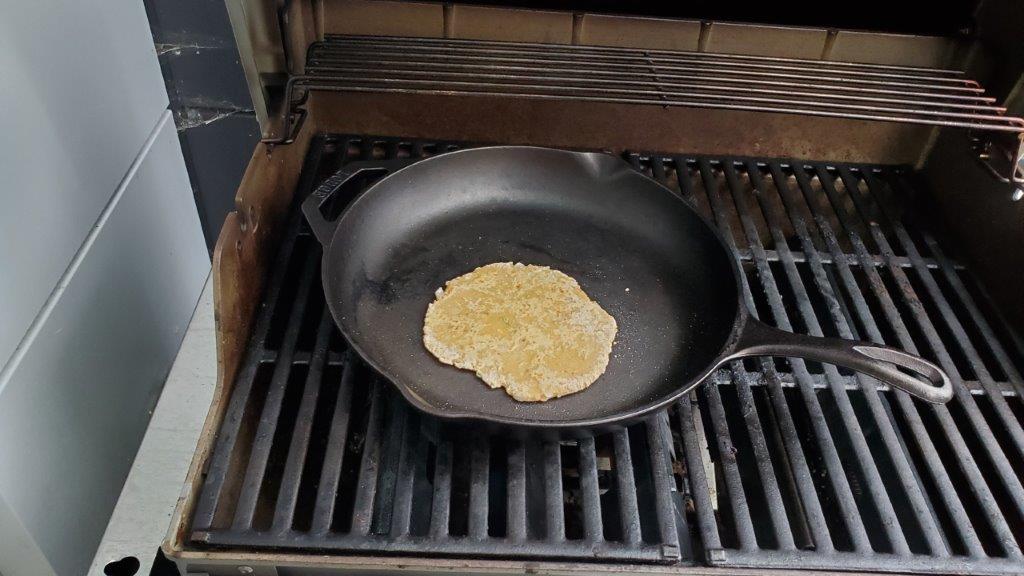 One down.  What's next?
Our appetizer was Paneer Tikka Kebabs, or "spiced cheese on sticks" if you like. Everything's better on a stick, right? Like the roti, this particular variant is from the Punjab region. We hope.
This recipe definitely epitomized the long ingredient lists for today's menu.  Here's just the spices for the marinade (and not even all of them).
I'd like to point out that a) the Chaat Masala and Garam Masala are both spice blends, so the actual ingredient list on this marinade is substantially longer and b) we already had every single item in this picture on the shelf.
So – mix everything up to make a marinade, and then donk in the paneer and some veg to soak.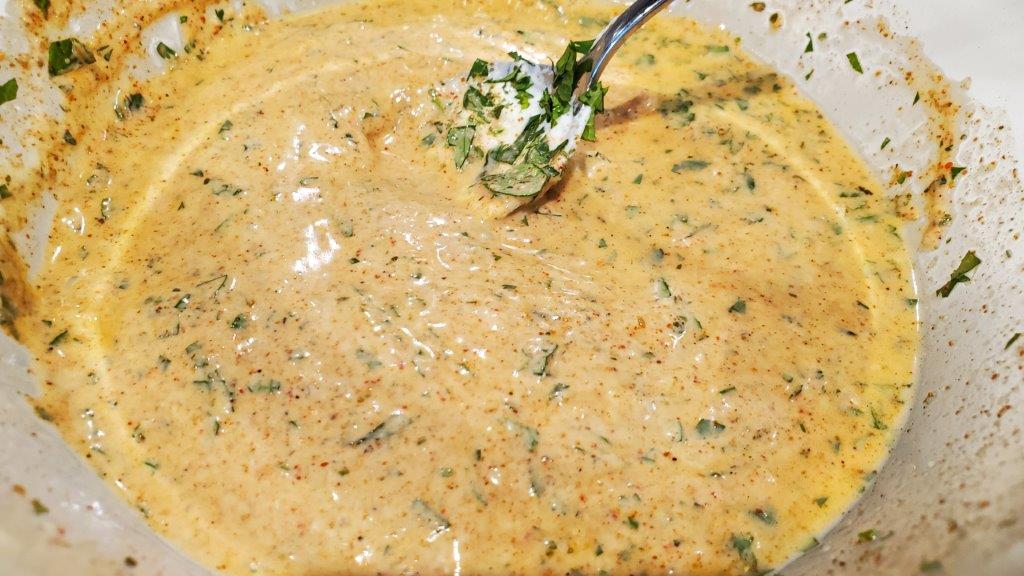 This actually happened several ours before the main orgy of cooking, so I had time to come back to my chair and sit down for a while.  Or at least, I WOULD have…
No chair for you.
The actual cooking process for the kebabs was simple. Bake for a bit to cook the cheese, then broil a bit to crisp the outside. Longer broiling would have been desirable, but again, there were smoke alarm concerns, and we had already shut off the grill.  Next time.
On to the dal.
This recipe claims to be from Uttar Pradesh, the most populous state in India, adjacent to the capital, New Delhi.  It uses split chick peas (chana dal) and split black lentils.  (urad dal, which are actually white if they've been skinned.)  In addition, it uses spinach, onion, tomatoes, and another long spice list.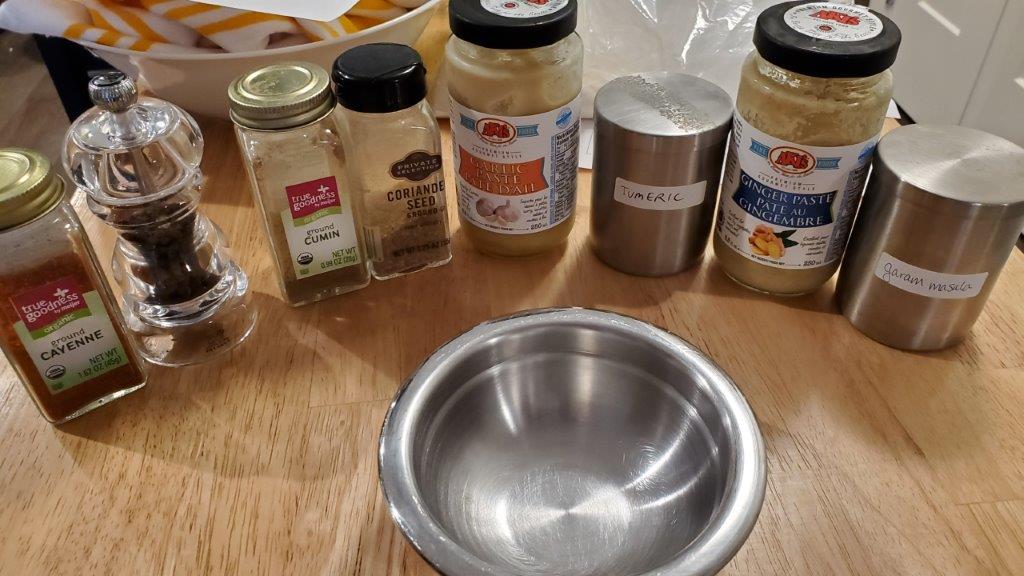 When we did our Ethiopian meal, we used the pressure cooker as a shortcut for one of the dishes, but it wasn't necessarily an authentic preparation. Indian cooking, by contrast, uses pressure cookers as a staple technique. The only difficulty is that many traditional recipes will say things like "cook to the third whistle."
Our Instant Pot doesn't have a whistle, so we just took our best guess.
At any rate, first the spinach is blanched and pureed: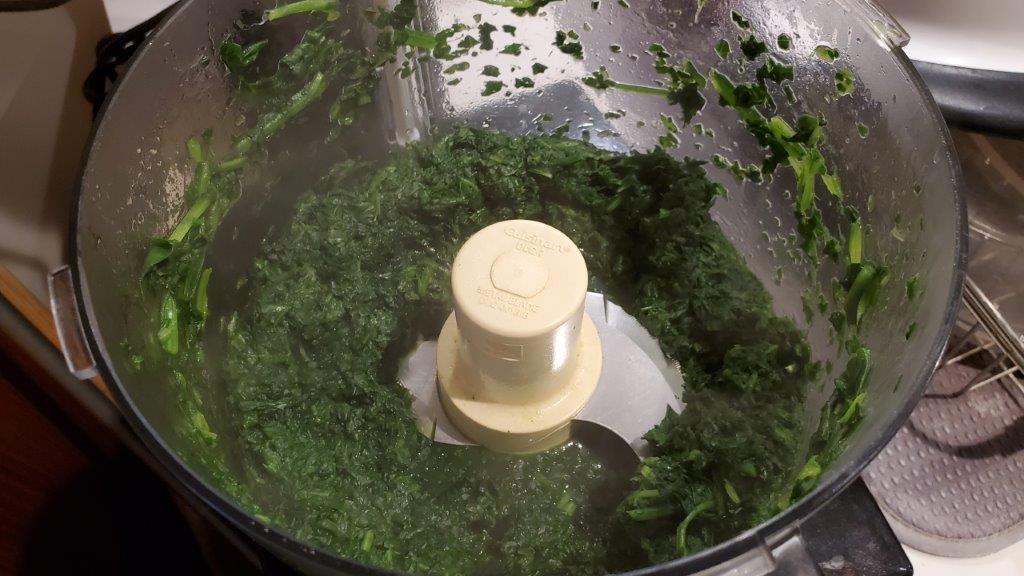 Growing up, pureed frozen spinach was the only way I ever encountered the vegetable, so I'm a bit wary of this – grown up Dan much prefers whole leaf spinach, prepared by being waved around in the same room as some boiling water for 20 seconds or so.  However, it turns out that pureed fresh spinach is still much tastier than the frozen kind.
The sautee function on the Instant Pot is used to brown some onions, and then soften up the vegetables and lentils a bit.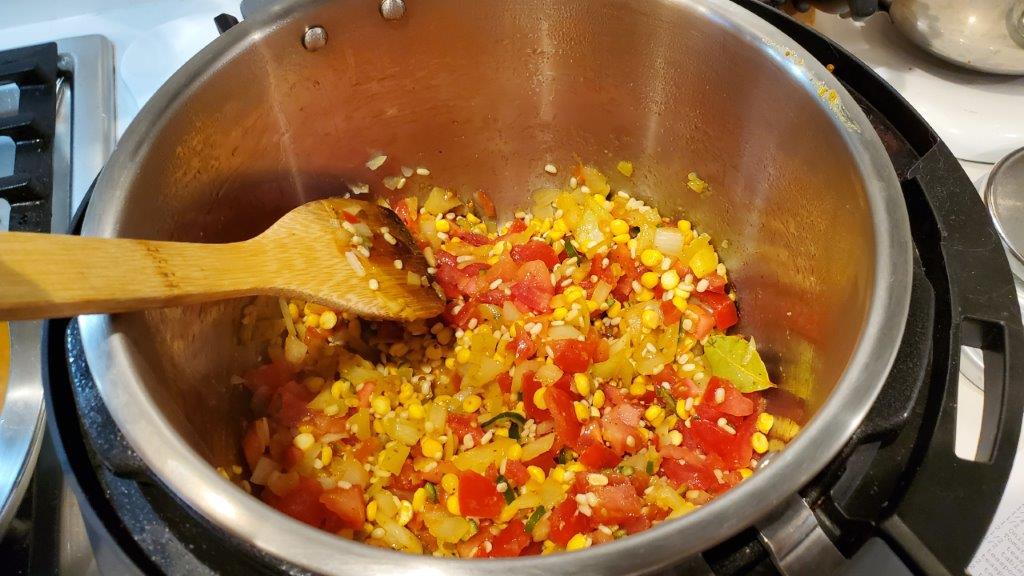 Next, in with the spinach, seal the lid, and let it cook for a few whistles. Or seven minutes.  Whatever.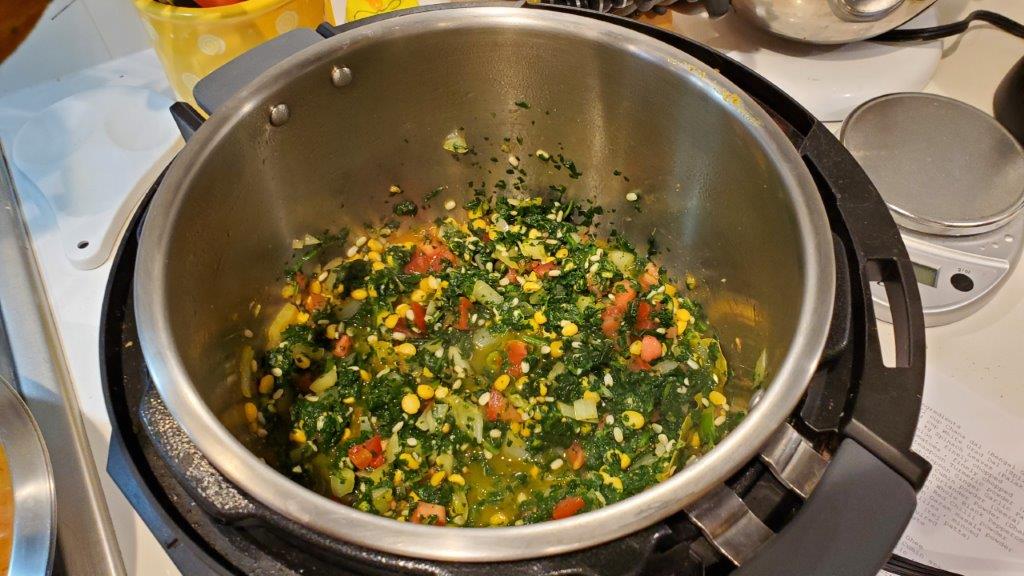 A common feature of a lot of Indian lentil dishes is a tadka, or tempered oil.  You cook the lentils and veg in one pot, as above, and then in a small separate pan, you cook spices in oil to bring out their flavor and season the oil.  The tadka for this recipe is a bit unusual in that it involves garlic, which would more commonly be cooked with the beans (or not used at all).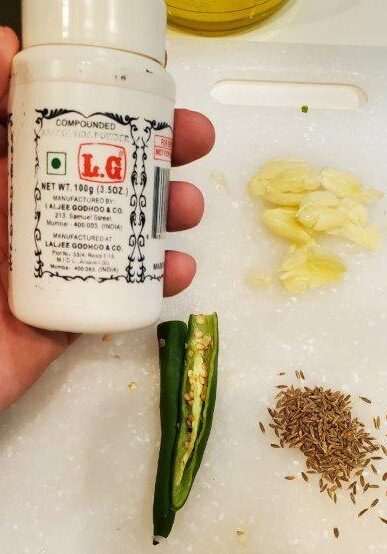 In addition to the garlic, this tadka also includes green chiles, cumin seed, and more asafetida. These were cooked in some clarified butter (ghee) and then added to the lentils when they were done.
Whew – one more dish to go!
Kashmir is the region on the Indian border with Pakistan.  There's… a lot of history there from the last hundred years, most of it awful, and most of it the fault of the British.  For more information, consult the historical documentary, Ms. Marvel. (Sorry, that was in poor taste.  Do educate yourself, though.) (Also watch Ms. Marvel – it's great.)
Our reading indicated that if any one dish could be pointed to as the "national" dish of the region, it would be Rogan Josh, a curry whose name literally means "hot oil."
Here we had to make a few compromises.  The recipe we picked insisted that bone-in lamb was important.  However, when I went out shopping the morning of, my choice was frozen bone-in lamb, which would either involve defrosting (time consuming) or microwaving (not great), or else boneless lamb chunks which were already defrosted.  We went with B.
Next compromise – the distinctive red color of Rogan Josh does NOT come from tomatoes, and the author of the recipe was explicit that if you attempted to put tomatoes in this recipe, she would come to your home and beat you around the head and shoulders with a lamb shank.  Ahem. She was explicit that it would not be traditional, but would still probably be tasty.
But we're going the extra mile today, so I attempted to acquire one of the traditional ingredients used for the color, either Ratan Jot, a dried leaf, or Mawal, a dried flower.  The store had neither in stock, but they did have Ratan Jot powder, so that's what we got.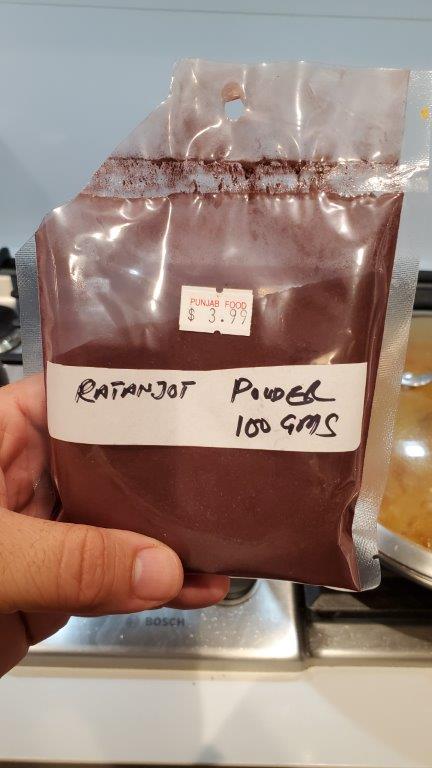 To actually make the dish, the lamb chunks are first browned, then removed from the pan.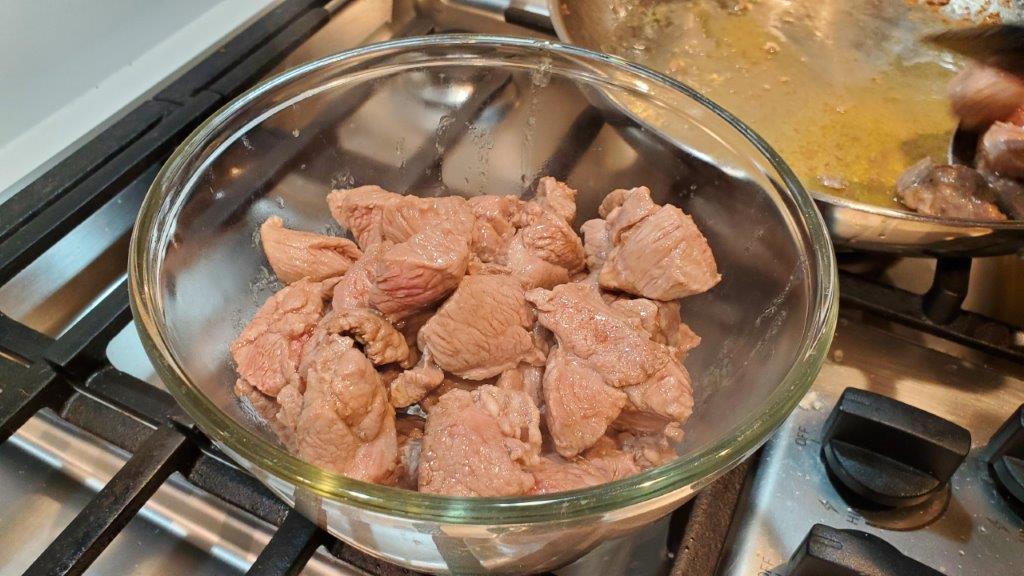 Next, another long list of spices and aromatics is toasted in the same oil, including black cardamom, cinnamon, black pepper, Kashmiri chili, powdered ginger, garlic paste, ginger paste, and coriander. Finally, the lamb goes back in with yogurt and some water, and then goes on the simmer for ninety minutes or so.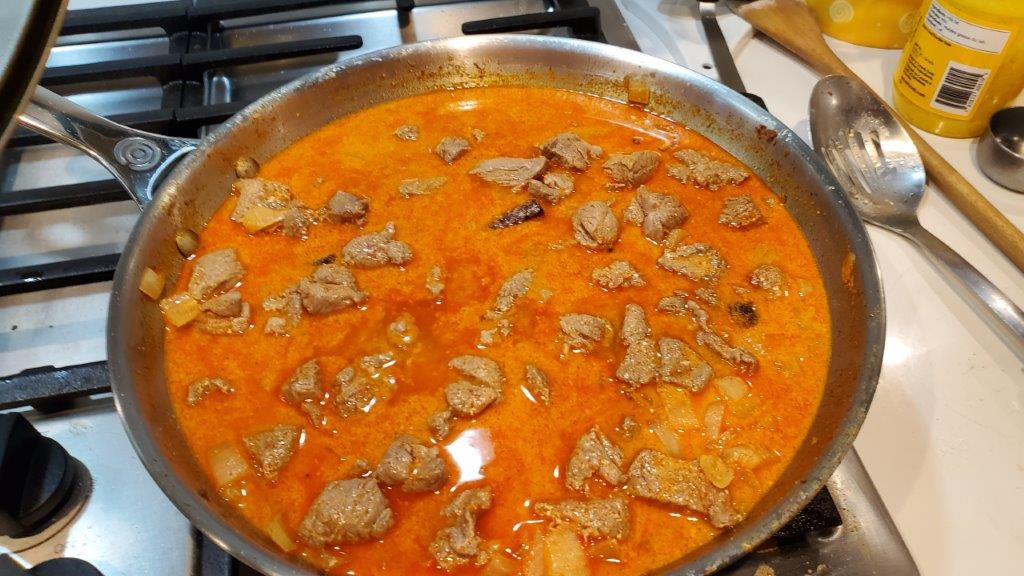 That's quite red, but it's just not red enough. No, now it's time to add the fancy Ratan Jot from above.  Problem: the recipe assumes you have the leaves, and we only had the powder.  So we took a page from a number of recipes in the Iyer book mentioned approximately 600 paragraphs ago (this WILL all be on the quiz). To infuse oil with powdered spices without burning them, we heated the oil first, then shut off the gas and put the powder into the hot oil to be cooked by the residual heat.  Was this right?  Did we use enough? No idea!  But it certainly was a striking color.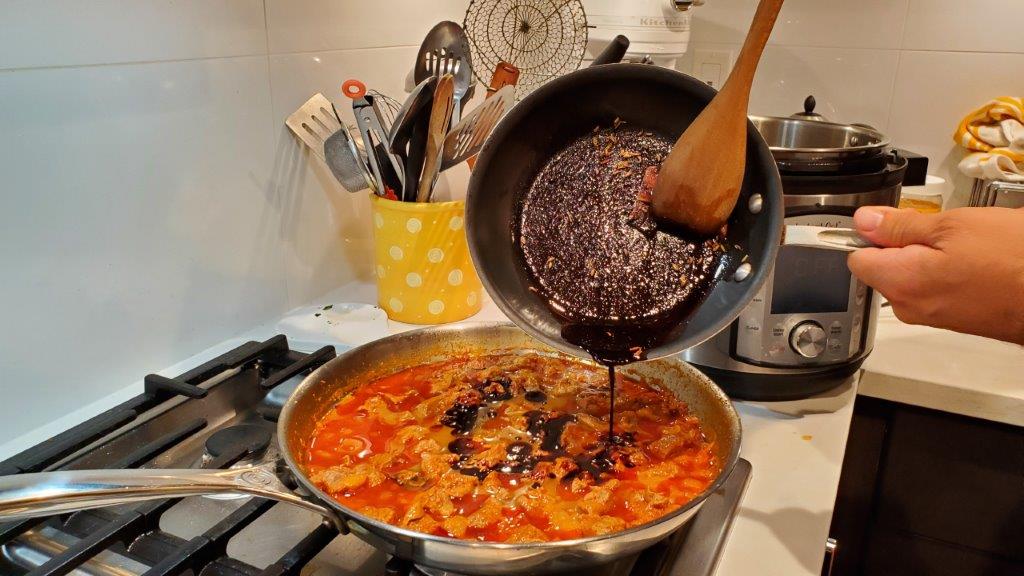 With the lamb, bread, dal, and paneer all done, it was time to eat!
My food porn game is not strong, but holy cow was this good.  There's a REASON we make so much Indian food, and that reason is that Indian food is f*ing tasty.  The paneer had a serious kick to it, the lamb was meltingly tender, the spinach was a great vehicle for the lentils without being gummy, and the bread was perfect for shoving everything into our faces.
We am looking forward to the next three meals, for sure.
Big thanks to my friend Natarajan for his help with how to conceptualize this part of the project.
Next up – more India!
Recipes:
Kashmiri Rogan Josh
Paneer Tikka
Missi Roti
Satpaita Dal