Dan mentioned our hotel in downtown Prague. It had a lovely courtyard full of flowers that were just begging to have their picture taken. It couldn't have been more impossibly quaint.
It also had an impossibly tiny door to our room. Picture includes me for scale (and remember that I'm not a giant):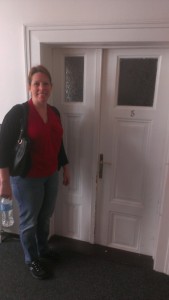 Luggage stowed, we wandered around Prague, and I discovered the 360 Panoramic function on my phone's camera.

We saw many things on our wander, including giant creepy baby sculptures.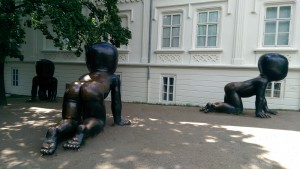 I was really excited to have happened across these, because I'd read about them — they're by an artist named David Cerny, and they had originally been installed on a television tower. And because they're giant creepy babies, which quite honestly should be a good enough reason on its own.
We also came across the artistic inverse, which was a sculpture memorial to the victims of communism.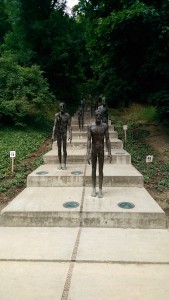 There was a plaque nearby that read: "The memorial to the victims of communism is dedicated to all victims, not only those who were jailed or executed but also those whose lives were ruined by totalitarian despotism."
For the rest of the day we geocached, wandered around Prague, tried to take a funicular up a hill, abandoned that plan when it seemed as though everyone else had the same plan, and walked near the castle. (TO the castle will have to wait until we return after the conference in Dresden.) We also found the John Lennon wall.
Statistics:
Creepy baby sculptures: 3
Geocaches claiming to be the most-found geocaches in the world: 2
Train delay from Prague to Dresden: 45 minutes. No, 35. No, 30. No, 35. No, 40. Wait, it's here.