We really do want to finish this project some day.  Honestly.  And there's countries later in the alphabet that I'm eager to get to.  There's also North Korea, but we'll burn that bridge when we come to it. BUT…
When we consulted our friends with expertise in Indonesia, they gave us a LOT of ideas.  And it turns out that Indonesia is the fourth most populous country in the world, after India, China, and the USA.  We did four meals for India, and five for China, so why not at least three for Indonesia?  At least it's broken up into discrete units, known as (checks notes) "islands."
So for our first meal, we are starting with the island of Sumatra, and what is arguably the national dish, beef rendang. To accompany, we'll be making a cassava leaf curry.  But first, to the library!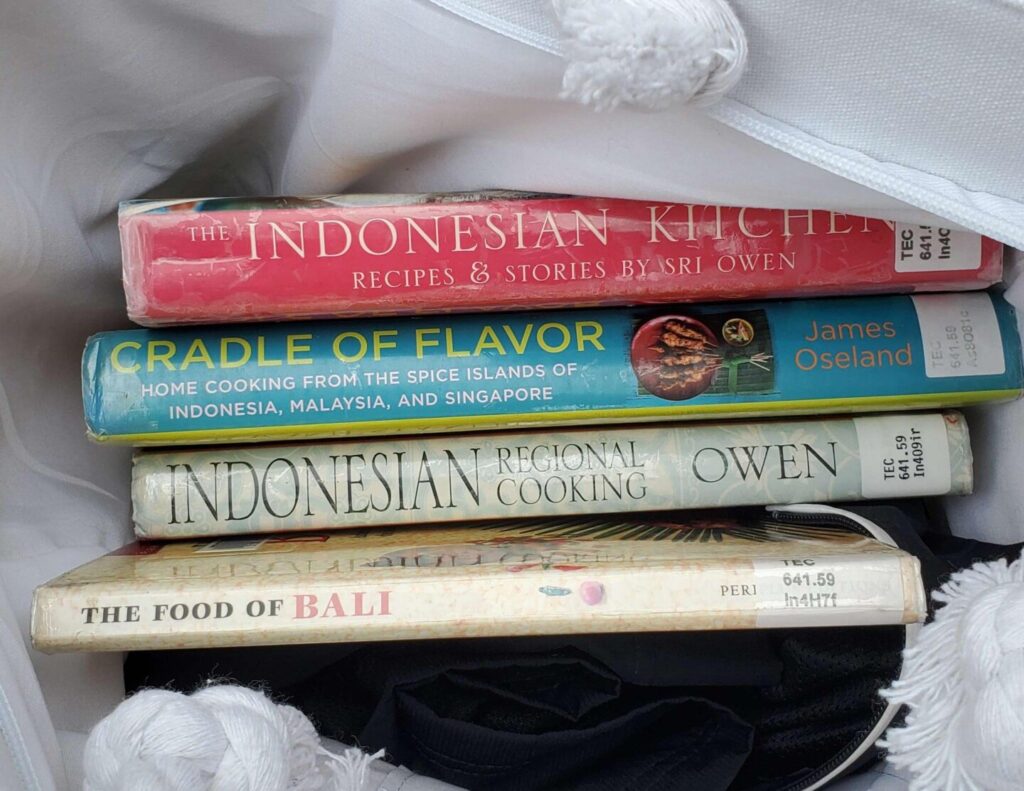 Not pictured – the eBook we also checked out.  The Vancouver Public Library has an excellent cookbook selection at the central branch, and it's walking distance from our apartment.  This represents quite a few pounds (sorry, kilograms) of culinary expertise.
After the trip to the library, the next obligatory trip was to our go-to grocery store for southeast Asian stuffs.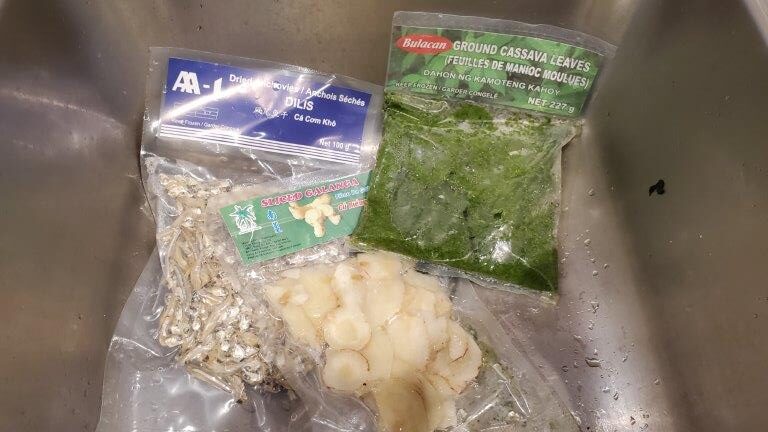 In the top picture, produce, including whole turmeric (upper left), because our cutting board, depressingly, is still the color it was when we bought it.  In the lower picture, frozen ingredients in their natural habitat – the sink.  Observant viewers may notice the first unforced error in that picture – ground cassava leaves.
This dish is supposed to use chopped or pureed leaves, and we do know where to get those, but I spaced and didn't see that what you have in that bag is almost the consistency (as well as the color) of matcha.  Oh well, too late now, let's power on and see what it tastes like.
First, we need to pre-cook some stuff.  In the top pan, the cassava powder is blanching. (Blanching?  Can you blanch a powder?) In the bottom pan, dried anchovies.
Next, we need to make a spice paste, so out comes the immersion blender. A mortar and pestle would be traditional, but the recipe literally does call for a blender.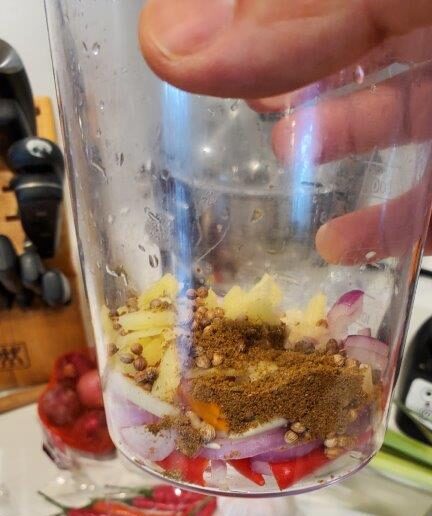 This paste contains red chilies, shallots, garlic, whole turmeric, ginger, whole coriander seed, and powdered cumin.  It does NOT contain candlenuts, because I didn't want to make a separate trip just to get those.  Sorry.
Once our paste was ground, it gets fried with some whole aromatics – lemongrass, galangal, and lime leaves.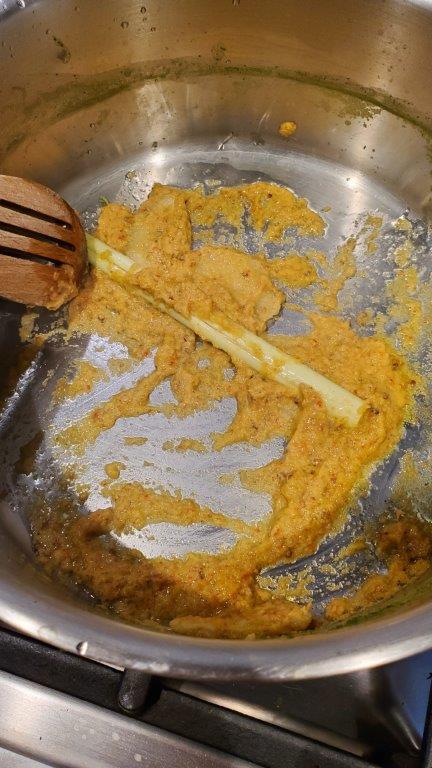 I think it goes without saying that this smelled amazing.  Next, you toss in some coconut milk and your cassava leaves, and let it simmer.  The final dish is SUPPOSED to be stewed leaves in a broth, but in our case it ended up with a texture closer to baby food.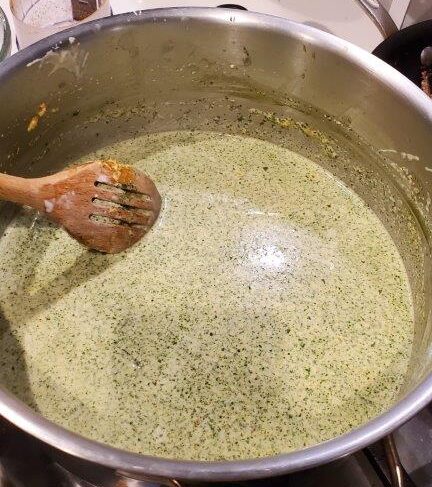 Still, if baby food tastes like this, sign me up for some sort of uncomfortable role play, because it was REALLY tasty. More on the final dish below.
Next up, beef rendang. "Rendang", as far as I can tell, doesn't have a literal translation aside from this dish.  It has an incredible amount of cultural significance in the region, which I encourage you to go look up, because I'm not going to be able to do it justice here. So what is it?
It is beef cooked in coconut milk and spices for a LONG time.  No, longer than that.  You cook it until ALL the liquid has either evaporated or been absorbed into the beef.  Over the course of the cooking process, there are a number of discrete stages, all of which look totally different from each other.  I was referring to it as going through phase transitions, but that was too nerdy, and I wanted Leigh to stop hitting me.
But to start, let's make another spice blend!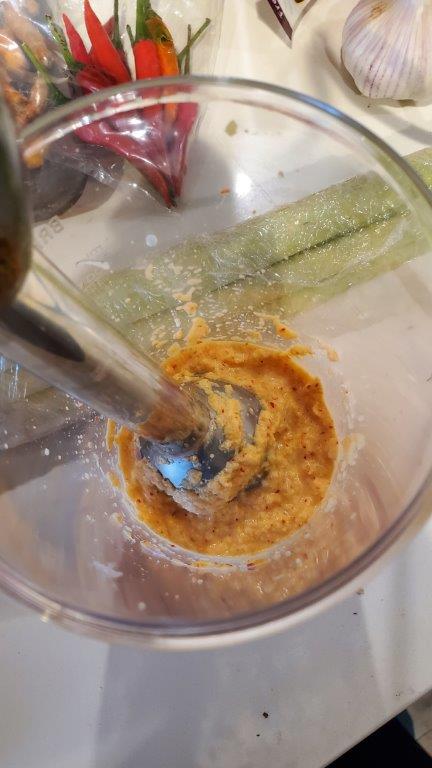 This one is shallots, garlic, ginger, turmeric root, chilies, and galangal, with a little coconut milk for lubrication.
And now, let's just watch the magic happen.  For the first two hours, it looked like this: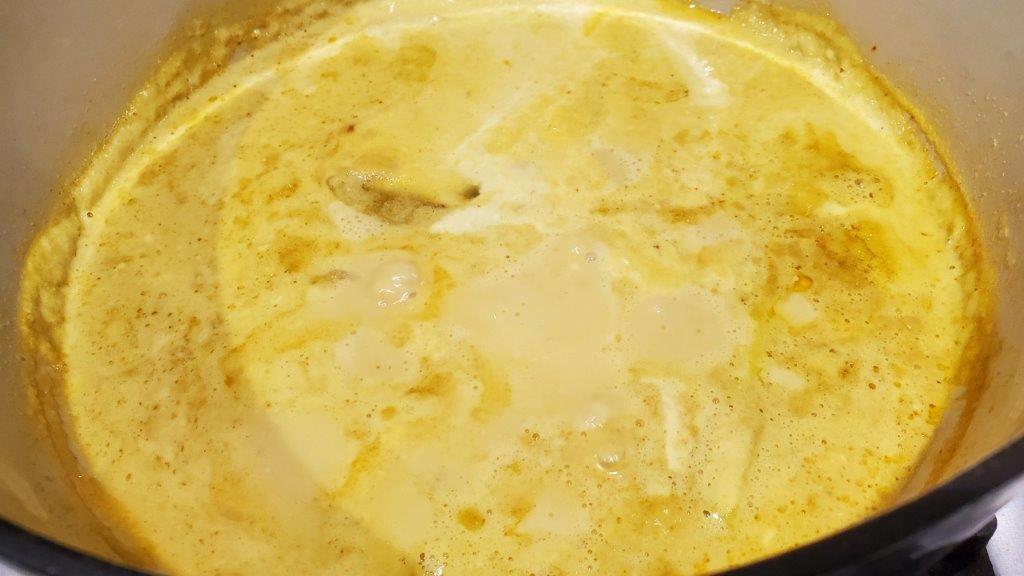 A big pot of seasoned coconut milk with beef under the surface.  Once it had cooked for several hours and reduced a bit, it gets transferred to a wok to increase the surface area. And from here on in, I'm going to include the time stamps so you can follow the evolution.  It's really magic:
6:26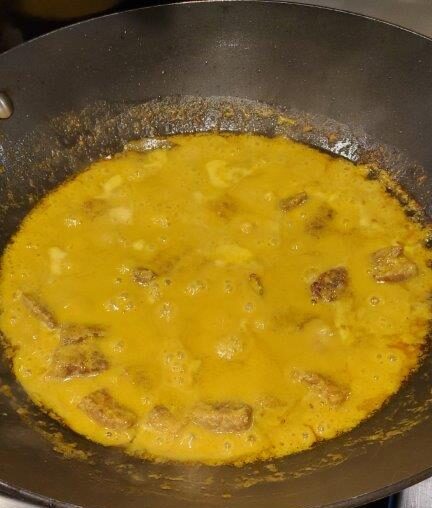 6:32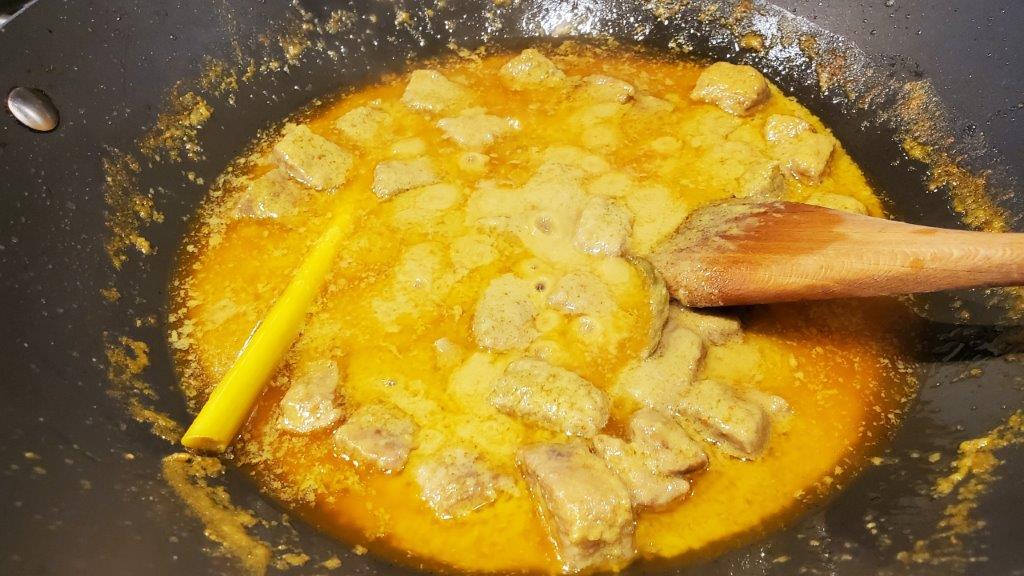 7:02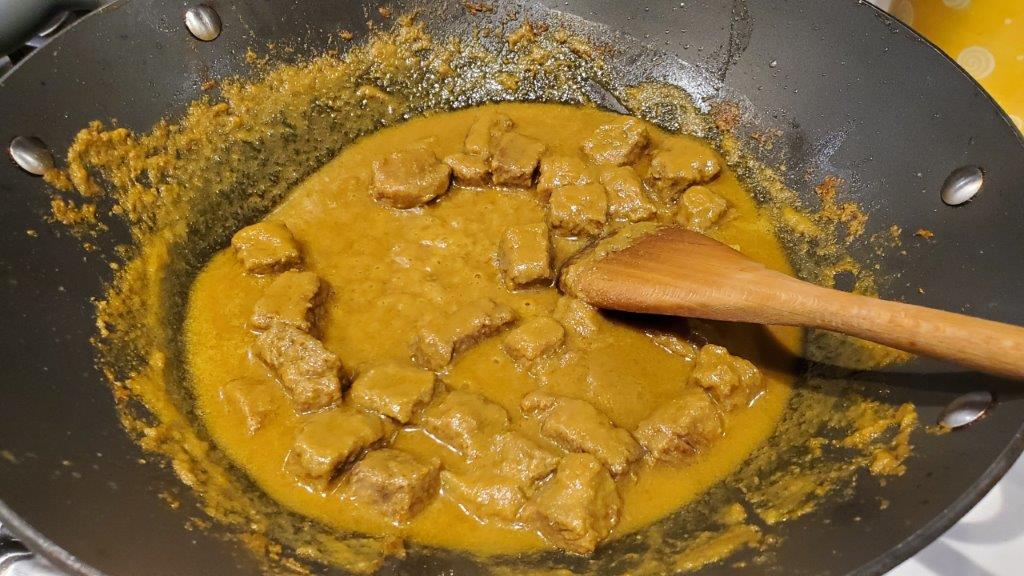 7:18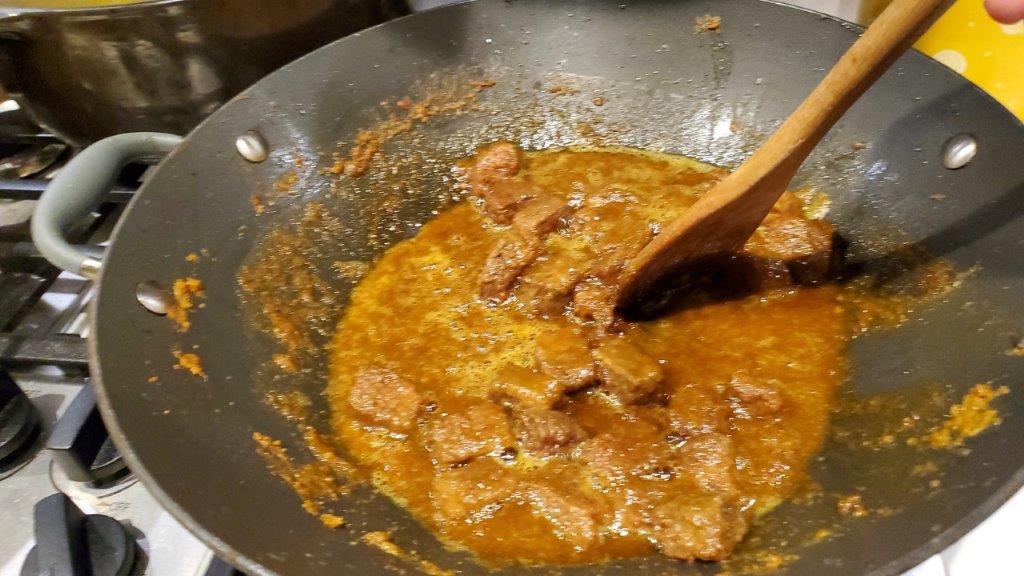 My photography skills are not increasing commensurately with the quality of the rendang, obviously.  But still – compare this color to the first picture.  And now compare it to the finished product, from 7:40.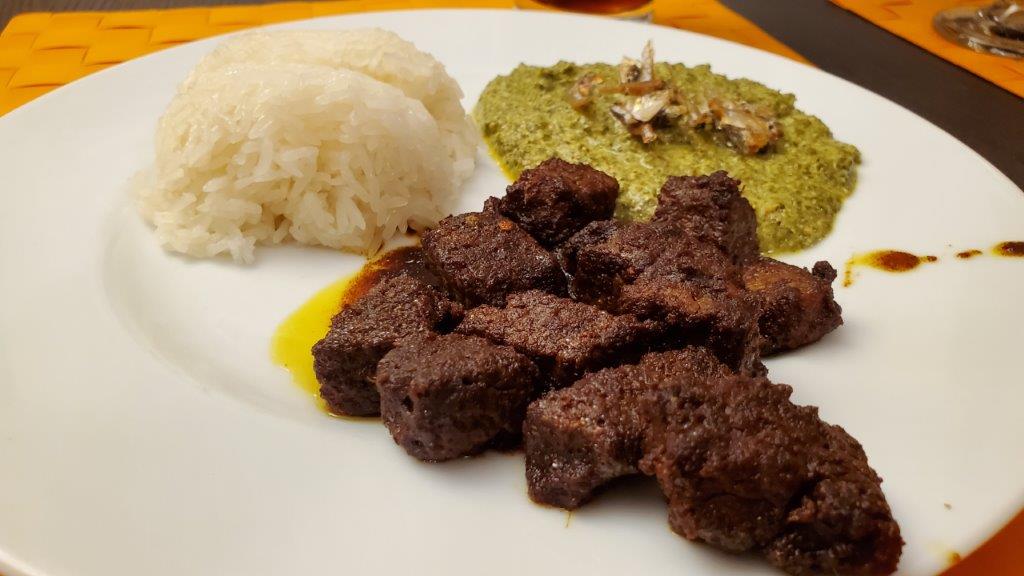 My goodness, LOOK at that color.  At this point just about all of the liquid was gone, and you are left with a thick, delicious seasoning coating the meat.  We abuse the term "depth of flavor" on this blog a lot, but… just LOOK at it! The cassava puree also turned out very nicely, and the tartness and creaminess was a good contrast to the beef, especially with the added textural contrast of the friend anchovies on top.  Also pictured, sticky rice.
And so that was our Sumatran meal.  Beef rendang is EVERYTHING that was promised, and although it takes a while to make, it is something I would absolutely serve to guests. The leftovers the next day were even better, as is often the case with stews
Next up – Java!
Recipes:
Beef rendang (we cooked out of a book, but this is pretty much the same recipe)