For our fourth Indian meal, we're concentrating on dishes from the eastern part of India, in the areas near Bangladesh. I still haven't transferred our pictures for our Bangladeshi meal from Facebook over to this blog, but for that meal we made a spicy fish dish, a red lentil curry, and a rice pulao.
Since I hadn't looked this up before I planned this meal, we ended up making a spicy fish dish and a red lentil curry.  Welp.  The two recipes aren't QUITE identical, and they were both tasty, so we're cool.  Plus, we continued our bread-lentil-main-other pattern here, so there were two other dishes to make.
Let's get started!  First off, our flatbread.  This is the one I'm least certain about the authenticity.  The best known bread from this region is luchi, but it's deep fried, and we're on record as being somewhat deep-fry averse.  So instead we found a recipe for a flatbread made with rice flour.  The actual method is pretty simple – first you cook rice flour and water in a pot, then once it's cooled, you knead it into a dough.
To my astonishment, this powdery mess: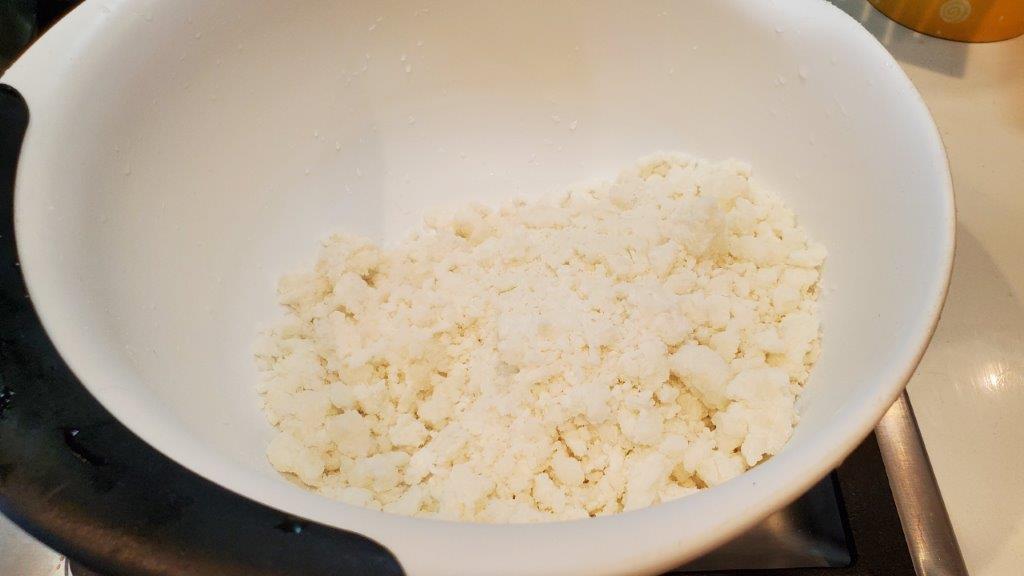 did, in fact, come right together into smooth dough balls.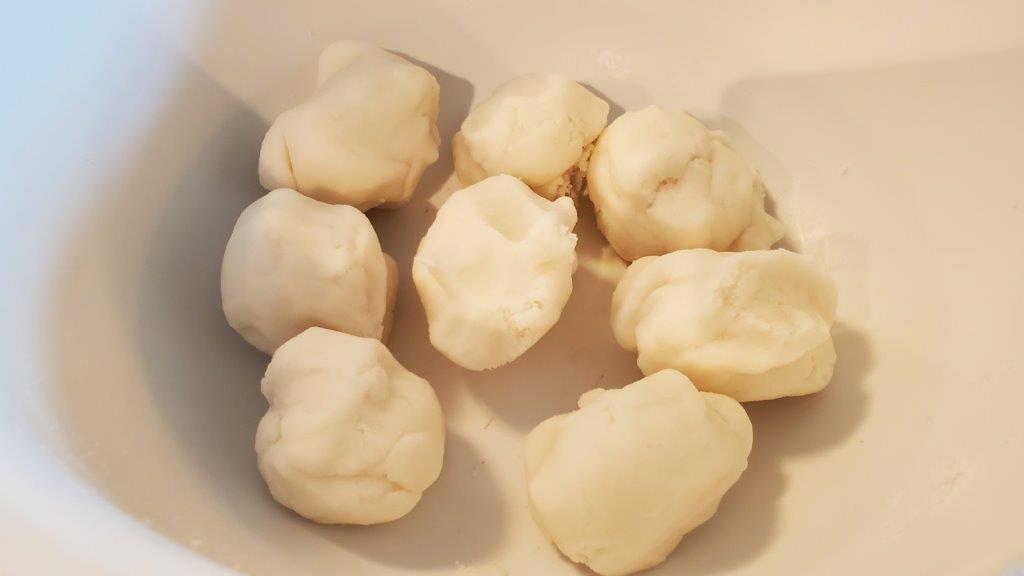 These then needed to be flattened out as thin as possible, without allowing them to fall apart.  While I never got pretty round shapes, I did at least get somewhat better as we went along. (That would obviously be left to right.)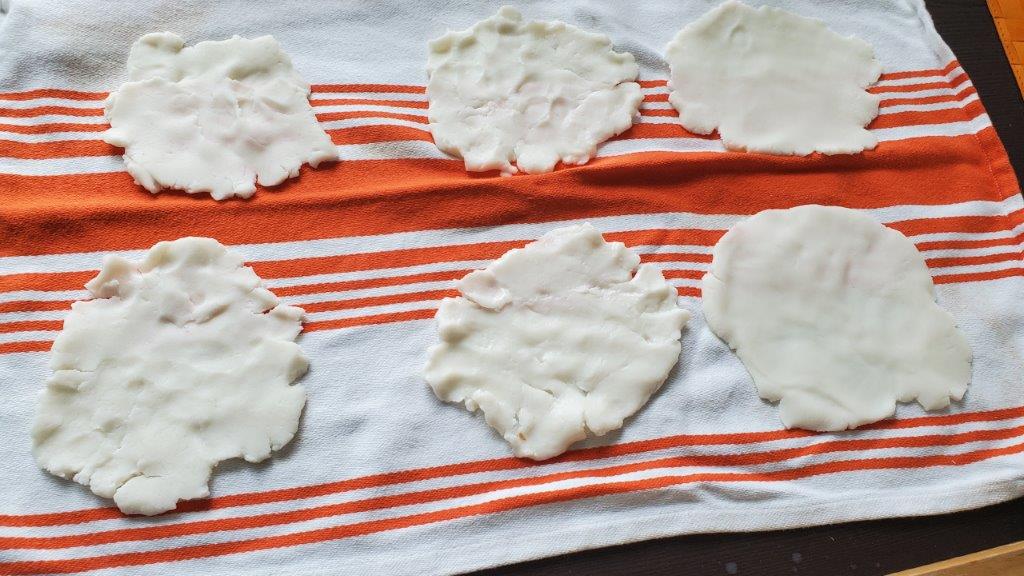 Back to the cast iron on the grill.  They never got a LOT of color, but some of them DID puff up, so we were clearly doing something right.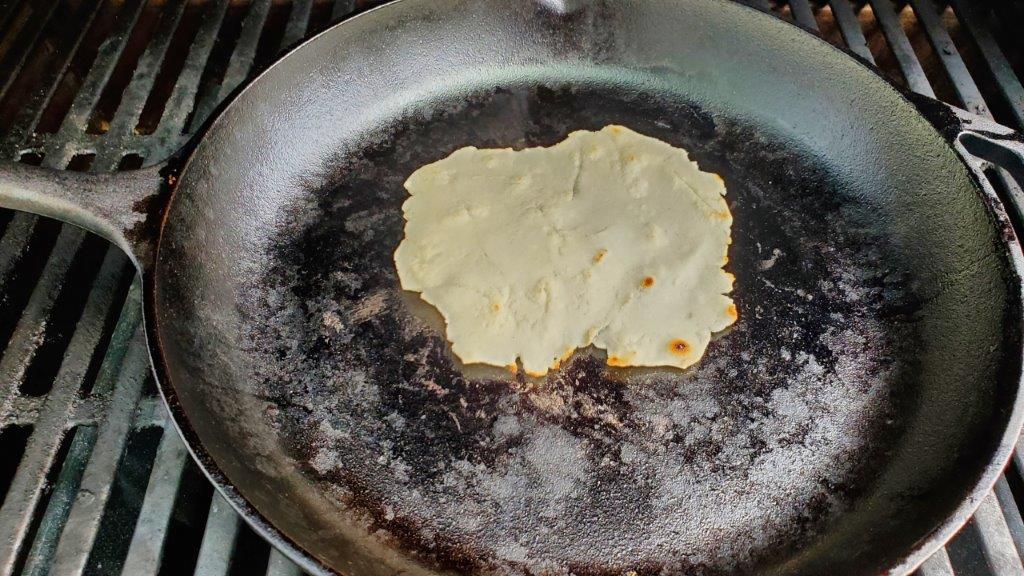 Next up, lentils.  We're using split red lentils for this one, or masoor dal. These things are great – we use them all the time for weeknight cooking, because they don't need to be soaked, and they come together in a nice thick texture that's delicious with rice.
Indian cooking can involve making really complicated spice blends.  Toast this, grind that, mix in the other thing, for upwards of as many as twenty ingredients.  But for THIS region, the dominant blend is called panch phoran, and couldn't be simper.  Take five whole spices, and mix them together without cooking them.  The five spices are fenugreek, nigella, cumin seed, mustard seed, and fennel seed.
We have this adorable little container that I just keep refilling as we run out.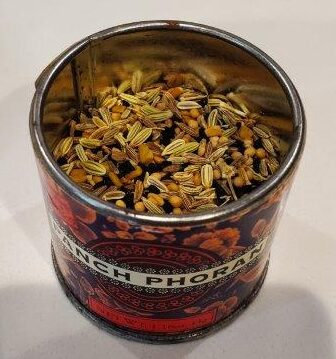 This lentil dish uses the standard process of "cook lentils in one pot until done, make seasoning in second pot, put seasoning in lentils."  Seasoning in this case consists of the aforementioned spice blend, along with onions, tomatoes, ginger garlic paste, and chilis.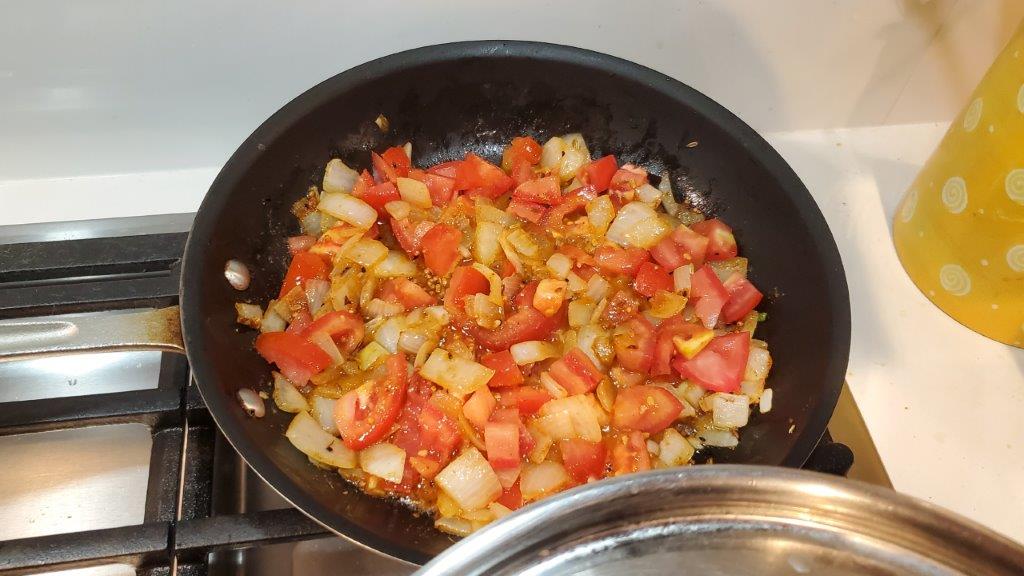 Finally, let's talk fish.  There's two ingredients that required a little planning here.  First is the fish itself.  Rohu is a type of carp, which swims around in solid rectangular blocks of ice, and frankly, seems to be trying just a LITTLE hard to ingratiate itself.
WE'LL be the judge of what we like, fish.
The other key ingredient for this dish is mustard oil.  Now, while people in Bengal have been cooking with mustard oil for millennia, it contains high levels of erucic acid, which is potentially linked to heart disease when consumed in large quantities.  As such, it is illegal to sell it for cooking purposes in the US and Canada.  On the other hand, it's perfectly legal to sell exactly the same oil as hand lotion.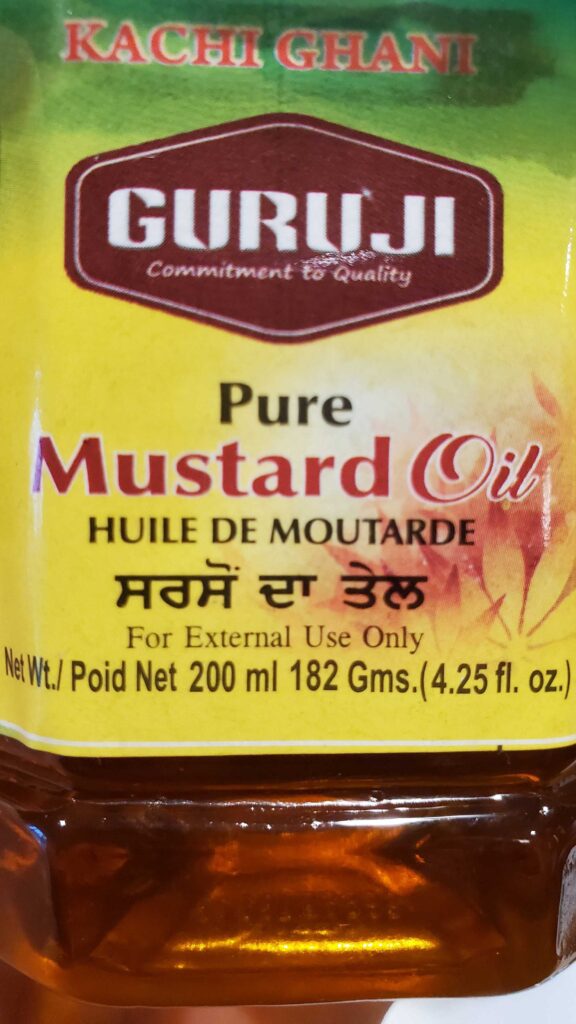 "External use only."  Nudge nudge, wink wink.
Figuring that making the occasional dish with this stuff will likely not kill us, we decided to go ahead and make macher jhol, a tasty fish curry.
The fish steaks, once freed from their icy tomb, were rubbed with salt and tumeric, then quickly seared in the oil. Once they're ready, you make a sauce with tomatoes, onions, garlic, and spices.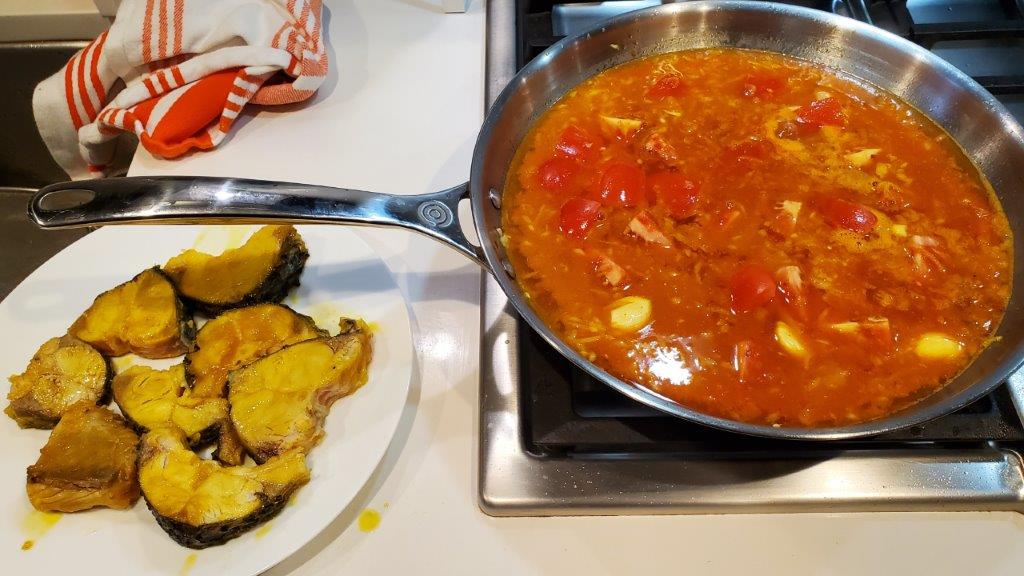 After the sauce has reduced for a while, you put the fish back in to finish cooking, and it's time to bring the whole meal to the table!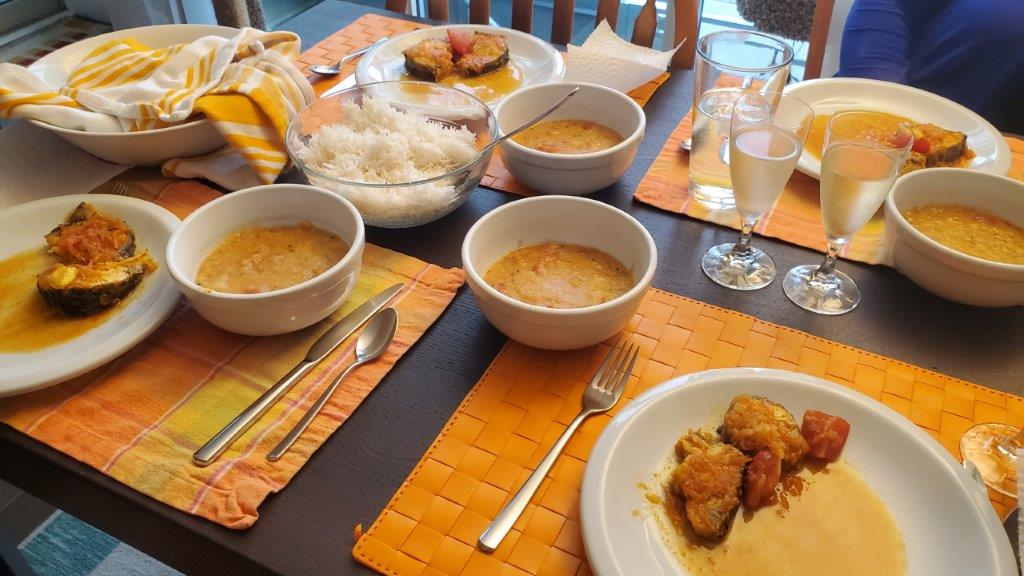 You may notice four place settings here – that's because we once again had friends!  Leigh's colleague Laurel and her husband were kind enough to join us and bring a lovely bottle of wine.
And the meal was excellent, if we do say so ourselves.  The dal was creamy and super flavorful, the fish had a lovely bite to it without being overwhelmed by heat.  The bread had a bit of an unusual texture from the rice flour, but it was a perfectly good scoop for shoving food into our faces.
And finally, it was time for desert.  We made chhena poda, a type of cheesecake that can be made with either chhena, a fresh curd which we didn't want to make, or paneer, which we could just buy. The cheese is blended together with jaggery (palm sugar) and a little cardamom and rice flour.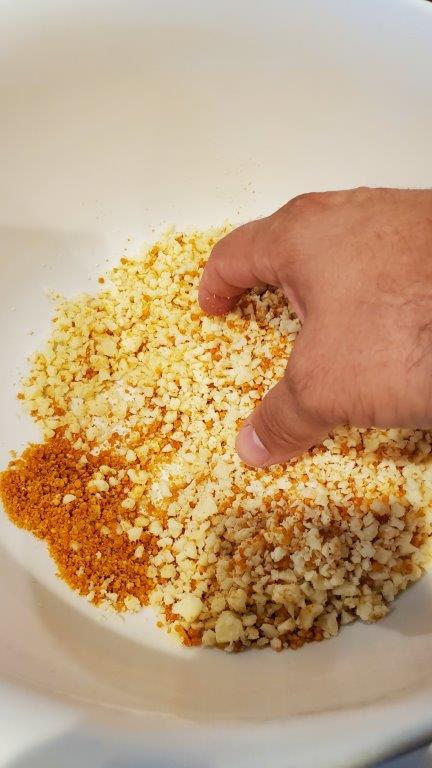 To bake, you line a tin with banana leaves and brush them with ghee.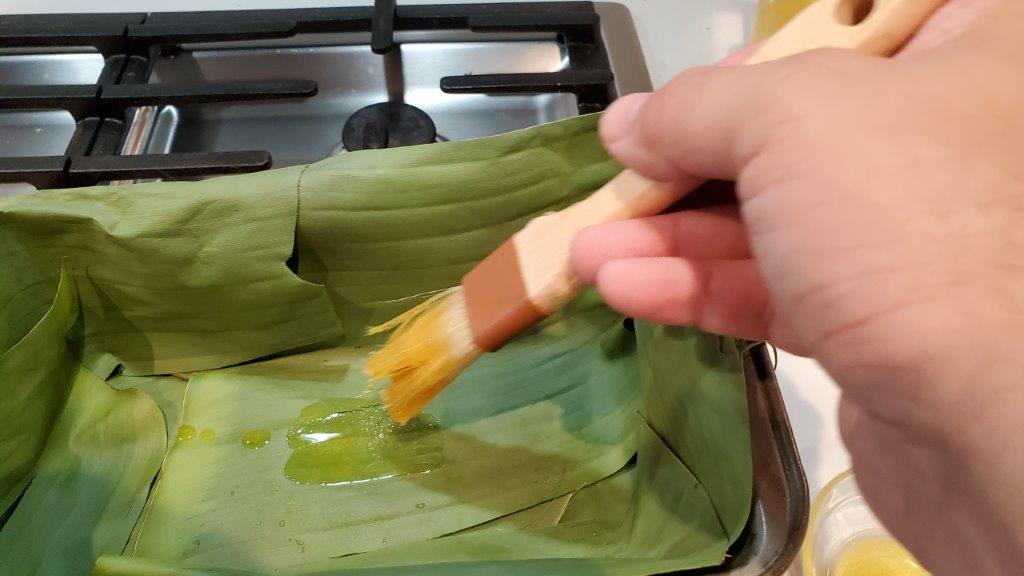 The final product has some of the "squeak" of fresh cheese curds, and is sweet and delicious.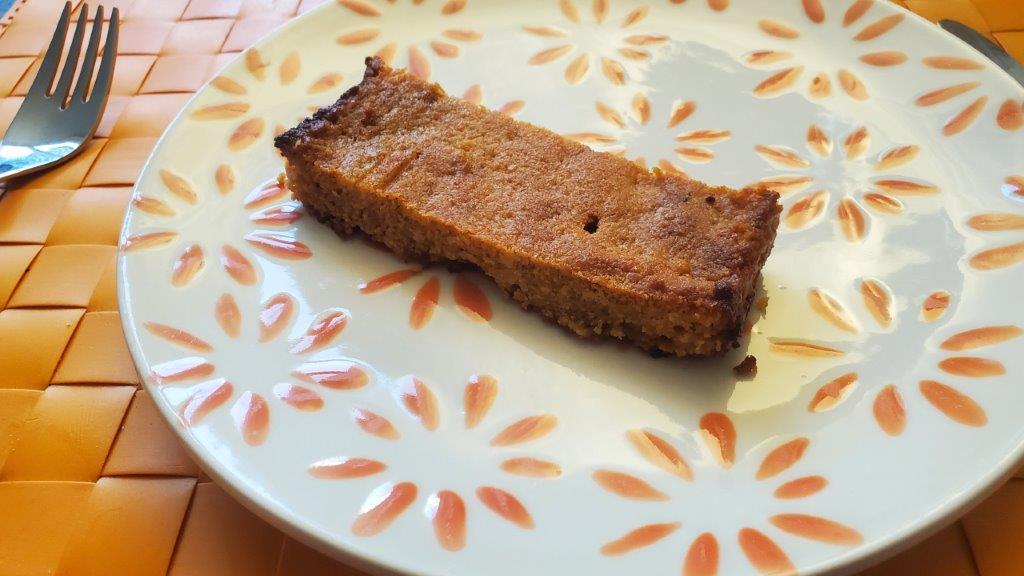 This thing is also so ludicrously easy to make, we're going to have to bear it in mind for future potluck situations.
So – that's our whirlwind tour through India.  For blog purposes, anyway – it's going to continue to be one of our staple cuisines for regular cooking.  (We literally made another dal recipe in the three days between the time of this meal and when I got around to writing it up.)
Next up, Indonesia, and we have friends with THOUGHTS and FEELINGS on that topic. Can't wait!
Recipes:
Bengali Masoor Dal
Apas (Rice Roti)
Macher Jhol (fish curry)
Chhena Poda (cheesecake)