Two meals in three days?  Madness!
But we had purchased a bunch of fresh ingredients for our Sumatran meal that we wanted to make use of before they went off, and I'm going to be off playing board games all weekend. So here we go.
The meal will feature two dishes – gado-gado, which is mixed vegetables in peanut sauce, and soto ayam, an aromatic chicken stew.  Also shrimp crisps, which have a complicated process that we'll get into later.
So first up, we're making a peanut sauce, or sambal kacang.  The main ingredient for this is… well, peanuts.  Surprisingly, unsalted peanuts are a perennially challenging ingredient to source.  Our local grocery store has peanuts in chili-lime, barbeque, and possibly yak, but not, you know… plain.  As such, the only ingredient that we didn't already have on hand for this recipe was something that in theory we should be able to get at the corner store, but couldn't.  Back to the Asian grocer.
Peanuts acquired, so into the oil with them!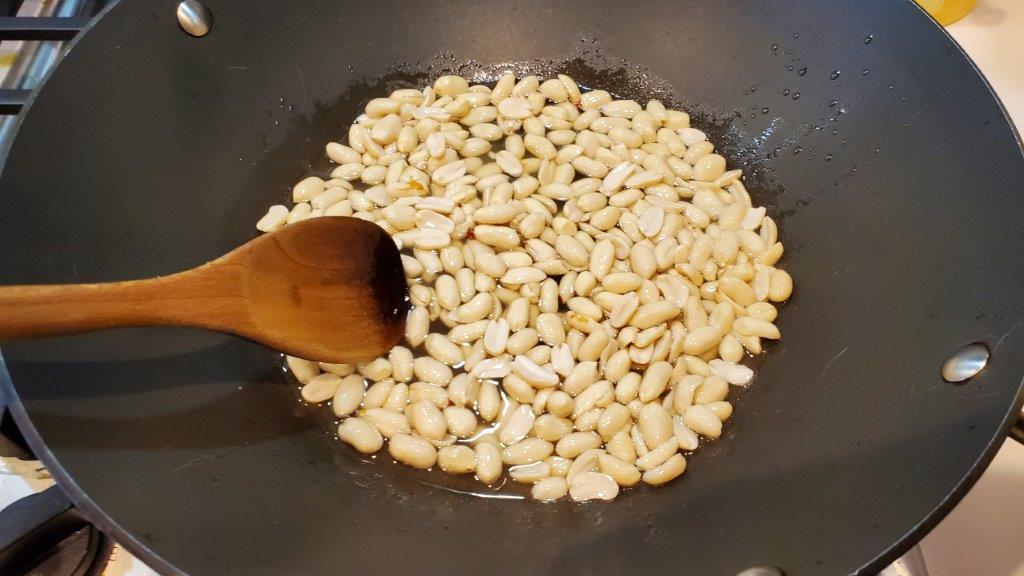 Those get ground up in a blender.  You can see how much the color changed in just a few minutes of frying.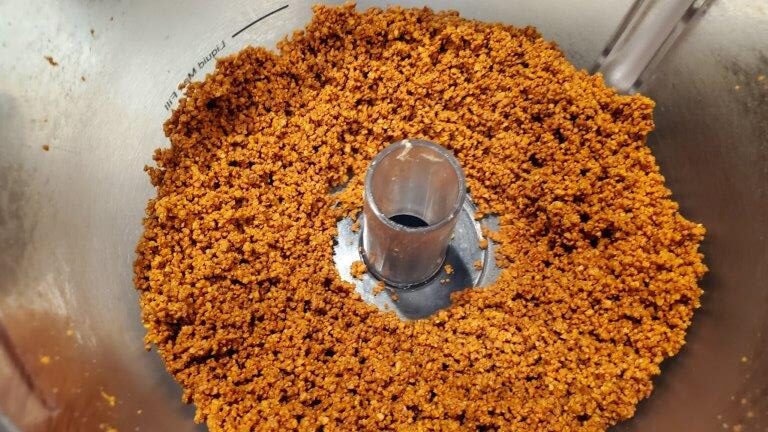 To this, you add ground up shallots, garlic, and spices, and cook it down with some liquid until you get a nice thick sauce.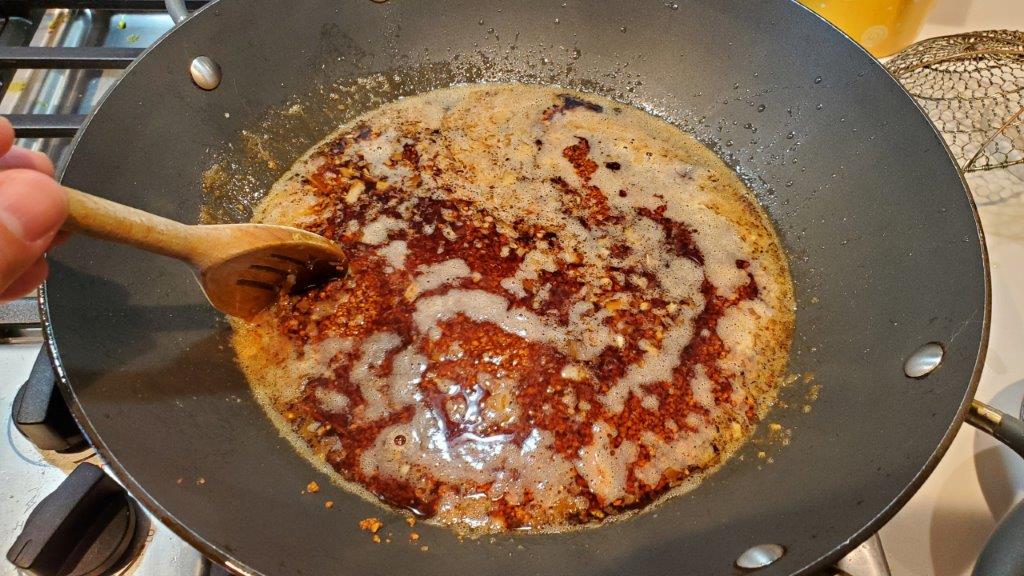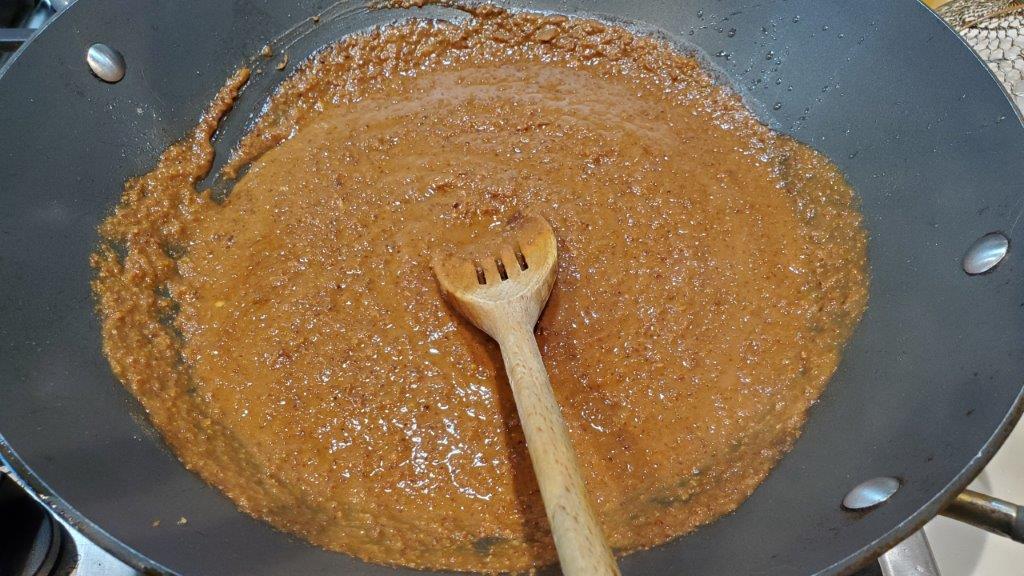 Our other main dish is the chicken stew.  We're going to start this dish by… wait for it… making a spice paste. This is definitely a recurring theme in southeast Asian cuisines.  Any evening where we have to bust out both food processors AND the mortar and pestle is a party, let me tell you.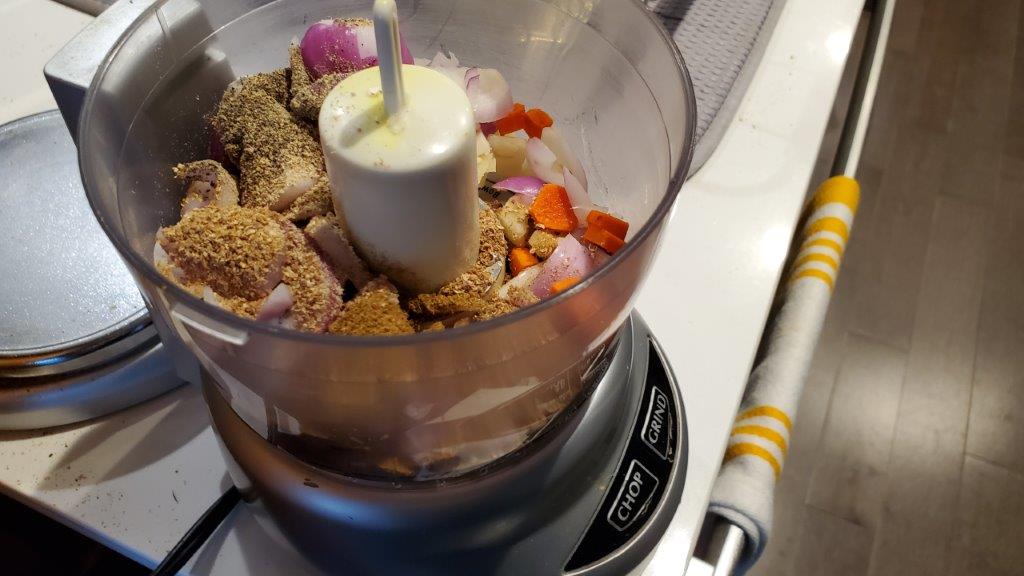 Lots of the usual suspects in there – shallots, garlic, ginger, turmeric, and a bunch of spices.  I STILL haven't gone to get candlenuts, but given how many recipes called for them, I probably should have. That paste gets fried for a bit with lemongrass, lime leaves, and galangal pieces.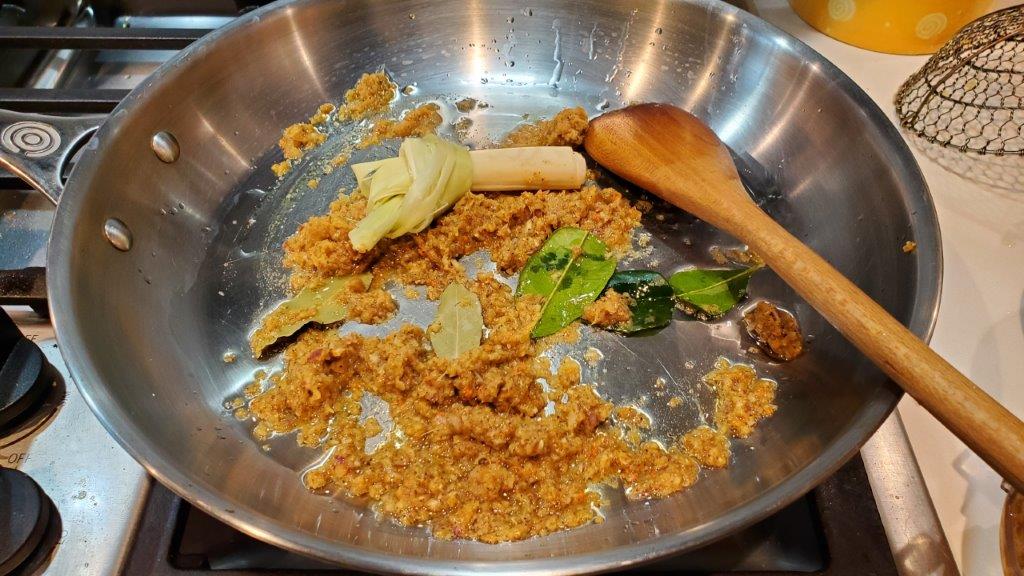 We also dry roast some whole spices.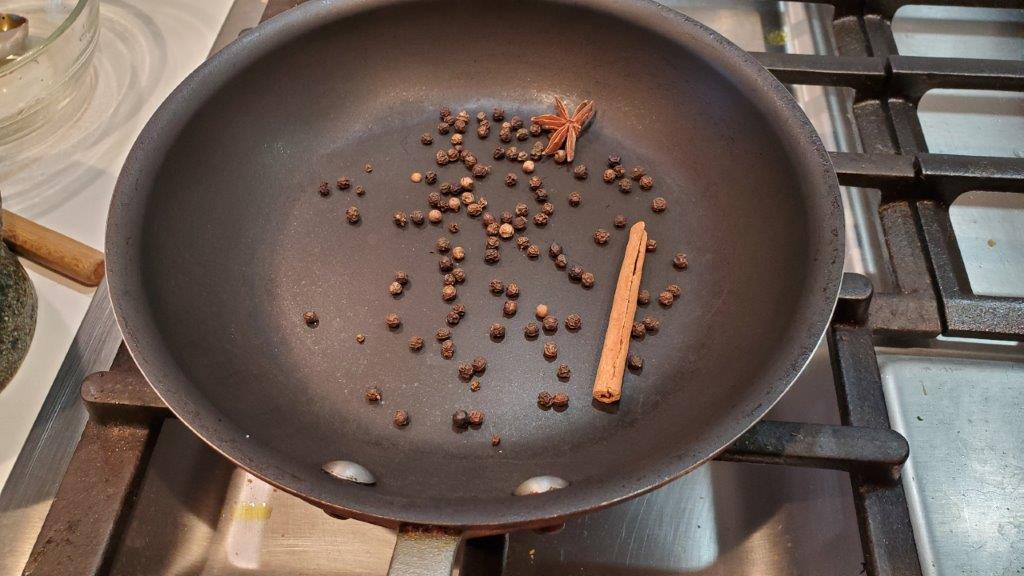 Finally everything gets combined into one pot (and seriously, WHY didn't I fry the spice paste in the same pot, to save one step in cleanup?) along with "good quality chicken broth."  At least, that's what the recipe said.  This is labelled in French, so that's classy, right?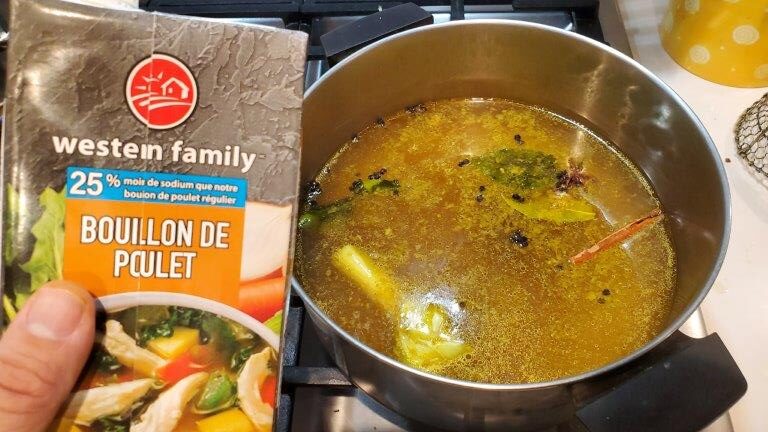 It is unclear to me why "Western Family" a brand which as far as I know, only exists thousands of miles from Quebec, labels its products in French. Whatever. You can really taste the poulet.

Moving on, the chicken breasts get poached in this liquid until cooked, about 10-15 minutes for normal chicken breasts, and a little bit longer for the mutant monstrosities sold in north American grocery stores.
Meanwhile, we boil some veg to go under the peanut sauce.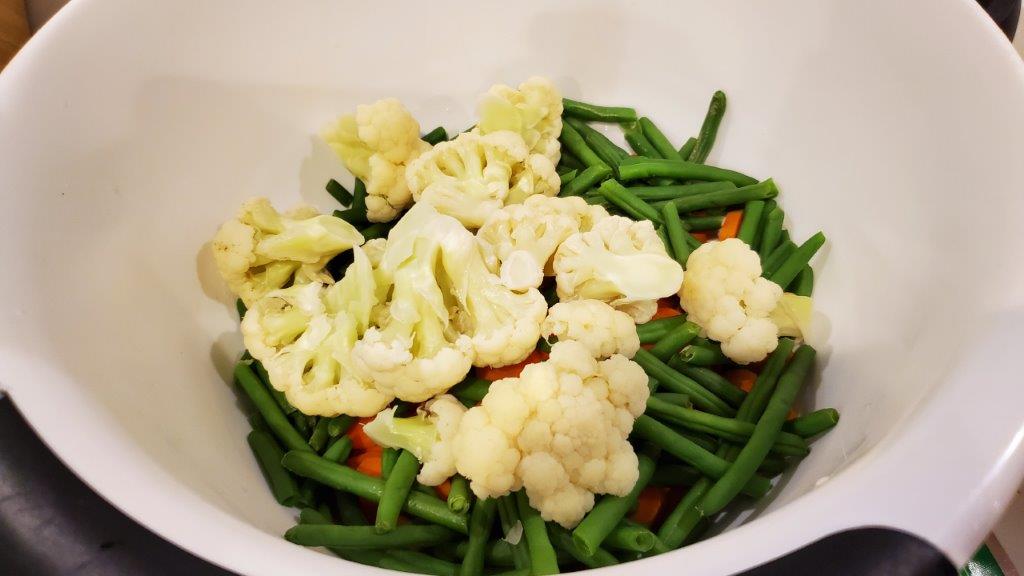 Everything I've read about gado-gado says that the exact veg aren't really important, just that you have a good mix.  At the risk of being insensitive (like that's ever stopped us), I would compare this, one of Indonesia's national dishes… to nachos.  The point is that whatever's on the bottom is mostly there as a vehicle to convey the topping into your mouth. Nachos exist to shove cheese and salsa into your face, and these veg are here to be something you put the peanut sauce on.
The other thing happening at this point is cooking some rice vermicelli.  Here's the method for cooking rice vermicelli:
1. Pour boiling water on it.
That's basically it. Ten minutes later, you drain the water.
With the chicken done, and now a lovely shade of yellow, it gets pulled out of the stock and shredded.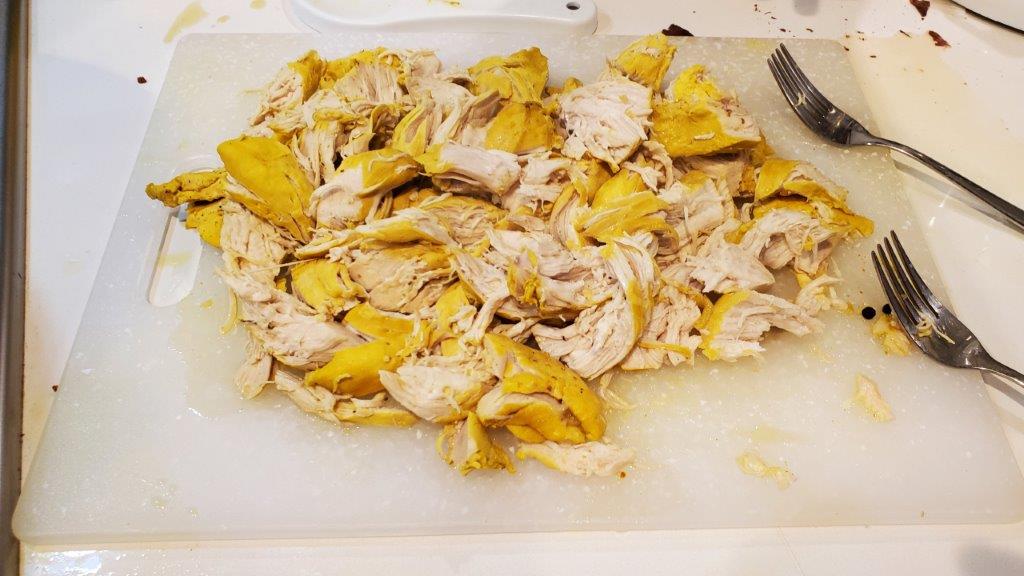 The stock is drained to get rid of the aromatics and whole spices, and boiled down to concentrate a bit.  Finally, the chicken and noodles are returned to the pot and warmed back up, and dinner is ready to be served.
Oh, except for the shrimp chips.  Every recipe I looked at for both gado-gado and soto ayam mentioned two things. 1. Here is a recipe to make shrimp chips. 2. Seriously, just get them out of a bag, though.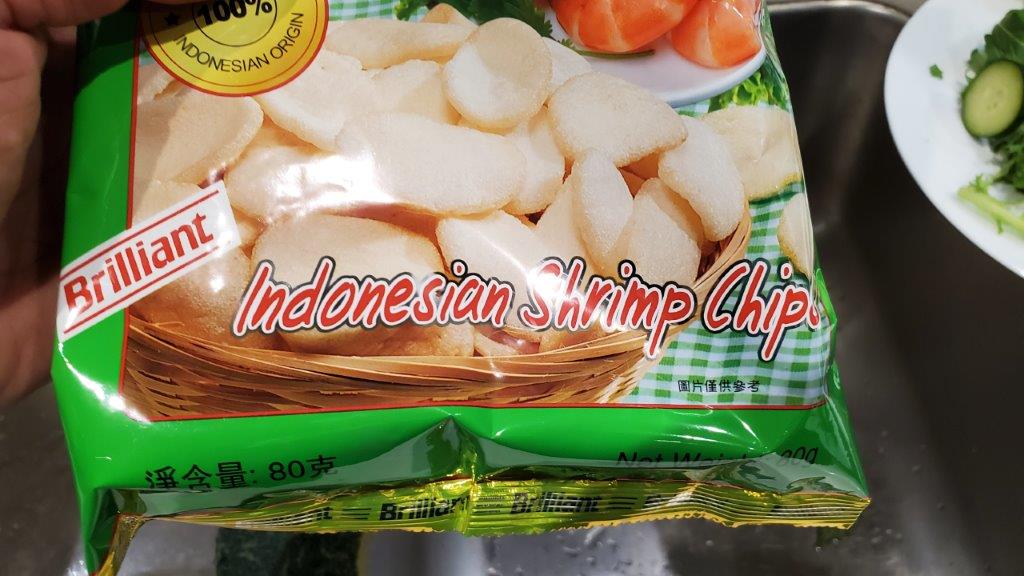 At least it's an Indonesian bag, right?
It was finally time to plate everything up and have dinner.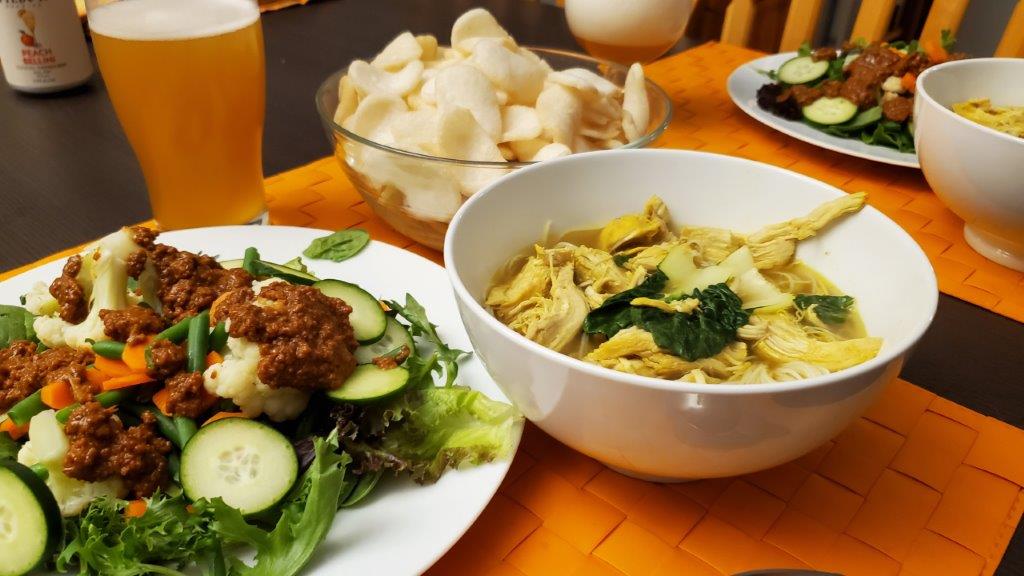 Doesn't this look good?  Gado-gado on the left and soto ayam on the right.  Shrimp chips in a bowl and peach bellini beer in the glass.  That latter is probably not traditionally Indonesian, so let's just talk about the first three.
The first three were great.  That soup is DEFINITELY what I want served to me the next time I have a cold. Unlike a lot of other dishes from Indonesia, this one is generally not spicy in and of itself, but is often served with spicy toppings.  But it really doesn't need them to be appreciated – the flavor profile is complex and delicious. For the gado-gado, what's not to love about a spicy peanut sauce?  (The vegetables were fine.  They did their job of moving the peanut sauce to our faces.) And no one opens a bag of shrimp chips the way we do.
Indonesia is continuing to make us very happy.  One more meal to go, from Bali, and this one will likely also follow in quick succession.
We cooked out of a book again this week, but here's some recipes that are roughly similar to the ones we used: