In our post on the second day of the trip, we mentioned running across some creepy baby sculptures in a park in Prague. And by "creepy," we mean "baby sculptures the size of a Honda Element with slot machines for faces." These sculptures are by a Czech artist named David Černý. Leigh had come across some discussion of Černý while she was doing research for the trip, and once she saw (and fell in love with) the creepy baby sculptures, it became a running theme of our visit that we tried to find as many of his sculptures as we could during our time in the city. Rather than scatter them across the posts in chronological order, here they are all in one place, for maximum effect.
Černý is a sort of an enfant terrible of Czech art. Most of his pieces offer a wry commentary on politics, society, or both. Luckily the citizens of Prague seem to appreciate and enjoy that sort of thing, because Černý's pieces are displayed publicly throughout the city. Thanks to Uncle Internet, we managed to find quite a few of them.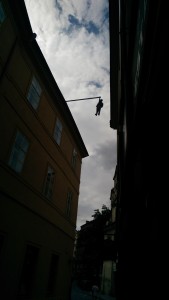 Hanging Out
It's hard to tell from the photo, but this is Sigmund Freud. Well, It's a statue of Sigmund Freud hanging by one hand forty feet above the streets of Prague. Because of course it is. The sculpture is actually hinged so it waves back and forth in the wind. Many pedestrians walk right under it without noticing it. Here's a closer view of Siggy, just hanging out with one hand in his pocket.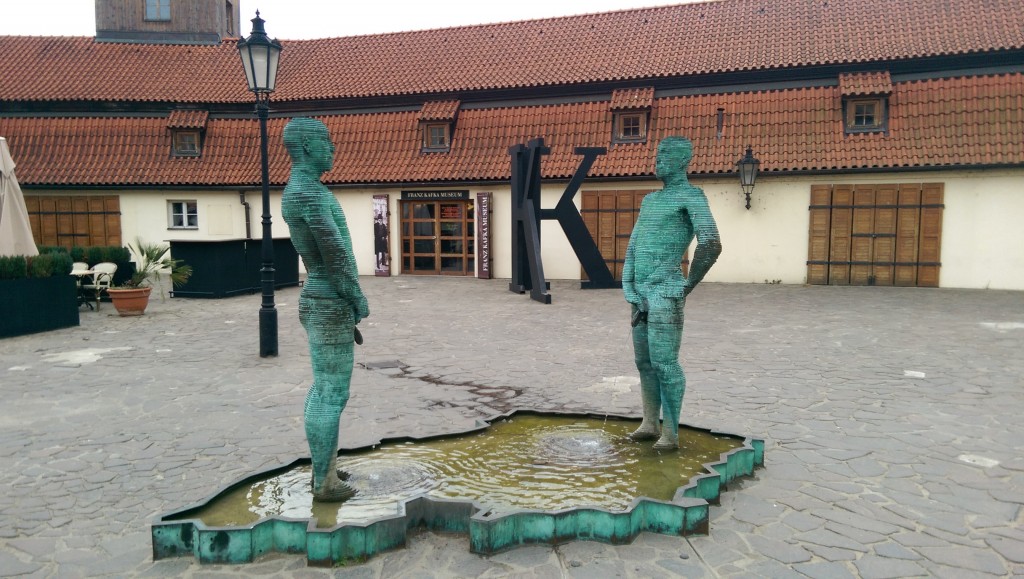 Piss
The base of this fountain is shaped like the Czech Republic, and the two gentlemen are motorized such that their hips and, erm, appendages swivel and move up and down. They're controlled by microprocessors so that over time, the streams of water they are emitting spell out quotes from Czech politicians in the pool. As we said, Černý is not given to subtle political statements. You used to be able to text messages to the sculpture and they would spell that, but that feature seems to be disabled.
Oh, and the whole assemblage is in the courtyard of the Franz Kafka museum, because of course it is.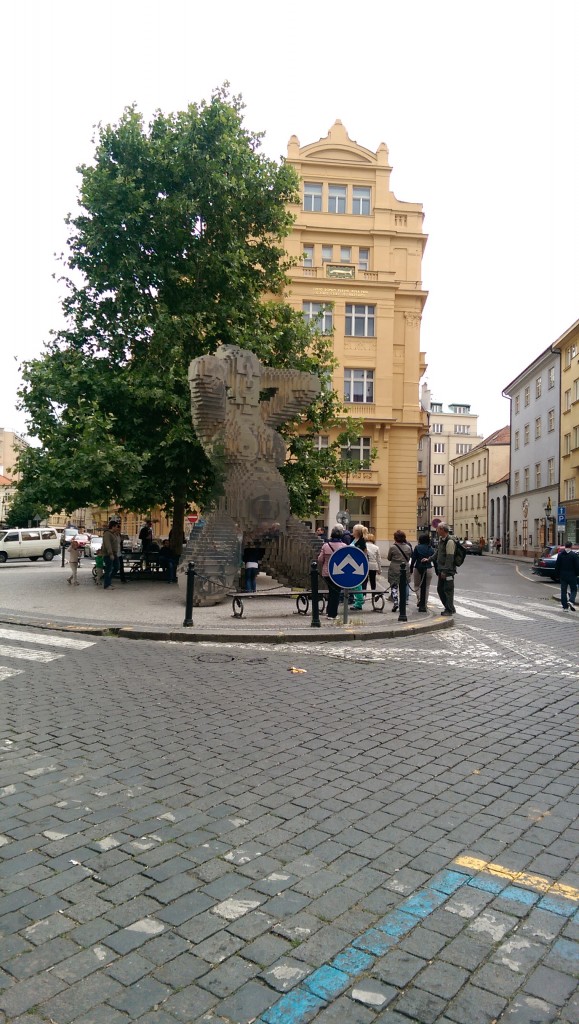 In Utero
Yeah, so… this is a pixelated naked woman.  The, erm, undercarriage is hollow, so you can climb up inside, and then emerge. There used to be a sound and light show inside the sculpture that contained red lights and vague watery whooshing sounds. This one was right near our hotel, so we walked past it three or four times a day.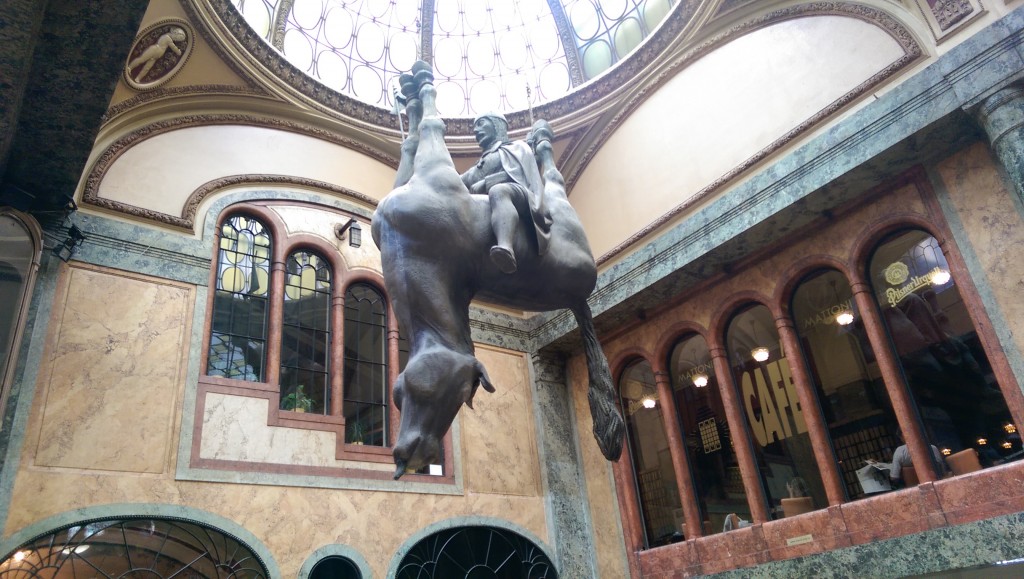 Horse
Located just steps from the terrifyingly improbable elevator described in our last post, and within a luxurious retail plaza's atrium, this is a parody of the statue of St. Vitus on Wenceslaus Square nearby.  Given that the one on the square is an important national symbol, this is about as unsubtle a skewering of the Czech polity as one could imagine.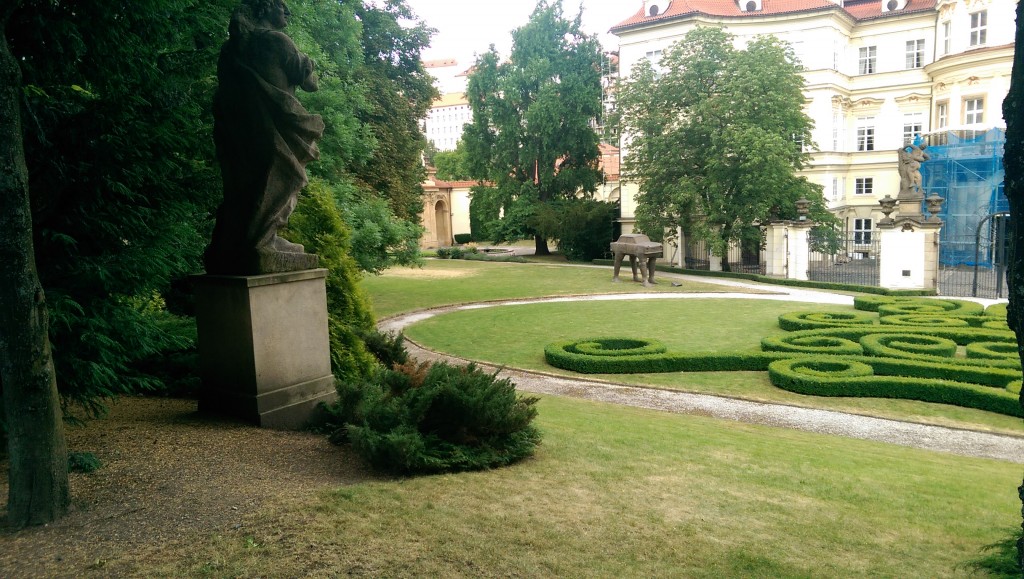 Quo Vadis?
This is located in the garden of the German Embassy, which does not allow visitors to come in and wander around at random, so the picture is a bit farther away than ideal. It's a Trabant.  On legs. Here's a link to a closer picture so you can see that yep, it's a Trabant with legs. In the summer of 1989, hundreds if not thousands of East Germans came to Prague and occupied the then-West German embassy in hopes of being able to leave East Germany and move to the West. Many of them abandoned their Trabants on the street when they were finally granted passage to the West. This is Černý's response.
And finally – remember those creepy babies?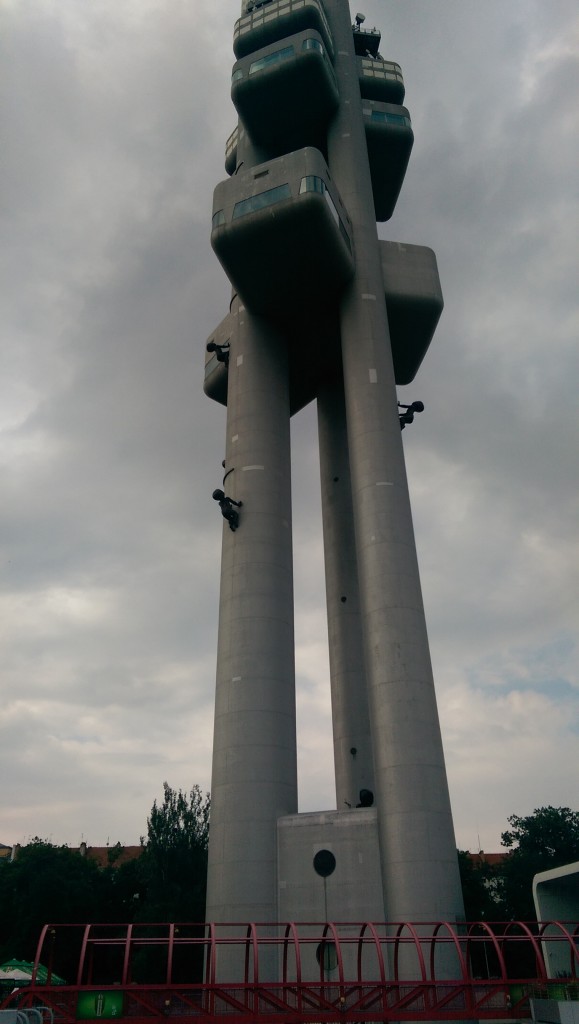 Yep. Babies. Creepy ones. Crawling up the Zizkov TV tower, which is the highest tower in the Czech Republic. You can see the creepy babies from pretty much everywhere in town. Apparently Černý was asked to do an installation on the tower, and this is what he proposed — and people not only approved it, but liked it so much that it became permanent. In other words, awesome.
We actually ran across one more of his later on, but we didn't realize it was his, so we didn't take a picture. It's a giant skull on top of the modern art museum.
It turned out that pursuing Černý sculptures around Prague was a great way to see lots of the city, and to learn yet more about Prague's history. The more you know…