Dan was once again occupied by his conference and I was on my own to wander. I decided to investigate the Neustadt area of Dresden, which is full of fun and funky shops, restaurants, cafes, and bars. I mostly just walked around and looked at stuff, which is coincidentally one of my favorite things to do.
One of my goals was to see the Kunsthofpassage, which is a small art enclave between two streets. The boundary buildings are painted in creative and beautiful ways, and there are cafes and small shops throughout. One of its more famous buildings is the "Courtyard of the Elements," which has a setup on the side of the building that plays music when it rains.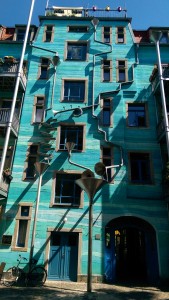 Sadly, it was a beautiful day when I went there, but a small plaque (in German) offered what appeared to be a promise that there would be a demonstration every half hour. It was just on the hour when I was there, so I waited … and waited … and waited … and nothing happened. Figuring I was having a translation issue (I know just enough German to hurt myself, apparently), I wandered around and took more pictures of the Kunsthofpassage. This was the opposite wall in the Courtyard, meant to represent the sun.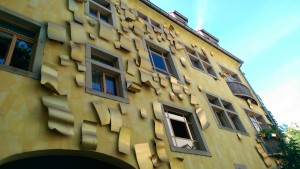 And this was one of the other courtyards: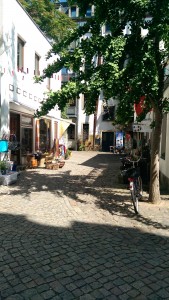 At half past, I went back to the Elements courtyard, and there were a few other people milling about and waiting for the demonstration of the water instrument, so I figured I was just misreading the plaque and that it actually said it would go off every hour on the half hour.
So I waited … and waited … and waited … and once again, nothing happened. That is, except for the guy who was riding his bicycle through the courtyard, stopped, and said something in German to the family next to me, from which I gathered that the instrument wasn't running that day. Grrrrrr. So here's a video from YouTube that sort of illustrates it — the video is VERY quiet, and there's a couple of noises that might either be the instrument or might be an epileptic monkey playing a recorder in the background; it's hard to tell.
More wandering happened after that — I walked up to a large park, saw everyone on the planet eating ice cream, decided I needed ice cream, got ice cream because I'm a grownup, damn it, and can get ice cream when I want it, and walked even more. I walked a LOT.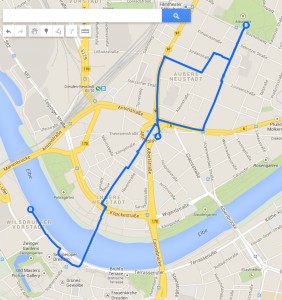 When I got back to the hotel to meet Dan after his conference ended for the day, we ended up going right back to Neustadt for dinner, and then headed over to a sports complex to meet the Dresden Roller Girls, who were practicing on an outdoor court and had invited us to come.
After surviving the practice — not because I was on skates (because I wasn't), but because of the mosquitos! — we went to a bar in (you guessed it) Neustadt for a beer. We went to a giant beer garden that was packed with people watching the World Cup. Once Spain got knocked out (which I understand was kind of A Big Deal for People Who Know About These Things), we were able to grab a table and talk about our sport of choice. Lots of fun derby talk, and getting to know some amazing girls. Perfect ending to a very fun day.
Statistics:
Ice creams eaten: 2
Tram ticket inspections: 1
Mosquitos: many