We had a Shinkansen to catch around noon, and we didn't want to drag our suitcases around Kyoto in the broiling heat, so we spent the morning having a leisurely breakfast and then poking about the station to see what else we could find.
We found Legos, for starters.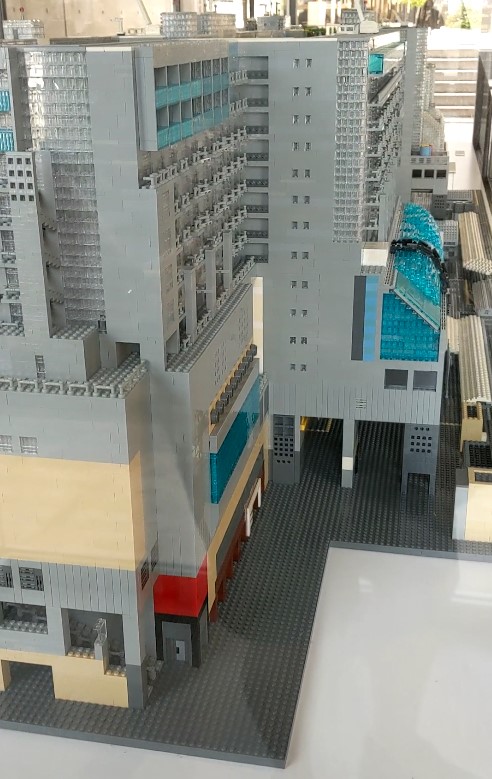 It's meta to find a large Lego model of the building you're currently standing in, right?  I think that's meta.  Or maybe recursive.  Something like that.
We also found a public piano, which I spent a little time playing, and Leigh photographed from a very long way off so that I wouldn't get self-conscious.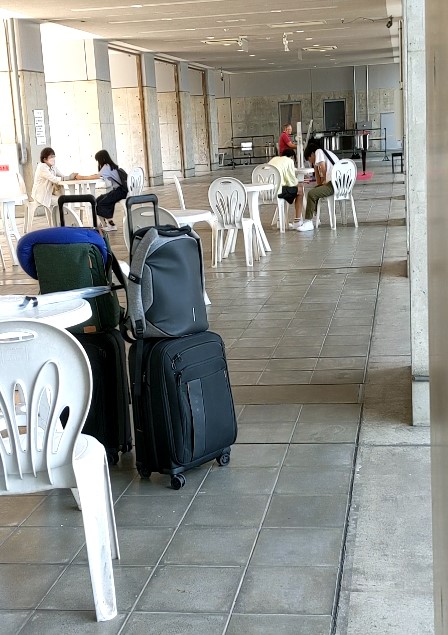 It's a very nice piano.  When I had walked past it the previous evening, there was a line of people waiting to play it, but there wasn't anyone else around at 10 AM.
But, out of further ideas, we went and purchased our lunches for the train, and then just hung around until it was time to board the Shinkansen for Atami.
Leigh got a perfectly cromulent set of sushi, and I got this bonkers thing.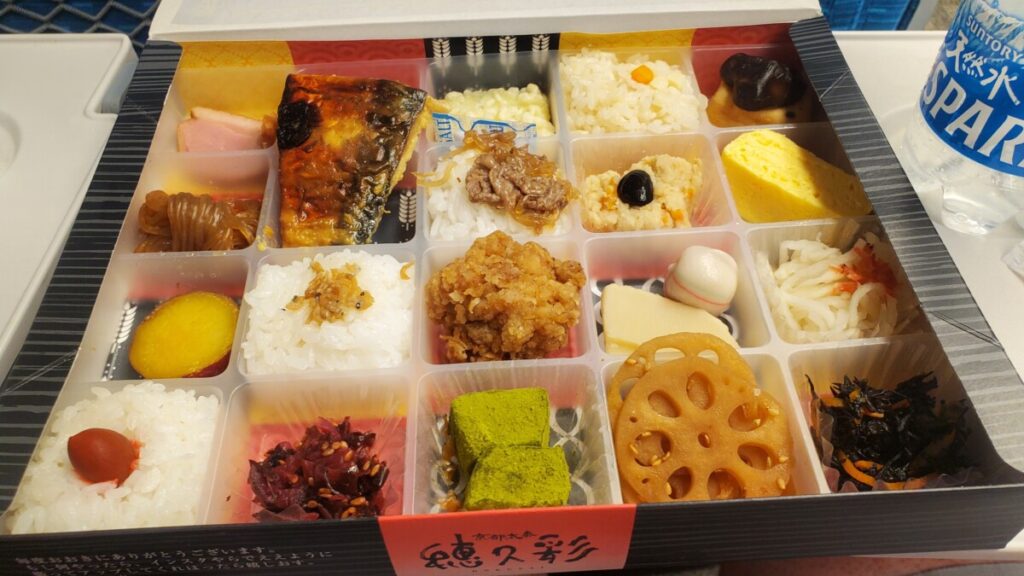 Some of those were better than others, but most of them were pretty darn good.  Each one had identifying information printed UNDER it, meaning you had to eat it before you could find out what it was. I'm going to have to figure out how to make the crispy lotus root dish. (Which Google informs me is called Kinpira Renkon.)
I have skipped an important point, namely – WHY were we going to Atami?  It's not exactly the most famous of Japanese tourist destinations, at least not for international tourists.  The answer is that we were taking a scheduled break.  We had been in Japan for a week at this point, and we had just over a week to spend in Tokyo.  That meant that this was the midpoint of the trip, and it seemed a good time to spend a night in a Ryokan, or traditional Japanese Inn.
One of the traditional places to PUT a Ryokan is near a hot spring, and Atami is a seaside resort with lots of those.  We would get to have a nice quiet evening in an inn, take a hot spring bath (onsen), and be unsettlingly pampered by the staff at this extremely expensive hotel.
First up, here's the room: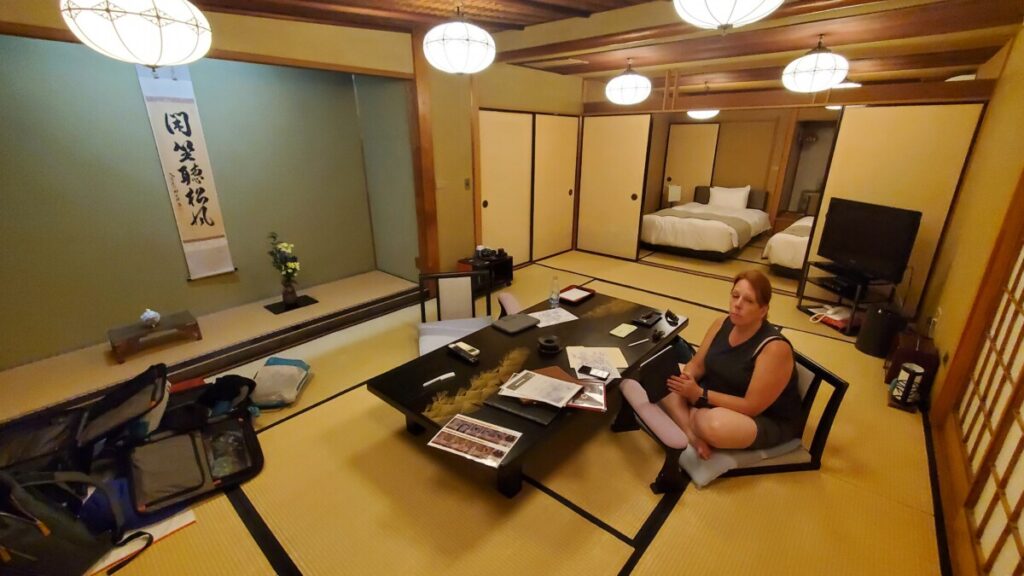 This one had western style beds, but it still had the ceremonial alcove, tatami mat floors, a small private hot spring bath, and yukata for us to wear to dinner.  (Definitely not pictured: us wearing yukata.) Here's what it looked like from the outside: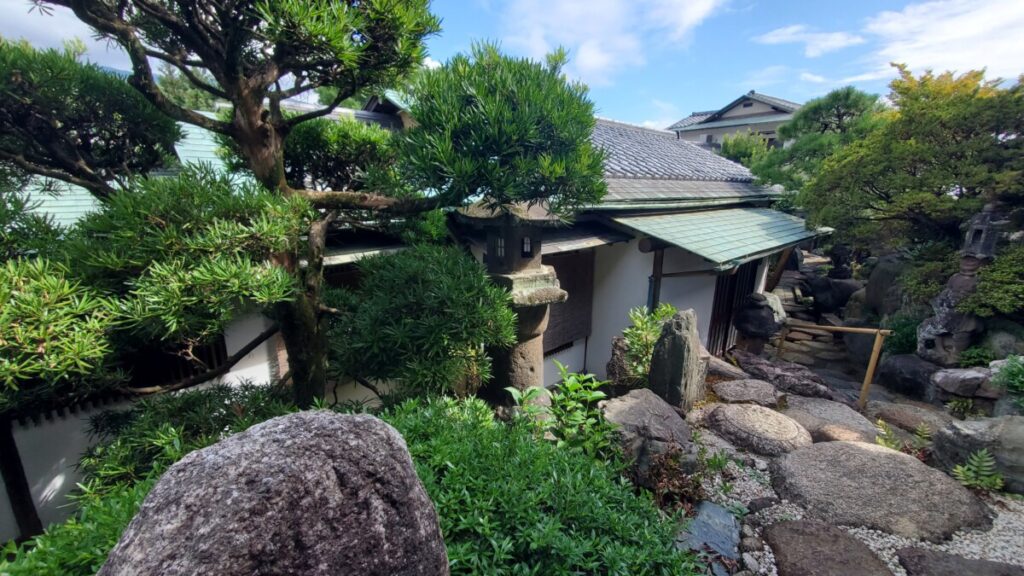 Did I mention it was a private building? This was definitely a splurge.
In addition to the small onsen in our room, there was an open air one you could reserve, so we worked out how to put on the yukata in the manner that DIDN'T imply we were corpses (seriously), and clopped down to it in our provided sandals.
A hot soak was EXACTLY what we wanted at this point in the trip.  You are expected to use the onsen naked, so DEFINTITELY no pictures of that part of the afternoon.
After that, we were off to dinner, which was another kaiseki multicourse meal. A terrifyingly polite server brought us all of the following: (There was a printed menu, which we kept, and is the ONLY reason I am able to describe these dishes in detail.)


Apertif:
Plum wine, (not pictured, because we drank it before remembering to snap a picture)
Appetizer:
Cold savory steamed egg custard, tomato and clam jelly, plum, Genovese sauce with wasabi, foie gras, shrimp, wheat gluten, water shield, pickled Japanese ginger
Hors D'oeuvres:
Sushi of sea eel, vegetables pickled in sake lees, apricot with cheese, skewered wakame seaweed with herring roe, cucumber, boiled Malabar spinach and dry-cured ham, pine nut, red bean tofu, sea grapes, carrot, soy sauce with broth.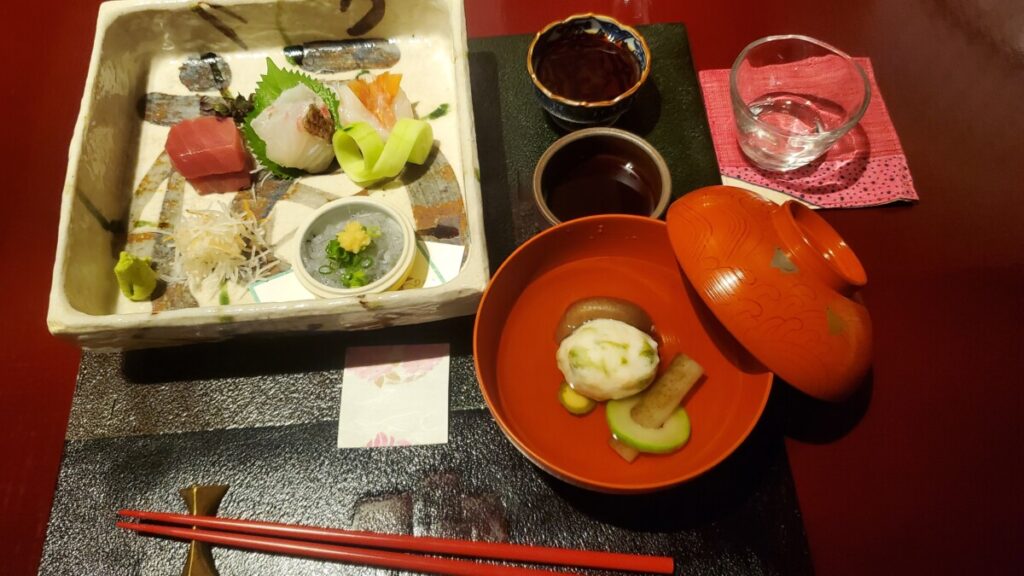 Soup:
Dumpling of shrimp, seaweed, burdock, small melon, bamboo shoots, carrot, shiitake mushroom, yuzu.
Sashimi:
Tuna, baby sardine, chives, grated ginger, cucumber, red shiso, wasabi.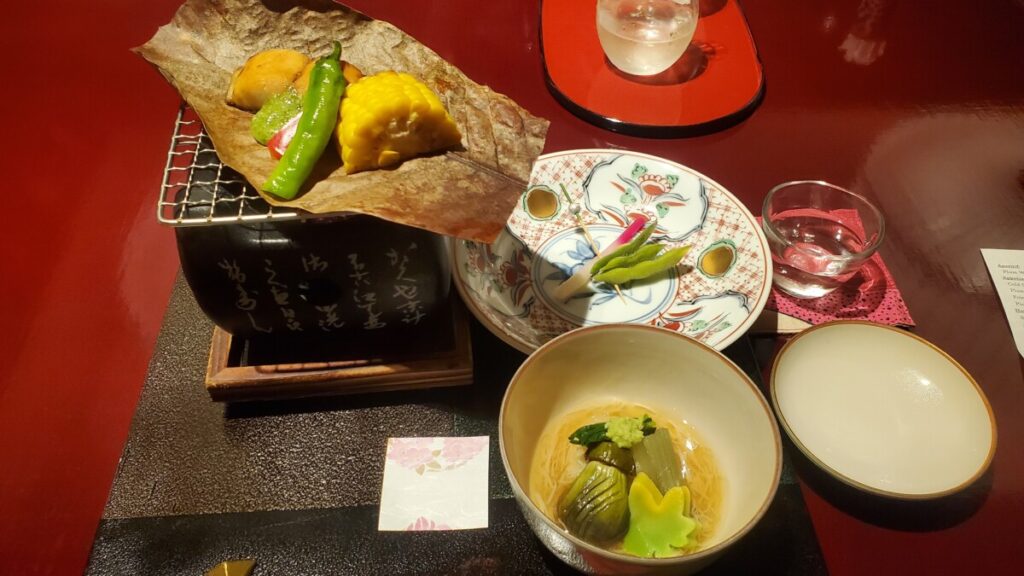 Note that that is a small pot full of actual glowing charcoal on the table.
Grilled Dish:
Spanish mackerel grilled with Japanese pepper, grated okra and yam, bell pepper, paprika, boiled soybeans, corn, gingerroot.
Food Boiled and Seasoned: (It probably sounds better in the original.  It certainly TASTED delicious)
Fried eggplant simmered in soy sauce, mirin and broth. Fried sesame tofu dressed with rice cracker. New Zealand spinach, butterbur, scallop and broth syrup, wasabi.
Meat Dish:
Simmered roast duck (top picture), or sauteed golden whitefish and vegetable wrapped in pie and grilled.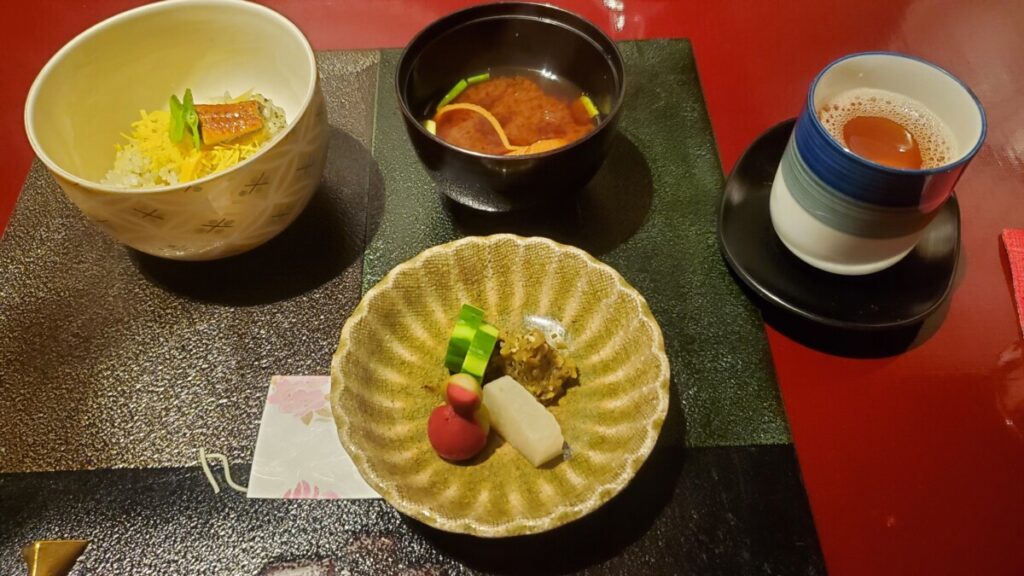 Vinegared Food:
Akamoku seaweed, soy sauce with onion and yuzu, cucumber, dried chrysanthemum, pickled potus roots, stem of taro.
Rice Dish:
Steamed sticky rice with green tea and eel broiled with soy sauce, snow pea, shredded baked egg, miso soup, pickled vegetable.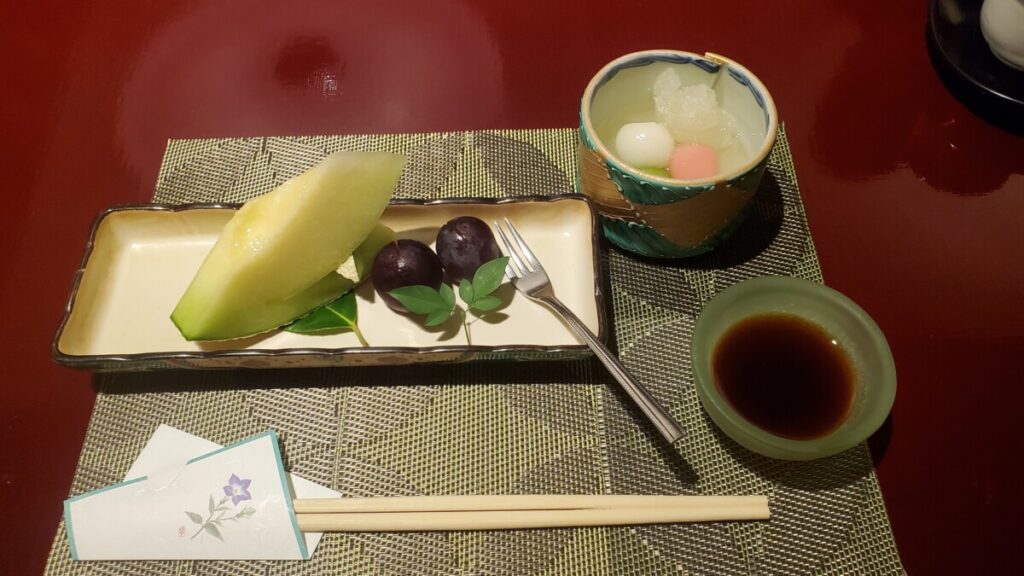 Dessert:
Muskmelon, kyoho grapes, arrowroot starch noodles of Shikuwasa, dumpling, bayberry simmered in sugar syrup.
I wouldn't even know where to start talking about this meal.  I'm going to let the pictures and the menu speak for themselves.  Just no words.
The ryokan stay here in the middle of the trip was a good plan.  We planned good.